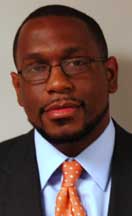 Bryant resident and Pulaski County government employee, Sam O'Bryant was recently named to Arkansas Business' 2010 edition of Forty Under 40. Arkansas Business Forty Under 40 is an exclusive annual selection which lists up-and-coming leaders in central Arkansas.
O'Bryant began his career with Pulaski County government as the Assistant Program Coordinator for Pulaski County Youth Services in 2005. During his time at Pulaski County Youth Services, he has been instrumental in expanding and developing youth programs. Among his accomplishments are: The creation and development of a five-week ACT training program; the creation and development of a Public Service Internship Program; and serving as the Project Leader for the VILLAGE Initiative, a mentoring program for minority males.[more]
Since August of 2008, O'Bryant has worked with Pulaski County Community Services as the Brownfields Program Administrator. His primary duties involve the administration of $3.6 million in Environmental Protection Agency grants used for environmental development of previous industrial and commercial areas in Pulaski County.
O'Bryant was recently appointed, by the Bryant City Council, to serve on the City of Bryant Water/Wastewater Committee.
The 2010 Forty Under 40 class and past honorees were honored by Arkansas Business at a Doubletree Hotel luncheon in downtown Little Rock. George Gleason, CEO of Bank of the Ozarks was the event's keynote speaker.
Since 1994, 640 individuals have been selected by Arkansas Business to their Forty Under 40 list.
O'Bryant was born and raised in Greenwood, Miss. He and his wife, Jacqueline, are the parents of 4-year old Sam, IV and 1-year old Jacob Dylan. The O'Bryants have lived in Bryant since 2006.