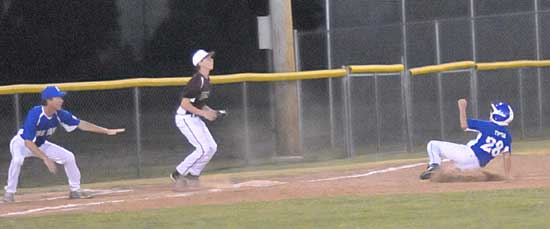 BENTON — The Bryant 13-year-old Babe Ruth All-Stars scored in six of seven innings including a game-capping four-run seventh to ease to an 11-3 win over the Benton All-Stars at Bernard Holland Park Friday.
With the win, Bryant advanced to the winners bracket finals of the Distict Tournament on Sunday at 6 p.m. They'll face the survivor of Saturday's game between White Hall and Clark County.
Members of the Bryant 13s are Dakota Besancon, Caleb Chaffin, Brittan Crouch, Tre Davis, Devin Dupree, Collins Fredriksson, Clifton Hampton, Andrew Kincaid, Hunter Lawhon, Robert Meeks, Hunter Oglesby and Drew Tipton. Jeff Besancon is the manager with assistance from Chris Tipton and Stephen Kincaid.[more]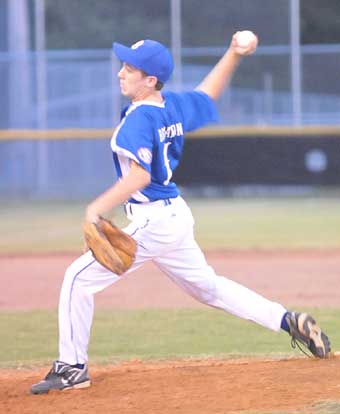 Dakota Besancon and Devin Dupree combined to shackle the Benton bats. Besancon shut out the hosts through three innings as Bryant built a 5-0 lead. Benton managed a run in the bottom of the fourth then Dupree took over in the fifth.
Benton took advantage of a pair of Bryant errors — the team's lone defensive breakdowns of the game — to add a pair of runs. But Dupree pitched around an error, a single and a walk in the sixth to keep it 7-3. It helped that Crouch, the Bryant catcher, threw out the lead runner, the second that he gunned down in the game.
Dupree and the Bryant defense set down Benton in order in the seventh to close out the win.
Bryant staked out the lead in the opening inning. Drew Tipton, who drew four walks in the game and was on base six times, drew a free pass to start the first. An out later, Oglesby singled, the first of his four hits. With two down, Dupree came through with an RBI double. Walks to Lawhon and Hampton forced in the second tally.
After Besancon pitched around a walk to Colby Byrd and a single by Zach Caplinger in the bottom of the inning, the Bryant bats went back to work in the second. Tipton's second free pass came with one out. With two down, Oglesby, Crouch and Dupree came through with consecutive hits to make it 4-0.
Neither team scratched in the third though Benton got runners to second and third with two out on a single by Chandler Tackett and a double by Caplinger before Besancon ended the threat with a strikeout.
In the top of the fourth, Bryant made it 5-0 when Oglesby singled and eventually scored.
In turn, Benton produced its first run. Brandyn Wilcox singled and Chris Musteen was hit by a pitch. They moved up on a bouncer to Dupree at first then, with two down, Cameron Spivey singled to get the run home. Besancon retired Byrd to force Benton to strand a pair.
Bryant's run in the fifth came after Chaffin singled but was forced at second on a grounder by Tipton. Besancon walked and Oglesby doubled to make it 6-1.
With Dupree on the bump, a walk and a series of defensive breakdowns produced two runs as Tackett and Caplinger scored. Dupree got Derek Fisher to ground into a force at third then Bailey Palmer poped out to Hampton at second to end the inning with Bryant still in charge.
A Benton boot helped Bryant get one of those runs back in the top of the sixth. Dupree reached to start the inning then Lawhon's grounder to short was misplayed. After Hampton moved the runners up with a tap back to the mound, Meeks drew a walk to load the bases. With two down, Tipton waited out another walk to force in a run.
Benton's sixth started with Byrd reaching on an error. But Crouch threw him out trying to steal. Dupree fanned Tackett for the second out before Caplinger collected his third hit and Tyler Hamilton walked. But Dupree struck out Wilcox to send it to the seventh.
Crouch was hit by a pitch with one out as Bryant's final outburst commenced. Walks to Dupree and Lawhon loaded the bases then Hampton, Meeks and Chaffin reached in consecutive order before Tipton's grounder to third was misplayed to complete the scoring.
(TO PURCHASE THESE PICTURES BY KEVIN NAGLE AND SEE OTHERS, CLICK ON A PICTURE.)