BAY CITY, Texas — With seventh-inning help from Harrison Dale, Nate Rutherford shackled the Louisiana champions from Twin Rivers as the Bryant All-Stars advanced to the winners bracket final at the Southwest Regional Tournament for 14-year-old Babe Ruth teams on Sunday.
Bryant's 8-1 win set up a showdown with Eagle Pass, Texas at 1:30 on Monday with the winner headed to the championship round of the tournament as the only remaining unbeaten team.
The Bryant 14's include Wesley Akers, Harrison Dale, Justin Emmerling, Zach Graddy, Ashton Green, Tristan Matthews, Austin Miller, Christopher Phillips, Nate Rutherford, Korey Thompson, Chris Troillett, Chase Tucker and Blake Yates. Jason Thompson manages the team with assistance from Mark Akers.[more]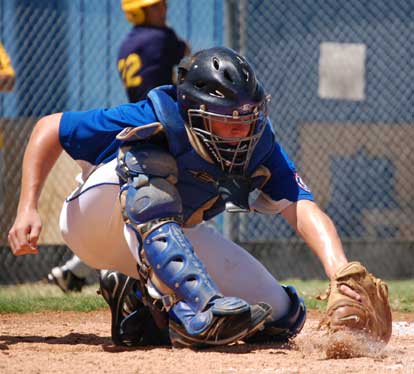 Rutherford shut out Twin Rivers over five innings before surrendering the lone run in the sixth on a two-out hit. He gave up just four hits, walked one and struck out six.
It was the second stellar pitching performance of the tournament for Bryant coming on the heels of Akers' effort on Friday. During one stretch in Sunday's game, Rutherford and the Bryant defense retired 15 of 16 batters.
The Bryant Stars had built a 6-0 lead through six innings. They would add two more insurance runs in the top of the seventh.
A two-run first got Bryant off to a good start. Green reached on an error and Dale walked. When Akers reached on another fielding miscue, Green scored. With one out, Graddy smacked a single to center to chase home Dale.
With two outs in the bottom of the first, a hit batsman and an infield hit gave Twin Rivers a chance to score but Rutherford induced a bouncer to Green at short for an inning-ending force at second.
That started the dominant run through the Twin Rivers batting order. The only baserunner came in the third on a two-out single. The Louisiana team didn't get another man on base until, with two out in the sixth, a batter was hit by a pitch. A pair of passed balls allowed him to get to second then third. A single brought in the run.
Despite another hit, Twin Rivers was unable to get any more.
In Bryant's second, Rutherford beat out an infield hit and Thompson sacrificed him to second. Green reached on another error so with runners at first and second, Dale tried to sacrifice only to have Rutherford forced out at third. But Akers' bouncer to third was botched and Green scampered home to make it 3-0. A walk to Yates loaded the bases but Graddy's drive to center was caught to end the inning.
It stayed 3-0 until the fifth when Bryant added on. With one out, Miller singled to right and Tucker walked. Though Miller was thrown out trying to get to third, Tucker stole second and scored when Rutherford pulled a base hit to left. Matthews followed with a grounder to second but when the throw to first was wild, he reached safely and Rutherford sprinted home.
In the sixth, Dale led off with a walk. Akers followed with a shot to deep center for a triple to make it 6-0.
After Twin Lakes scored in the bottom of the inning, Bryant tacked on two. Tucker was hit by a pitch and advanced on a passed ball. Thompson beat out a bunt single and, with two down, Dale singled in a run. Akers added an RBI single to set the final score.
In the bottom of the seventh, Rutherford issued his first walk and Dale came on to relieve. Graddy gunned down the baserunner trying to steal then Dale struck out the first batter he faced. After a single to left, Green caught a pop to short to end the game.
2010 SOUTHWEST REGIONAL 14-YEAR-OLD TOURNAMENT
BABE RUTH BASEBALL
At Bay City, Texas
Friday, July 30
Game 1 — McComb (Mississippi) 9, Bay City (Host) 8
Game 2 — Bryant (South Arkansas) 6, Nederland (East Texas) 1
Game 3 — Twin Rivers (Lousiana) 5, Plainview (West Texas) 3
Game 4 — Eagle Pass (South Texas) 4, West Brazos (East Texas) 3
Saturday, July 31
Game 5 — Springdale (North Arkansas) 6, McComb 4
Game 6 — Bay City 11, Nederland, (Nederland eliminated)
Game 7 — McComb 11, West Brazos 7 (West Brazos eliminated)
Game 8 — Bay City 8, Plainview 4 (Plainview eliminated)
Sunday, Aug. 1
Game 9 — Bryant 8, Twin Rivers 1
Game 10 — Eagle Pass 9, Springdale 5
Game 11 — McComb 15, Twin Rivers 11 (Twin Rivers eliminated)
Game 12 — Springdale 14, Bay City 10 (Bay City eliminated)
Monday, Aug. 2
Game 13 — Bryant vs. Eagle Pass (winners bracket final), 1:30 p.m.
Game 14 — McComb vs. Springdale, 4 p.m.
Game 15 — Game 14 winner vs. game 13 loser (losers bracket final), 7:30 p.m.
Tuesday, Aug. 3
Championship round
Game 16 — Game 13 winner vs. game 15 winner, 4 p.m.
Game 17 — Game 13 winner vs. game 15 winner, 6:30 p.m. (if game 15 winner wins game 16)