By Rob Patrick
If you think you happen to feel the hint of a cool breeze amidst the 100-degree temperatures on Monday, Aug. 2; if you find, in a moment of pause, your thoughts turning to fade routes and goal-line stands, going for it on fourth down or trying an onside kick, it's probably because you know:
They're out there — busting their tails, drenched with sweat, working through the drills, running the plays — preparing for the 2010 high school football season.
The Bryant Hornets officially begin fall practice on Monday. Their workout will go from 8 a.m. to noon. With in-service on Tuesday, they'll scale back for a special teams practice in the evening then resume the 8 a.m. to noon schedule on Wednesday. They'll don pads beginning Thursday and continue through the start of school on Thursday, Aug. 19.
Along the way, media and picture day well be held on Saturday, Aug. 14, from 9 a.m. to 11 a.m. That'll be followed by the popular "Football for Mommies" event from 11 a.m. to 1 p.m.[more]
The Hornets are scheduled to scrimmage Pine Bluff on Monday, Aug. 23, in advance of their traditional season-opener against Benton at War Memorial Stadium in Little Rock. It'll be the 11th Salt Bowl, the 38th renewal of the rivalry.
Paul Calley begins his eighth season as the Hornets head coach. He coaches the offensive line with Dale Jones and Jason Hay coaching quarterbacks, running backs and receivers. Steve Griffith is the defensive coordinator and linebackers coach with Brad Stroud working with the defensive line and John Wells with the secondary.
"I don't think much has changed from the spring," Calley said of the team's personnel. "I think we know who the guys are that are going to be playmakers for us. We know who the guys are on defense that we've got to protect and allow them to make plays.
"There are some young guys that really showed me some things during team camp," he added. "And I'm not going to say anything right now because I don't want to jinx anybody. But I was impressed with some of our young people. You know, we're a senior-laden team but I think there will be some sophomores that will see significant playing time.
"The immaturity — not so much mentally but physically — is what hurts them the most," Calley said of the sophomores, "especially some of the guys that have been in baseball all spring. They don't have the frame that some of the other guys do. They have the athletic ability for sure but they're just not very strong. And you get pushed around. When you step on the field with the teams we have to play and you're not very strong, you're going to get pushed around."
Calley reviewed his team's summer, saying, "We started out with the 7-on-7 (tournament) at Robinson. We were undefeated there. Of course, the finals got rained out. We probably would've ended up playing PA (Pulaski Academy) in the championship game. And, as it turned out, we ended up playing them in league play one evening and it was a slugfest. They ended up beating us in the end but we went toe-to-toe with them and, after they won the Shootout of the South, I felt pretty good.
"Our performance at the Fountain Lake 7-on-7 wasn't real good," he continued. "There were several contributing factors. We'd been off. It was right after the dead period (two weeks in the summer when the coaches are to have no contact with the players). We didn't do a whole lot in preparation for it.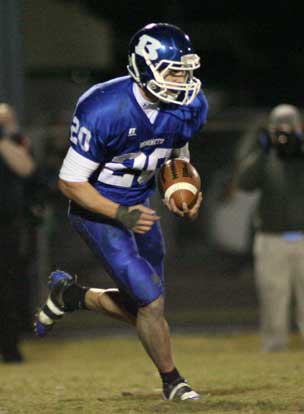 "And we were trying to work on our route combinations and what we do," the coach explained. "In 7-on-7 sometimes it doesn't work. And it wasn't working that day. We probably could've gone to more single-receiver stuff which, looking back, is what we probably should've done but we were trying to practice. Now, we know we've got to throw more single-receiver routes. So, it kind of gave us a good indicator there of what we need to work on."
Calley acknowledged, however, that the trend toward less 7-on-7 and more team camps will probably continue. Team camps aren't anything new.
"People have been doing them a while," he acknowledged. "It's hard to get all your players there when you need them. But we did a good job of it. We only had a couple that were missing.
"You don't want to take up a kid's summer but we went on two different Tuesdays and it takes the better part of a day by the time you drive over there and drive back," he continued. "But it was worth it. I think the kids enjoyed it more than they do 7-on-7 because everybody gets to go. You can work on your passing game with the threat of a run. Our quarterbacks couldn't believe how open some of the receivers were with just the threat of the run and not everybody dropping back into pass coverage. It's a lot more realistic. I think it's better for us and what we do.
"We had a JV team camp at Lakeside against Benton, Bauxite and Lakeside. Then we went to Pine Bluff for a varsity team camp against El Dorado and White Hall one week and against Pine Bluff and White Hall the next.
"It's scrimmaging," he explained. "You've got your full gear except you don't have knee pads. We wore girdles and shorts. At White Hall, we went 11 on 11. A defense will stay out on the field for six plays and there's two offenses alternating, running plays against them. So the defense gets to see two different kinds of offenses. You've got to get lined up to it, make the adjustments, which is good.
"Our JV team camp, we had some one-on-one lineman drills and some 7-on-7 stuff and some situational like a second-and-5 scrimmage," Calley related. "Then we went 11 on 11. So the JV team camp was simpler and the varsity team camp was 11 on 11 for about an hour and a half. We got a lot of good work there."
In assessing the results, he commented, "It solidified some people and it's also made us question some positions which is going to make us, during two-a-days, work some people on both sides of the ball just to give us a little added security. The depth is not there in certain positions and we've got to find it.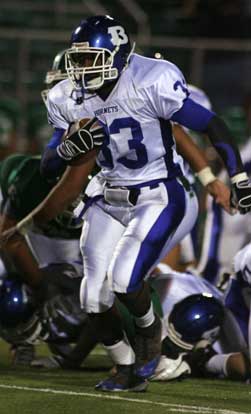 "That's a problem. When you play our non-conference schedule — we're playing three spread teams; Benton's probably going to be a little more run-oriented but Texarkana and Northside are both going to throw it — we've got to have people in the secondary that understand what we're doing and are fresh. If not, Northside will wear you down. They try to snap the ball five seconds after it's put into play. It's fast-break football. So we're going to have to be ready for that.
"That's kind of what we're concerned with right now, just getting ready for these first three spread teams," Calley emphasized. "Of course, we're going to work against all of it and the same thing offensively. We're going to try to work against as many different looks as we can."
The coach said his team will be in shorts Monday through Wednesday with special teams worked into the schedule.
"Thursday and Friday we're going to break it down a little big more," he related, "focus less on special teams, focus more on offense and defense and divide our practice up. We're going to have a primary offensive period where the players that primarily play offense practicing offense for 30 minutes. Then we'll flip them and let them practice defense, the ones that are going to have to play on both sides of the ball.
"We're going to go with primary groups, secondary groups then we'll go one-on-one — that's receivers versus d-backs, linemen versus linemen," he continued. "Then we'll go pass scale or 7-on-7 pretty much and we'll go inside drill with the linemen. Then we'll break it down into two different team periods."
The Hornets will be utilizing the new artificial surface on the Bryant Stadium field.
"We're still going to use our practice field for drillwork," Calley related. "We've got linemen chutes and blocking sleds over there and tackling dummies. We don't really want to get those on the game field so we'll continue to do that stuff on one end of the grass practice field.
"We're going to let our eighth grade have the south end of it and the ninth grade is going to use the indoor and their practice field," he added.
There are advantages of practicing on a fully lined and labeled field other than the obvious durability and weather-related ones.
"It helps us offensively because of our alignment," Calley explained. "We're used to practicing on just grass with a few lines out there. Now, we have everything. It's going to make a tremendous difference, I think, in our spacing on offense early on. It's something we've always fought early in the year. But I don't expect us to have any trouble with it this year."
BRYANT HORNETS
2010 varsity football schedule
Aug. 23 — Pine Bluff#
Sept. 3 — Benton+
Sept. 10 — Fort Smith Northside
Sept. 17 — Texarkana
Sept. 24 — at Little Rock Catholic*
Oct. 1 — Van Buren*
Oct. 8 — at Russellville*
Oct. 15 — Conway*
Oct. 22 — at Cabot*
Oct. 29 — North Little Rock*
Nov. 4 — at Little Rock Central*
#pre-season scrimmage
+Salt Bowl, War Memorial Stadium, Little Rock
*7A/6A Central Conference game