Photos courtesy of Paul Dotson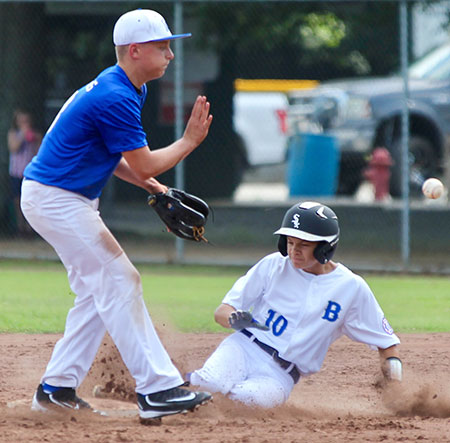 LONOKE — Joshua Turner and Blaine Sears combined on a three-hit shutout and the Bryant Athletic Association All-Stars advanced at the Babe Ruth 14-year-old State Tournament, with a 10-0 run-rule win in five innings over the Magnolia All-Stars.
Bryant is set to take on Sylvan Hills on Sunday at 6:30 p.m., for a spot in the winnners bracket final.
The Bryant 14's, coached by Scott Allison, include Kannon Allison, Tyler Bates, Dakota Clay, Connor Coleman, Noah Davis, Cole Ferguson, Will Hathcote, Connor Martin, Cameron McDonald, Justin Orender, Alec Purdom, Ryan Riggs, Sears, Lawson Speer, Brandon Thomisee and Turner.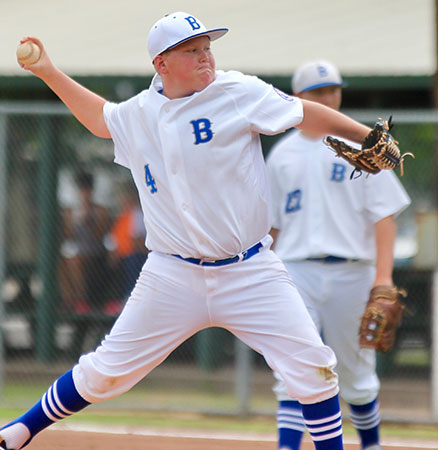 Turner pitched the first four innings and allowed no runs on three hits with three walks and six strikeouts. Sears finished with a perfect inning that included a strikeout.
Offensively, Riggs and Sears each had two hits and two runs batted in. Turner also knocked in a pair.
The game was scoreless going into the bottom of the third when Bryant struck for five runs. Davis instigated the uprising with a lead-off double. Riggs singled up the middle to drive him home.
After Riggs stole second, a knock by Hathcote put runners at first and third. Speer was hit by a pitch to load the bases. Turner grounded into a fielder's choice as Riggs was forced out at the plate. But Sears came through with a two-run double to make it 3-0.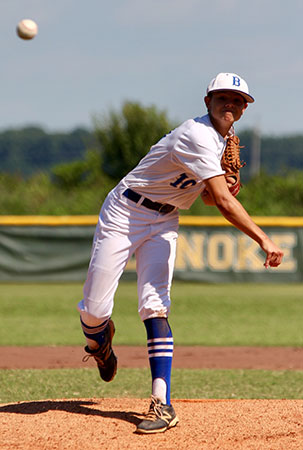 Turner scored on a passed ball as Orender was waiting out a walk. Sears scored on a passed ball to make it 5-0.
Magnolia was retired in order in the top of the fourth, with Turner striking out two.
Bryant's second big inning was started by Davis again. This time, he was struck by a 2-0 pitch. He stole second then scored on Riggs' single to make it 6-0. Riggs hustled to second on the late throw to the plate.
Clay worked a walk then Hathcote was hit by a delivery to load the bases. Speer picked up an RBI with a walk then Turner's sacrifice fly made it 9-0.
Speer scored the 10th run on Orender's base hit.
Sears came on to pitch in the top of the fifth and retired the side in order to make it 11 in a row set down by the Bryant pitching duo.