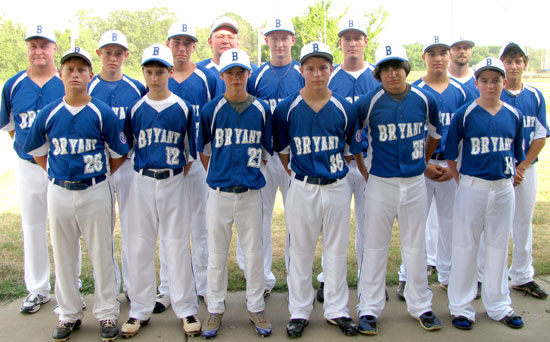 Photos courtesy of Rachel Prater and Donna Wilkerson
The Bryant Athletic Association 15-and-under All-Star team has qualified to advance to the[more] Babe Ruth State Tournament in Hamburg by finishing third in the District Tournament last weekend. They'll open play at State on Friday, July 12, at 1:30 p.m.
Members of the team include, front from left, Gage Lest, Austin Hooper, Brennan Lester, Kaleb Kling, Alex Thompson, Seth Carden; middle row, Coach Brian Hooper, Colin Welch, Dylan Singleton, Joey Cates, Conner Riley, Kyle Kling, Garrett Jarvis; and back row, Manager Dale Welch and Coach Jamie Easterling. Not pictured, players Trey Ashmore, Noah Easterling and Jeremiah Long.