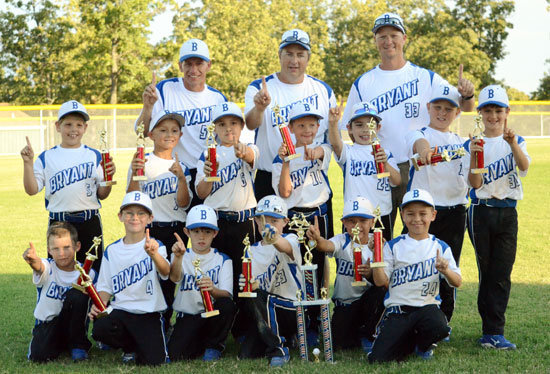 SHERWOOD — In a final tune-up for State Tournament play, Bryant teams shined at the 8-and-under Firecracker[more] Tournament at Sylvan Hills over the weekend. Both the 8's and 7's reached the championship game on Sunday with the older team prevailing for the tourney title, 7-0.
The 8-year-old team, headed up by Joey Small, is Luke Bickerstaff, Dawson Brown, Drake Brown, Tucker Dunn, Braxton Fischer, Matthew Griffe, Mason Lucas, Tanner Newell, Logan Owen, Alex Skelley, Chase Small, Dylan Stroud and Daniel Taylor.
The 7-year-old team, managed by Jeremy Stovall, is Garrison Blacklaw, Brady Brower, Reid Catton, Clay Crawford, Gage Horn, Dillon Hunt, Grant Johnson, Carson Kemp, Gideon Motes, Carson Nagle, Hank Penfield, and Caden Stovall.
To get to the final, the Bryant 8's defeated the Lonoke Bullets, 10-3, and the Star City All-Stars, 16-3, in pool play on Saturday. In bracket play on Sunday, they dismissed Star City, 9-4 then Little Rock Junior Deputy, 10-3, to reach the semifinals. A 12-2 victory over Sylvan Hills set up the championship game
The State Tournament, also at the Sylvan Hills ballpark, will commence July 5.
Bryant 8's 7, Bryant 7's 0

Drake Brown, Fischer and Dawson Brown combined on a six-hit shutout in the five-inning game. Small, Dunn and Fischer led the 8's offense with two hits each. Fischer and Skelley each drove in two runs.
For the 7's, Blacklaw and Nagle each had two hits while Johnson and Crawford accounted for the other two knocks.
Blacklaw singled and advanced to second on an error in the top of the first but was stranded. In turn, the Bryant 8's grabbed a 2-0 lead. Lucas led off with a single and, with one out, Small belted a double to drive him in. Griffe's singled chased in Small who had advanced to third on the late throw to the plate.
Nagle smacked a one-out single in the top of the second but was forced at second on a grounder to Bickerstaff at short off the bat of Horn. In turn, the 8's made it 5-0. Drake Brown singled then Dunn beat out a bunt for hit. With two down, Fischer doubled in both of them before coming around on Skelley's two-bagger.
It stayed 5-0 through four innings. Crawford singled with two down in the top of the third and Small singled with one down in the bottom half. In the fourth, two-out hits by Blacklaw and Johnson produced the 7's best chance to score but both were stranded.
Dawson Brown had a two-out hit in the bottom of the fourth and Nagle's second hit opened the top of the fifth. But both were left on.
In the bottom of the fifth, Dunn, Owen and Fischer each beat out bunts to load the bases for the 8's. Skelley and Lucas followed with sacrifice flies to put the game out of reach.
Bryant 8's 12, Sylvan Hills 2

Bryant cracked 18 hits and got off to a fast start with a five-run first. Bickerstaff had three hits with Lucas, Small, Newell, Drake Brown and Dunn each contributing two hits.
Sylvan Hills loaded the bases in the top of the first but could not dent the plate. Bryant's uprising began with singles by Lucas and Bickerstaff. Consecutive doubles by Small and Griffe made it 3-0. An errant throw allowed Griffe to reach third and he scored from there on a single by Newell. Newell swiped second and reached third on Dawson Brown's infield hit. With two down, Drake Brown beat out a bunt for a hit, plating Newell with the fifth run.
After retiring Sylvan Hills 1-2-3 in the top of the second, Bryant's Stars struck for two more in the home half. With two down, Dunn wound up at third on a bunt. Doubles by Lucas and Bickerstaff drove in runs.
Newell doubled to start a two-run third. Stroud doubled him in and, with two down, singles by Taylor and Drake Brown made it 9-0.
Sylvan Hills stayed alive with two runs in the top of the fourth but Bryant put the game out of reach with a three-run burst in the bottom of the frame. Singles by Skelley and Dunn set the table. Lucas picked up an RBI with a groundout then Bickerstaff doubled in Dunn. The final run came after Small singled and he and Bickerstaff worked a double steal.
Bryant 8's 10, LR Junior Deputy 3

Lucas led a 17-hit attack with a 3 for 3 game. Bickerstaff, Small, Griffe, Newell and Dawson Brown connected for two hits apiece.
A five-run first erased a 1-0 deficit. Bryant loaded the bases on hits from Lucas Bickerstaff and Small and Griffe cleared them with a three-run double. A hit by Stroud, a double by Taylor and a single from Dawson Brown capped off the inning.
In the third, Bryant bumped the advantage to 8-1 on hits by Small, Griffe and Newell and an RBI groundout from Stroud.
A two-run homer for Junior Deputy clipped a pair of runs off the advantage but that's all the Little Rock team would get.
Bryant put it out of reach in the home fifth. Lucas and Bickerstaff singled and, after Small got down a sacrifice bunt, Small delivered a run with a sacrifice fly and Newell singled to end it.
Bryant 8's 9, Star City 4

The game was tied 3-3 going into the bottom of the fourth when Bryant scored the maximum to gain the upper hand.
Bickerstaff, Griffe, Newell, Dawson Brown and Drake Brown each connected for a pair of hits in the game.
Bryant staked out a 2-0 lead in the bottom of the first. Lucas and Bickerstaff started things with base hits, though Lucase was thrown out trying to steal second before Bickerstaff's hit. Bickerstaff stole second and third then tagged up and scored on Small's sacrifice fly. Doubles by Griffe and Newell made it 2-0.
Star City scored three runs in the top of the second but didn't have the lead for long. In the home half, two-out doubles by the Brown twins tied it up.
It stayed deadlocked until Bryant's breakout fourth in which Bickerstaff, Small and Griffe each singled to bring the tiebreaking run around. Newell's base hit chased in Small and when the ball was thrown around in error, Griffe scored as well. Stroud's single knocked in Newell to make it 7-3.
After Taylor grounded into a force at second, Dunn beat out a bunt hit. An error on the play allowed the duo to move up to second and third. Dawson Brown's hit to left chased home Taylor and Drake Browns' single to center plated Dunn to end the inning.
Star City made it 9-3 with a run in the top of the sixth but it wasn't enough to keep the game going with the six-run maximum per inning.
Bryant 16, Star City 3

In Saturday's late game, Bryant pounded out 23 hits, scoring six times in the second after falling behind 1-0 and adding three in the third and seven in the fourth to complete the romp.
Bickerstaff and Small each had three hits and Griffe drove in four runs.
In the second, hits by Newell, Taylor and Dunn loaded the bases for Dawson Brown who doubled to center to drive in the first two runs. Dunn scored on Drake Brown's bunt hit and Owen doubled in both Browns. Hits by Fischer and Skelley brought Owen around with the sixth run.
A three-run third for Bryant featured a two-run homer by Griffe. Small, who had doubled in Bickerstaff, scored on the blast.
Star City whittled two runs off the margin in the top of the fourth but Bryant trumped that in the bottom of the inning. Bunt singles by Dunn and both Browns set the table. After Owen grounded into a force at the plate, Fischer doubled in two, Skelley singled in another and Lucas got Fischer home with a grounder to short. Bickerstaff's hit got Skelley to third and doubles by Small and Griffe ended the game.
Bryant 10, Lonoke Bullets 3
Lonoke's two-run third knotted this game 3-3 but Bryant maxed out the bottom of the inning to take control of the game. Lucas, Newell and Taylor cracked two hits apiece for Bryant. Small and Griffe each drove in two runs with Griffe belting a home run to cap off the game-breaking inning.
Both teams scored a run in the first. Bryant's came on a single by Lucas who stole second, took third on a groundout by Bickerstaff and hustled home on a bouncer to first by Small.
Stroud and Dawson Brown had RBI singles in the second as Bryant made it 3-1. Newell scored after opening the inning with a single and a pair of stolen bases. After Stroud was caught trying to steal, Taylor singled and swiped his way to third before score on Brown's hit.
Lonoke answered with two of its own in the top of the third, setting up Bryant's big inning when singles by Owen, Fischer and Skelley produced the first two runs. Lucas double home Skelley then scored on a single by Bickerstaff. After a stolen base, Bickerstaff scored on Small's single and Griffe uncorked his homer (though his run didn't count because of the six-run maximum).
The final run came in the fourth when Newell singled, stole second, took third on a groundout by Stroud and scored on a base hit by Taylor.