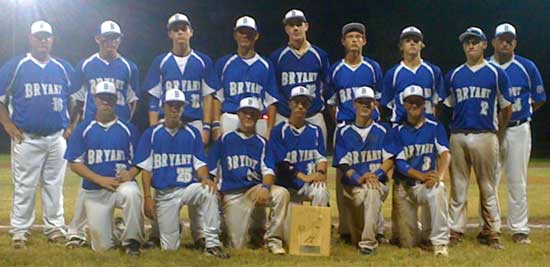 The Bryant 15-year-old All-Stars captured the District 3 & 4 Babe Ruth Tournament[more] championship last weekend.
The team won by forfeit against Clark County then dismissed Hot Spring County, 10-1. A 15-4 win over Clark County in the final gave them the title.
Players include Harrison Dale, Jack James, Korey Thompson, Zach Graddy, Austin Miller,Chase Tucker, CJ Phillips, Tristan Matthews, Blake Yates, Caleb Strain,Austin Caldwell, Chris Troillett, Nate Rutherford. Coaches: Chris Phillips, Jimmy Parker, Manager Jason Thompson.
The team will open play State Tournament play in Crossett on Friday, July 8, at 10 a.m., against Hot Spring County. Regionals will be held in Plainview, Texas, July 28-Aug. 2.