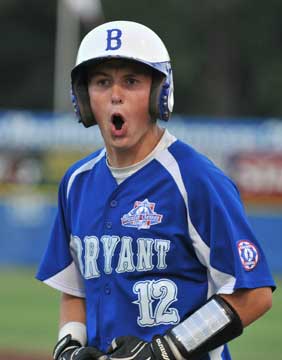 By Rob Patrick
Photos by Ron Boyd
MONTICELLO — The 'Cardiac Kids' are back.
Two strikes from having their run at the 15-year-old Babe Ruth World Series come to a stunning end at the hands of the Stamford, Conn., All-Stars, the Bryant Stars tied Wednesday's quarterfinal game on a clutch two-out RBI double by Hayden Daniel in the bottom of the seventh. They then won it on a blazing dash from third by Marcus Wilson on an infield roller by Cameron Price in the eighth.
With the 2-1 win, Bryant advanced to the final four. In the semifinals on Thursday, the team will take on Saginaw Valley, Mich., champions of the National Division pool, at 5:30 p.m. The winner will play for the World Series championship on Friday.
The Bryant 15's include Zach Cambron, Evan Castleberry, Hayden Daniel, Josh Davis, Evan Ethridge, Cody Gogus, Tyler Green, Riley Hall, Blain Jackson, Tyler Nelson, Cameron Price, Daniel Richards, Tryce Schalchlin, Devon Sears and Marcus Wilson. The team is managed by Jimmy Parker with assistance from Tony Ethridge.[more]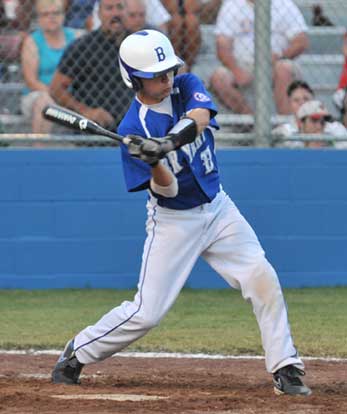 Two years ago, when the Bryant All-Stars won the 13-year-old Babe Ruth World Series, it seemed like they were behind in every game and always — always — found a way to pull out a win, often in dramatic fashion.
The bulk of that team makes up this year's 15's and they had their fans reminiscing about that run at Jamestown, N.Y., after Thursday's win.
The late-inning heroics not withstanding, the Bryant Player of the Game was Cambron. After a rough outing in Bryant's lone loss of the tourney against North Syracuse, N.Y., the big lefty came back with six innings of three-hit relief. After Stamford scratched out a run in the third inning, Cambron shut the New England Regional champ over the final five frames to pick up the win.
"Zach Cambron was huge tonight," declared Parker after the game. "That was a performance that he is capable of providing."
And the Bryant Stars had to have it, because of the stingy pitching of Connecticut's lefty Shawn Crowell. Through five innings, he blanked Bryant on just two hits.
"We struggled all night long," said Parker. "That lefty was good. He was around the plate. We don't get held down to two hits by anybody very often and he did. We tried to get runners in scoring position, we just couldn't get the hit we needed."
Crowell hit Nelson with a pitch to start the sixth but Luis Lopez relieved and, despite a walk to Cambron, worked out of the inning to keep it 1-0.
In the seventh, Price beat out an infield hit and Jackson sacrificed him to second. Cody Gogus, benched by illness to start the game, came in to pinch hit but was retired when Stamford catcher Jeff Corteze made a nice play on his foul pop at the fence.
That brought up Daniel.
"I'm feeling really good right there," Parker declared. "No matter who was up there in that situation, I'm feeling pretty good right there because these kids just believe that they're going to do what it takes to win. I'm proud of them guys. They never think they're going to lose."
On a 1-1 pitch, Daniel rifled a one-hop shot between the third baseman and the bag and Price came sprinting home with the tying run.
"I'll tell you the weight on my shoulders going around to third every inning was getting heavier and heavier every inning because I was trying to figure out what, how and when we could do it. But I knew if we kept getting runners in scoring position, if we kept getting them to second then eventually we'd get one on around. Hayden just came up big time."
Cambron eased through the top of the eighth, working around a two-out walk. Wilson led off the bottom of the inning with a walk. With one out and Cambron up, Parker called for a delayed steal and caught Stamford napping. Cambron took a late swing as Wilson took off. The Stamford middle infielders were late in covering and the throw from Corteze rolled into center as Wilson bounced up and raced to third.
With the potential winning run at third and one out, the Stamford coaches played it by the book and started to issue an intentional walk to Cambron. But when the second pitch was took close to the plate, Cambron took a swing at it and got a piece, squibbing it foul.
With two strikes on the hitter, Stamford started to go ahead and pitch to him. But Cambron wouldn't chase ball two so they went ahead and issued the intentional walk. They did the same to Richards to load the bases and set up a force at every base. The infield came in on the grass for a play at the plate.
Price worked the count to 2-2 then hit a roller towards second. All Stamford needed was a force but Wilson, getting a walking start from third because Lopez was working out of a windup, slid across the plate before Corteze could stretch out for the late throw from second sacker Steve D'Annolfo.
The celebration ensued.
"He got a good walking lead and, on contact, he was out the door," Parker acknowledged. In regard to Stamford not holding Wilson at third, he stated, "That was shocking to me that they weren't because the squeeze was in play right there. There was a big thought process there because they weren't holding him. And I knew the kid, if we broke late with him going out of the wind-up, he would never see it and we'd get it down and be there with Marcus. That was in play but I felt like Cameron could do it and he did. He put it in play and that was great."
It proved crucial that Bryant worked its way out of a jam in the top of the seventh. Matt Green had led off the inning with an infield hit. He was sacrificed to third. So, with one out and Lopez up, a squeeze play seemed to be in order. On the first pitch, Lopez missed a bunt on an apparent safety squeeze but that was the last time it was attempted. Cambron struck him out on a 2-2 pitch.
Stamford then sent up Jason LoRusso, who usually started at catcher and led off but had suffered a hip injury the night before which kept him out of the lineup. He fouled off a 3-1 pitch and re-aggravated the injury so D'Annolfo returned with a 3-2 count and drew a walk.
With runners at first and third, Stamford was back at the top of its lineup but Cambron fanned DelMazzio to end the threat and keep it 1-0.
Nelson had started for Bryant but came out after two innings with a little arm soreness. Stamford threatened in the second when Kevin Epp laced a sinking liner to right that got by Price and went for a triple. But Nelson retired the next three, forcing Epp to be stranded.
Bryant had threatened in the bottom of the first when Daniel led off with a single, Nelson was hit by a pitch then Wilson bounced into a force at short. But, with runners at the corners, Crowell escaped with a pair of strikeouts.
Cambron, who started for Gogus at first, came on in the third and retired Crowell, the first batter he faced. D'Annolfo drew a walk but Cambron had him picked off. Bryant got him in a rundown but a late relay allowed the baserunner to avoid a tag and get into second.
Lead-off man Greg DelMazio sacrificed him to third. With two out, Travis Docimo hit a sharp grounder into the hole at short. Nelson backhanded the ball nicely but his off-balance throw was in the dirt and Docimo was safe as D'Annolfo scored.
And for a long time, that looked like it would be the only run of the game.
In the bottom of the inning, Castleberry beat out an infield hit but was forced on a bouncer to second by Daniel. A stolen base put Daniel in scoring position but Nelson's shot to center was tracked down by Kyle DiVico. Wilson then laced a liner to the right of Docimo, the shortstop who made a diving stab to end the inning and save the lead.
Epp beat out an infield single to start the top of the fourth and, an out later, Matt Green reached on an error. But Cambron struck out James Mattimore and got pinch-hitter Greg Hajjar to fly to Price in right.
Bryant went down in order in the bottom of the fourth and Stamford did the same in the top of the fifth.
In the home fifth, Price drew a walk and Sears came on to pinch-run. Jackson sacrificed him to second put Stamford worked a pickoff play. The throw from Crowell got past D'Annolfo who got a glove on the ball. Sears started to look for third but Docimo was hustling to back up the play, got to the ball and just beat Sears back to the bag with a flip to D'Annolfo.
Schalchlin drew a walk and advanced on a wild pitch but Crowell escaped when Daniel bounced out to third.
In the top of the sixth, Cambron issued a one-out walk to Epp but he got Corteze to bounce back to the mound. He started a 1-6-3 doubleplay to end the inning.
Nelson was hit again to start the bottom of the inning and Crowell gave way to Lopez who got out of the inning, stranding runners at first and second.