Photos courtesy of Paul Dotson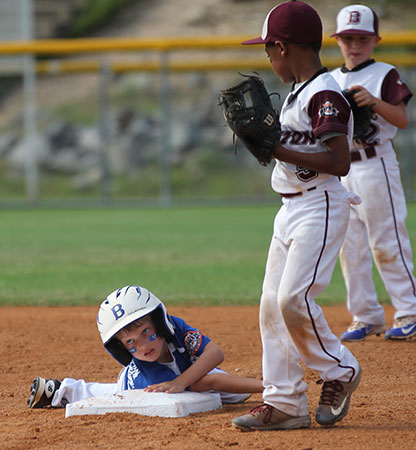 SHERWOOD — Playing in a 6-and-under State T-Ball Tournament, the Bryant 5-and-under All-Stars won three times before being eliminated by the 6-year-old Sylvan Hills team 23-9 on Sunday. It was Bryant's third game of the day but they finished among the final six teams in the tourney, a feat that few, if any, Bryant 5's have done before.
The team, coached by John Harrison with assistance from Mike Abrahamson, Brad Parker, Garrion Madison and Brad Silas, includes Paxon Abrahamson, Brantlee Baker, Chase Fleming, Jaxson Harrison, Garrion Madison, Chance Orender, Mason Parker, Trey Patterson, Brad Silas Jr., Caden Tolleson, Lane Warren and Karson Young.
Bryant's 5's opened the tournament with a 19-11 win over Stuttgart's 6-and-under squad on Saturday, June 24. That evening, Bryant took on the Benton 6's and absorbed an 18-10 setback.
In the losers bracket, the 5's stayed alive by eliminating the Benton 5's, 22-6, then the Cabot 6's, 20-19, before running into Sylvan Hills.
Today, the Benton 6's were set to play the Bryant 6's for a spot in the championship round while Sylvan Hills continues in the losers bracket hoping to earn a berth in the losers bracket finals tonight against the loser of the Bryant-Benton contest.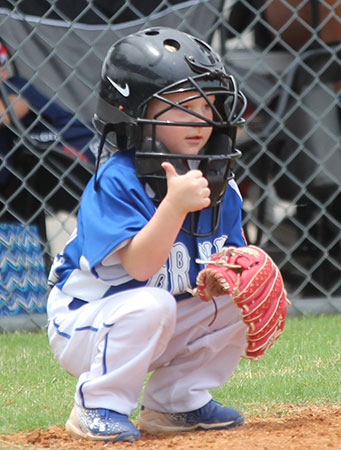 The Bryant 5's will advance to the 6-and-under Regionals in Arkadelphia, which begins on July 7.
Bryant 19, Stuttgart 11
After managing just one run in the first inning, Bryant scored the maximum limit of six runs in the second, third and fourth to leave Stuttgart in their wake.
In the opening frame, Madison singled but was forced at second on a grounder off Warren's bat. A double by Harrison put runners at second and third. Abrahamson hit a grounder to first that allowed Warren to score. Harrison tried to come home as well but a relay to the plate got there before he did.
Stuttgart answered with a four-run uprising to take the lead. But it didn't last long as Bryant started the run of max innings in the top of the second. The inning began with triples from Fleming and Parker. Patterson singled to make it 4-3 then Silas doubled to tie the game.
Orender beat out an infield hit as Silas held at second. Baker drove in Silas with a hit and runners wound up at second and third. Tolleson beat out an infield hit as the runners held and the bases were loaded for Young. He tapped back to the mound for a force at the plate. Baker scored on Madison's grounder to the pitcher who threw to third to retire Tolleson.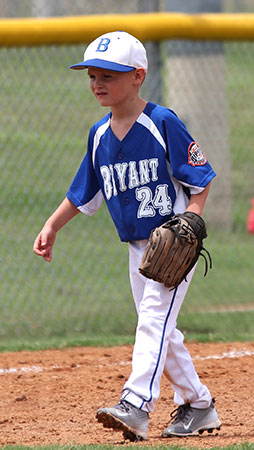 Warren's double made it 7-4.
Stuttgart failed to score in the bottom of the inning and Bryant increased its advantage to 13-4 in the third. Harrison instigated things with a single. Abrahamson lined a single to left and Fleming drove a base hit to center to drive in both runners.
Parker beat out an infield hit then scored behind Fleming when Patterson's drive to right went for an inside-the-park homer.
The inning continued with hits from Silas and Orender. Baker grounded into a force at third. Tolleson singled to load the bases and Young legged out an infield hit to drive in Orender, making it 13-4.
Stuttgart rallied for four runs in the bottom of the inning to cut into the lead but was trumped again in the top of the fourth. Base hits by Madison and Warren set the table for Harrison, who ripped a triple to right to chase them home.
Abrahamson's bunt was fielded and Stuttgart chose to hold Harrison at third as Abrahamson reached first safely. Fleming infield hit made it 16-8 then Parker doubled in Abrahamson before Patterson tripled in two to cap off the inning with Bryant up 19-8.
Stuttgart kept its dim hopes alive by rallying in the bottom of the inning but when Bryant held them to three runs, the game concluded.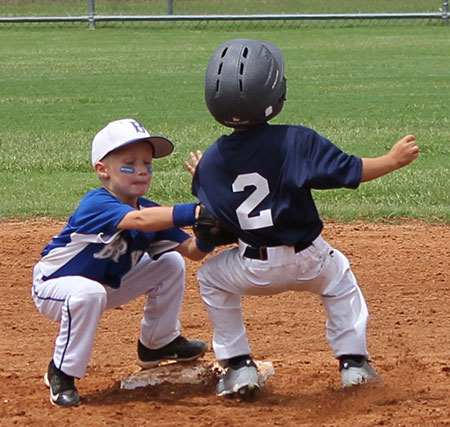 Bryant 22, Benton 5's 6
Bryant scored four in the top of the first and never trailed in the blowout win. Benton picked up a run in the home first only to have Bryant score the maximum per inning of six in each of the innings to follow.
The opening burst began with a single by Madison and a double by Harrison. Abrahamson singled both home and, with two out, Parker tripled to make it 3-0. Patterson lined a single to center to cap off the inning as Parker scored.
Bryant's second began with singles by Orender and Tolleson. They moved to second and third on Baker's groundout. Orender scored when Young doubled. Madison tripled to make it 7-1 then scored on Warren's base hit. Knocks by Harrison and Abrahamson brought Warren around to make it 10-1.
After holding Benton scoreless in the bottom of the second, Fleming started the top of the third with a triple to left. Parker singled him in. Patterson and Silas each singled to get Parker home. Orender's hit drove in Patterson and Tolleson plated Silas with a single to make it 14-1.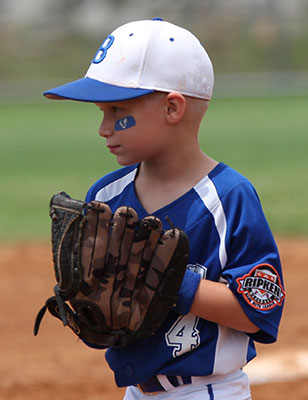 With two away, Young singled in a run and Madison tripled to make it 16-1.
Benton extended the game with a four-run home third but before they would bat again, the Bryant lead had ballooned to 22-5.
Warren doubled to start Bryant's fourth. Harrison and Abrahamson each singled to get him home then both crossed the plate on Fleming's triple. Parker singled to make it 20-5 ahead of Patterson's two-run inside-the-park homer.
A triple and a groundout produced Benton's last run in the bottom of the fourth.
Bryant 20, Cabot 19
After being knocked into the losers bracket by the Bryant 6's, the Cabot 6's were eliminated by the Bryant 5's on Sunday when they snapped a 14-14 tie with six runs in the bottom of the fourth then got Cabot out in the top of the fifth before they could score a sixth and tying run. With runners at first and third with two out, Abrahamson fielded a grounder to short and got a force at second to end the game.
Cabot took a 3-0 lead in the top of the first. Bryant answered with a max inning in the home half. Madison singled, took second on Warren's groundout then scored on Harrison's double. Abrahamson then socked an inside-the-park homer to tie the game.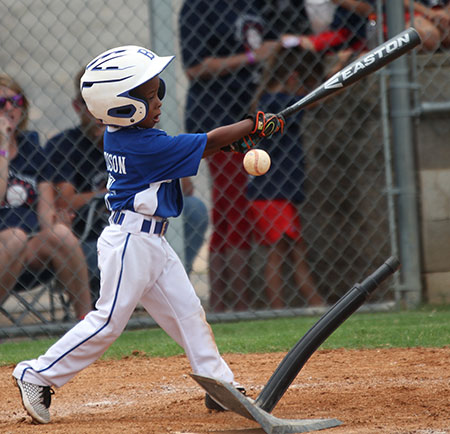 Fleming got the offense revved up again with a hit. Parker singled and Patterson picked up an RBI when he grounded into a force at second.
Up 4-3, Bryant's outburst continued with singles from Silas, Orender and Tolleson to complete the inning.
Cabot was unable to answer in the top of the second and Bryant tacked on two in the home half. Singles by Baker, Young and Madison produced the first run.  Young scored on Warren's groundout to make it 8-3.
A six-run home third, however, game Cabot a 9-8 edge. That didn't last long though as Bryant scored six of its own in the bottom of the third.
Hits by Fleming, Parker and Patterson produced the tying run. Parker scored on a double by Silas and Patterson came home on Orender's single. With one out, Baker doubled in Silas and Young doubled in two.
Bryant led 14-9 but Cabot kept the pressure on with five in the top of the fourth. The potential sixth run was stranded at second as Bryant got out of the jam.
The bottom of the fourth started with singles by Madison, Warren and Harrison resulting in a tie-breaking run. Warren, however, was caught at the plate trying to follow Madison home.
Abrahamson singled and Fleming drove home two with a triple to right. Parker singled him in to make it 18-14. Patterson's base hit set up Silas' bunt hit that got Parker home. Orender's infield hit plated Patterson and it was 20-14.
Cabot got within a run and had two aboard when the game concluded.
Sylvan Hills 23, Bryant 9
Scoring the maximum of six runs in each of the first three innings, Sylvan Hills set a pace that Bryant just couldn't keep up with.
It was 6-0 when Bryant came up in the bottom of the first. Madison started the bottom of the inning with a single. With one out, Harrison doubled him home to get Bryant on the board.
With two away, Fleming chased in Harrison with a bunt hit on which he sprinted all the way to second. Parker singled him to third and Silas doubled to make it 6-4.
But Sylvan Hills got out of the inning at that point and proceeded to make it 12-4 going into the bottom of the second. And when Bryant was unable to carve into that lead, Sylvan Hills got six more in the top of the third.
Trailing 18-4, Bryant refused to fold. In the bottom of the third, Warren singled and scored on Harrison's double. Abrahamson added an RBI single to make it 18-6.
Fleming grounded into a force at second then Parker grounded out as Fleming took second. Patterson's hit drove him home. Silas singled and Orender drove both home with a double to make it 18-9.
Tolleson singled Orender to third but both were stranded when Sylvan Hills got the final out of the inning.
And Sylvan Hills scored five more in the top of the fourth to extend the lead further.
In their final at-bat, Bryant's Stars were unable to turn Warren's two-out single into a comeback.