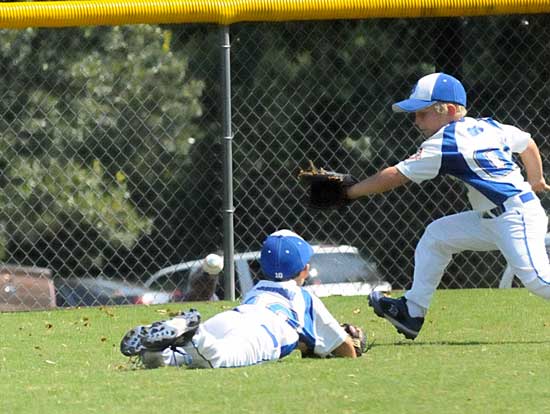 Photos by Kevin Nagle
SHERWOOD — The Bryant 6-year-old All-Stars were set to play in the winners bracket final today after[more] whipping Monticello 18-11 on Saturday to set up a rematch on Sunday with the Sylvan Hills Bears. The Bears had edged out Bryant in the District finals but this time, Bryant outlasted them in a 25-24 thriller.
The Stars had a bye to start the tourney then advanced via forfeit to Sunday's contest.
The 6-year-old team includes Reid Catton, Clay Crawford, Tucker Dunn, Mathew Griffe, Grant Johnson, Logan Hope, Carson Kemp, CJ Nagle, Logan Owen, Chase Small, Dillion Stroud and Daniel Taylor. It's managed by Joey Small with assistance from Jonathan Hope and Michael Stroud.
The team will host the Southwest Regional Tournament at Bishop Park starting July 15.
In Sunday's win, each team reached the maximum of six runs in three innings but Sylvan Hills led 24-22 going into the bottom of the fifth inning when Bryant rallied for the victory.
Dunn, who along with Hope, had four hits in the game, started the winning uprising with a double. Small and Hope followed with two-baggers of their own to tie the game. And when Taylor doubles as well, Bryant had the victory.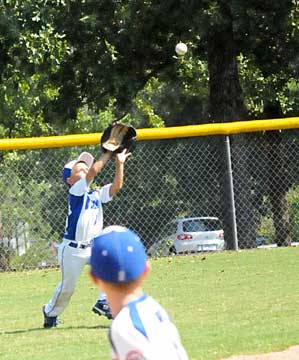 Both teams scored the max in the first inning so Bryant came up trailing 6-0. Dunn started the answering uprising with an inside-the-park homer. Small and Hope followed with singles and both raced home when Taylor belted a triple. Stroud singled him home.
A base hit by a Kemp advanced Stroud who then scored on an error. Nagle's double plated Kemp and it was 6-6.
What proved to be a key inning followed. Sylvin Hills was limited to one run as the Bryant defense vacuumed up three groundballs for outs around a triple by Hunter Sherrill and a since by Marquis Gooden.
And, in response, the Stars gained the upper hand with another six. This time, Owen got things revved up with a base hit. Johnson doubled him home and, an out later, Dunn knocked in a run with a single. After Small's base hit, Hope belted a triple to chase them both home. A sacrifice fly by Taylor made it 11-7. Singles by Stroud and Kemp set the table for Nagle, who's second double completed the inning.
Sylvan Hills tied it with a five-run third but Bryant answered with four more in the home half. Doubles by Griffe and Catton put the Stars back on top with Catton reaching third on an error. Owen singled him home then Johnson ripped a double to keep the carousel going. Dunn's one-out single made it 16-12 going into the fourth.
Each side reached the max in the fourth again. Sylvan Hills' gained an 18-16 edge with its outburst but, again, Bryant had an answer.
This time, Hope was the instigator with a base hit. Taylor, Stroud, Kemp, Nagle and Griffe each followed by stroking consecutive doubles. Singles by Catton, Owen and Johnson made it 22-18.
The Bears' third six-run burst in the top of the fifth produced the lead that Bryant overcame to win in the bottom of the inning.