Madre London, who will be a sophomore running back for the Bryant Hornets this fall, was named the[more] running back most valuable player at the National Underclassmen Camp in Duncanville, Texas, recently.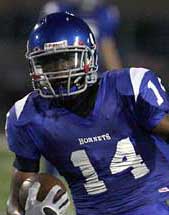 The camp included the best players in the Southwest Region for the Class of 2014.
London was chosen MVP from among around 30 other backs that competed in the camp. He has thus been invited to complete nationally at the University of Oklahoma with the top 50 players this month.
As the feature back for the Bryant freshman team last season, London rushed for 969 yards on 123 carries, caught five passes for 36 yards and led the team in scoring with 13 touchdowns and a conversion for 80 points.
Those stats were despite limited playing time in some of the Hornets' routs. He finished strong by eclipsing 150 yards in each of the last two games including a season-high 159 in the Junior Hornets' 16-0 win over the rival Benton Panthers.