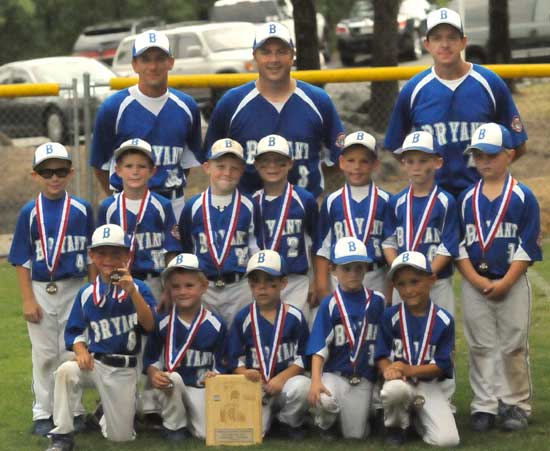 Photos by Kevin Nagle
SHERWOOD — The Bryant 6-year-old All-Stars' developing rivalry with the Sylvan Hills Bears continued to[more] evolve in advance of the Southwest Regional, which will be held at Bishop Park starting Friday, July 15.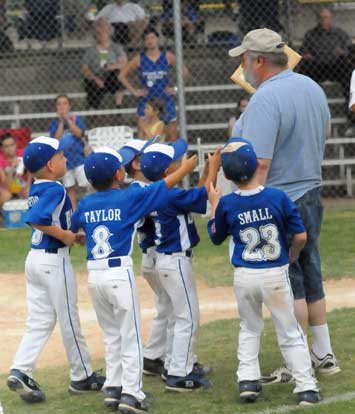 At the State tournament at Sylvan Hills, the Bears took their turn at victory with a 23-10 win over the Bryant Stars in the losers bracket final. Bryant had suffered a 17-14 loss to Cabot in the winners bracket final and wound up third at State.
The 6-year-old team includes Reid Catton, Clay Crawford, Tucker Dunn, Mathew Griffe, Grant Johnson, Logan Hope, Carson Kemp, CJ Nagle, Logan Owen, Chase Small, Dillion Stroud and Daniel Taylor. It's managed by Joey Small with assistance from Jonathan Hope and Michael Stroud.
Cabot 17, Bryant 14
Though Bryant scored in every inning, Cabot put across the maximum of six in each of the first two frames then scored five in the fourth and it proved too much for the Stars to overcome even though they rallied for three in the top of the fifth to get as close as they did.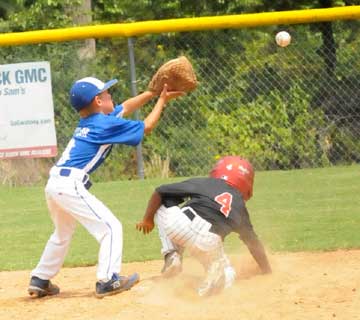 Bryant broke out to a 4-0 lead in the first. Dunn tripled and Small singled him home. After Hope grounded into a force at second, Taylor cracked an RBI double. He tried to stretch it to a triple and was tagged out. But Stroud doubled and Kemp singled to set the table for Nagle who drilled a single to chase both home.
After Cabot surged to a 6-4 lead in the bottom of the inning, Bryant surged to a 7-6 lead in the second. Catton singled to start the inning and, with two out, Crawford had a base hit. Dunn belted a two-run double then scored on a two-bagger by Small to give Bryant the lead.
But another six-run uprising by Cabot put the Stars in a 12-7 hole going into the third. They whittled two runs off the margin in the top of the third when Taylor blasted a triple then singles by Stroud, Kemp and Griffe produced the runs.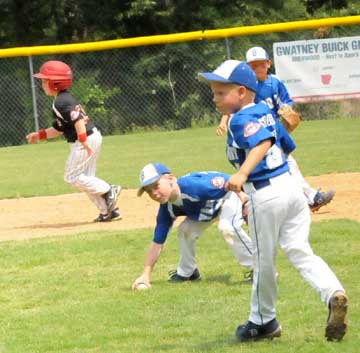 And when Cabot was unable to score in the bottom of the third, Bryant had a chance to close the gap further. A double by Owen got things going. With one out, Crawford singled him home. Dunn singled Crawford to third and he scored from there on a groundout by Small to make it 12-11.
Cabot grabbed all the momentum back in the bottom of the inning, however, scoring five times. That meant that Bryant needed to score the maximum in the top of the sixth to catch up and keep the game going. Taylor singled to open the inning but was forced at second on a grounder by Stroud. With two down, Nagle kept the Bryant hopes alive with a single and Griffe built on that with an RBI single. Catton's base hit plated two more but that was all they could get as Catton was forced at second on a grounder by Owen.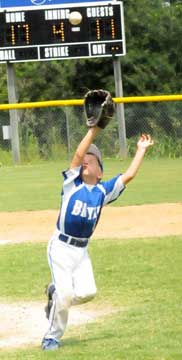 Sylvan Hills 23, Bryant 10
It got away late from Bryant's Stars against the Bears who scored the maximum in the third, fourth and fifth to put the game away.
Both teams scored five times in the first. For Bryant, Dunn singled and was forced at second on a grounder by Small. Hope added a base hit then consecutive doubles by Taylor and Stroud drove in runs, though Taylor was out trying to turn his double into a triple. A base hit by Kemp knocked in a run then Nagle belted a double to set the stage for Griffe's two-run single which tied the game 5-5.
Neither team scored in the second then Sylvan Hills racked up its first max inning. In Bryant's home third, Owen doubled, Johnson singled and Crawford singled in a run. Dunn bounced into a force at third that retired Johnson but Small singled to load the bases. All three scored on Hope's groundout but, despite a single by Taylor and a double by Stroud, that was all the Stars could get. They went to the fourth trailing 11-9.
Another six-run burst by the Bears broke the game open. Bryant could only manage one run over the final two frames. It came in the fourth when Griffe singled and scored on a two-out double by Catton.