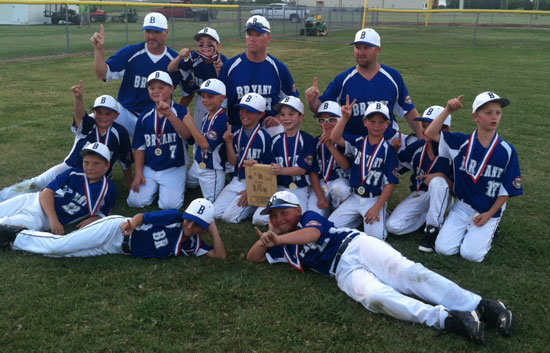 LAKE VILLAGE — Aiden Adams came on in relief to pitch out of a fifth-inning jam then limited a sixth-inning uprising as[more] the Bryant 9-year-old All-Stars held off the Little Rock Junior Deputy All-Stars to capture the 2012 Cal Ripken South Arkansas State championship.
Bryant used three runs in the third and three more in the fourth to build a 6-2 lead before Junior Deputy started whittling on the margin with a run in each of the last three frames. But Bryant pitchers forced the Little Rock team to strand six base-runners in those last three at-bats resulting in a 6-5 win.
The Bryant 9-year-old All-Stars are Adams, 
Tyler Bates,
 Dakota Clay,
 Cooper Davis,
 Noah Davis,
 Peyton Dillon,
 Will Hathcote, 
Cameron McDonald, 
Justin Orender, Ryan Riggs,
 Austin Schroeder, 
Lawson Speer, 
Garrett Wilson. They are managed by Matt Orender. He's assisted by Jeff Clay and Paul Speer.
The Stars advance to the Regional tournament in Vancleave, Miss., as the top seed from South Arkansas. That tourney begins July 20.
Junior Deputy was shackled without a base-runner in the first two innings by Bryant starter Noah Davis and his teammates' defense.
Likewise, however, Bryant was unable to get on the board despite hits by Noah Davis and Cooper Davis.
In the top of the third, Bryant broke through ignited by a lead-off triple on a shot to center by McDonald. Noah Davis came through with a sacrifice fly to get McDonald home with the first run. Speer singled and stole second then Wilson smacked a base hit. Speer stole home to make it 2-0 before Dillon cracked an RBI single.
Little Rock countered with a pair of runs in the bottom of the inning and had runners at first and second with one out. But Noah Davis got the No. 3 hitter to fly out to left and ended the threat with a grounder to short.
Bryant quickly turned that 3-2 lead into a 6-2 margin in the top of the fourth. A walk to Orender opened the door. McDonald singled Bates, the courtesy runner, to second then the duo pulled off a double steal. With one out, Speer reached on catcher's interference to load the bases for Wilson who cracked a double to the fence in left to clear the bases.
With Wilson on in relief of Davis, Little Rock took advantage of a single, a pair of walks and a steal of home to trim a run off the margin. Wilson struck out the side in the inning to leave runners at second and third.
In the fifth, a lead-off walk for Junior Deputy resulted in the entrance of Adams to the mound. But he was greeted by a single. A pop to third and a fly to center had Bryant within an out of escaping the inning but a single and a walk forced in a run to make it a 6-4 game.
After managing only a two-out single by Noah Davis in the fifth, Bryant made a bid to tack on in the top of the sixth. Wilson singled but was forced at second on a grounder to short by Dillon. Adams drew a walk and, with two down, Riggs singled to load the bases. Junior Deputy wriggled off the hook and came up to bat in the bottom of the inning with hopes of tying or winning the game.
A lead-off walk and a stolen base put a runner in scoring position. He moved up on a grounder to second and, with two down, scored on a base hit. But Adams got the final out on a bouncer to third and Bryant celebrated its championship.