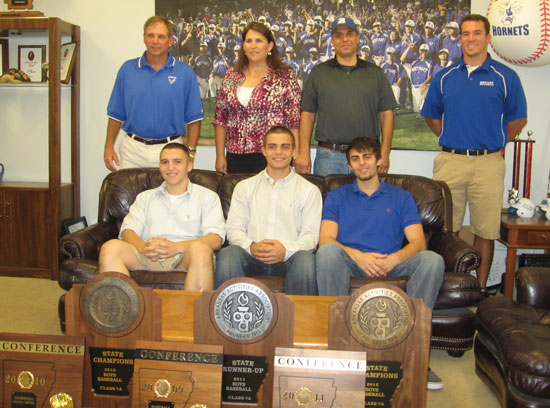 By Rob Patrick
Coming off the program's first State championship in 2010, Bryant Hornets[more] head baseball coach Kirk Bock had plenty of holes in his lineup to fill to start the 2011 season. They included three-fourths of the key up-the-middle defensive spots. Centerfield had been patrolled by his son, Garrett, in fact who had proceeded to win a high school Gold Glove award then signed to play in college (now at UCA).
There was competition for the opening and Josh Pultro, a junior, kept rising to the top. As Bock would say, he wasn't the fastest, he wasn't the strongest, "but he (kept) making the dad-gum plays."
Bock wasn't sure how much the youngster would hit but he knew he needed solid defense in center and Pultro seemed to have a knack at positioning himself, getting a great break on the ball and tracking it. He also displayed a strong arm.
He got the nod.
His offense was solid too. On a team that hit a whopping .343 on its way to a second straight State final appearance, he batted .303, got on base (18 walks) and drove some in (17 RBI).
That summer, he helped the Black Sox Senior American Legion team reach the State finals, hitting .348.
In 2012, Bock found himself with a glut of young capable outfielders and a hole at first where Landon Pickett, the team's leading hitter and RBI guy, had graduated and signed with Southern Arkansas University. He turned to his reliable senior, Pultro, to take on the challenge of a new position and not only did he keep "making the dad-gum plays", he wound up leading the team in hitting with a .367 average to help spark the team to a third straight championship game and a second title.
And, by the way, when someone in the outfield struggled in the field or at the plate, Bock just plugged Pultro back into that spot and the Hornets hardly missed a beat.
Back with the Sox this summer, he has recovered from an early-season slump. He's increased his average to .271, slugged a couple of home runs, walked 17 times and he's currently riding a seven-game hitting streak.
On Tuesday, that reliability and all the hard work that Pultro had put in to become that player was rewarded when, with his parents Gary and Jayme and two of his three older brothers on hand, he officially committed to continue his career and his education at the University of Arkansas at Fort Smith, playing for the tradition-rich Lions.
"When he came here four years ago, he was just a little bitty kid," Bock recalled. "We knew he was going to be a good outfielder as a freshman. (In 2011), he really took off for us and this year he came back and he got so much bigger and stronger, he really helped us offensively. And he was a good enough athlete that we could move him around a little bit.
"They're getting a good one," the coach emphasized. "He's going to be able to hit at that level and, really, he's a very good outfielder. This year, he had to move to first base and he picked it up real easy and did a tremendous job for us. They're going to have a utility player there that going to be able to swing it."
Pultro, who plans to major in business administration, said of UAFS, "It's a good location, good baseball. I had my mind set on Missouri Southern State but I decided that I didn't want to go to an out-of-state college. I wanted to stay a little closer to home.
"They've got a good baseball team, the school's really clean, a good location right next to one of my brothers who's going to school in Fayetteville," he added.
Once a two-year institution known as Westark, UAFS is now a four-year school. Former Hornet and current Arkansas Razorback Trent Daniel played there before joining the team in Fayetteville.
As for playing time, Pultro related, "They said they had a couple of open spots but you've got to get up there as a freshman and really work. You've got to try to work harder that the people that are already playing spots. First base was pretty fun but outfield's still my main spot, probably."