Photo by Rick Nation
Cassidy Wilson, the emotional heart of the Bryant Lady Hornets' three-time Class 7A State championship[more] softball team, has accepted a scholarship offer to continue her career and education at the University of Arkansas at Monticello.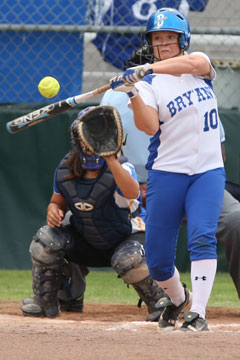 Wilson, the daughter of Larry and Debra Wilson, was all-conference each of the years she lettered and played in the Junior Classic All-Star game in 2011. The captain of the infield on defense, she batted .361 in her career with the Lady Hornets, with an on-base percentage of .418 and a slugging percentage of .523. She hit 25 doubles, five home runs and drove in 68 runs.
"I spoke with Coach (Alvy) Early and he is very excited about Cassidy playing for him," stated Lady Hornets coach Debbie Clark. "He watched her at the State Tournament and the championship game when we defeated Bentonville and was impressed with her skills and leadership on the field."
Bentonville's Lady Tigers are coached by Early's son Kent.
"Cassidy has played for the Lady Hornets for four years and will leave a huge spot to fill in our lineup," Clark added. "She is a complete player and is a student of the game. If I needed a team scouted, I would send Cassidy. She has the eye of a coach, the work ethic of a champions and a heart filled with compassion and love for everyone.
"Cass is a leader on the field and a mentor to our younger players," she continued. "So many of the players I spoke with at the end of the season said it was their goal to "be like Cassidy."
Clark noted that Wilson was active in a number of school endeavors including EAST lab, winning awards for her efforts.
"She was also one of our 'Beasts' who volunteered at Miracle League and was instrumental in impacting a special little boy's life as well as his family."