Photos courtesy of Paul Dotson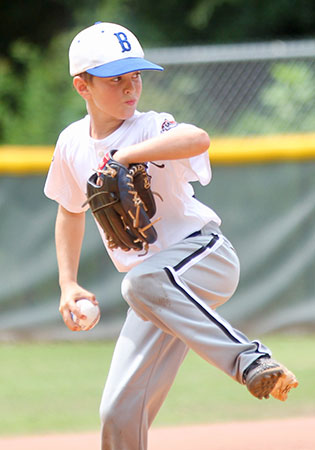 LONOKE — After winning their first two games of the 9-and-under State Tournament, the Bryant Athletic Association All-Stars suffered a heartbreaking 10-9 loss to rival Benton on Sunday. The team will start its battle through the losers bracket with a shot at the finals today at 4:45 p.m.
The Bryant 9's include Luke Andrews, Jonathan Carter, Cohen Chalmers, Grant Daves, Kolby Duncan, Dante Hernandez, Colt Martin, Dawson Martin, Mekhi Ray, Barrett Royal, Jake Taylor and Chance Thompson. The team's manager is Josh Daves. He's assisted by Chris Chalmers, Ryan Martin and Chris Taylor.
To open the tournament, Bryant whipped Lakewood 13-3 on Friday. They pushed past Sylvan Hills 11-5 on Saturday to set up the showdown with the rival Benton team.
Bryant 13, Lakewood 3
Taylor, Duncan, Chalmers and Daves each had two hits. Tayler drove in three with Chalmers, Daves and Thompson driving home two apiece.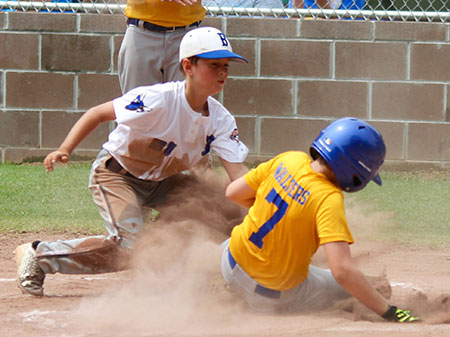 Andrews, Royal and Colt Martin combined to limit Lakewood to two hits. Just one of the three runs Lakewood managed was earned in the four-inning contest.
Lakewood got those three runs in the first on just one hit. Bryant stormed back in the bottom of the inning to take a 4-3 lead. Duncan led off with a bloop single. He took second on an error and scored when Taylor bounced a single up the middle.
Chalmers singled to right and, on the ill-advised throw to third, Bryant ended up with runners at second and third. Daves singled both home to tie the game.
Walks to Andrews and Royal loaded the bases and Bryant took the lead when Hernandez grounded into a force at third.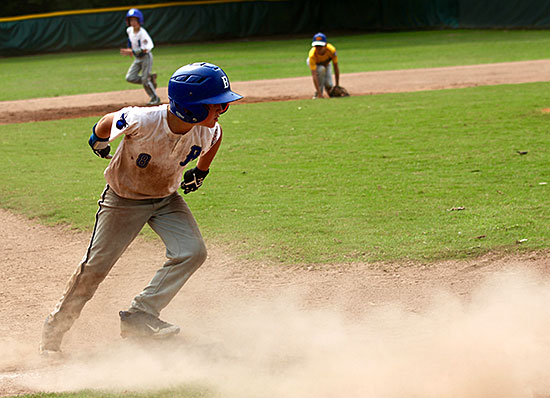 Royal and the Bryant defense retired the side in order in the top of the second setting up a four-run home second. Carter reached on an error to start the uprising. Duncan beat out an infield hit and Carter snuck into third. Duncan stole second, setting the stage for Taylor who singled in both runners to make it 6-3.
Colt Martin was struck by a pitch then he and Taylor moved up a base on a passed ball. Chalmers drove both home with a line drive single to center, extending the lead to 8-3.
Lakewood went 1-2-3 in the top of the third and Bryant went back to work at the plate.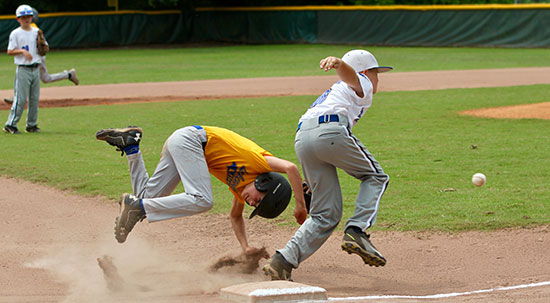 Dawson Martin led off the with a walk. He took second on a wild pitch and, after a pitching change, Duncan hit a grounder to third that was booted allowing Dawson Martin to go to third.
Taylor was plunked to load the bases for Thompson who cracked a two-run single to left. Thompson took second on the wild throw on the relay and Taylor snuck home to make it 11-3.
As Ray was working a pinch-hit walk, Thompson tried to score on a short passed ball but was caught to the second out.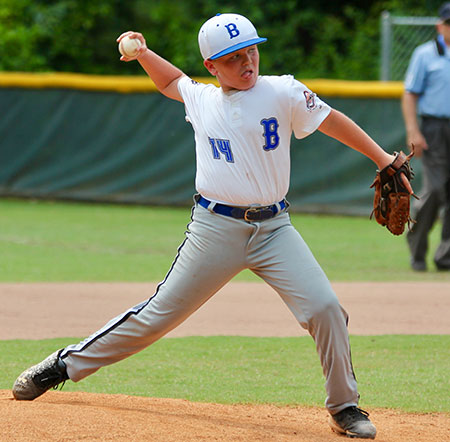 But Daves beat out an infield hit and, after a passed ball moved runners to second and third, Andrews reached on an error. Ray scored to make it 12-3.
Moments later, Royal singled to right to drive in Daves, capping off the scoring.
Lakewood managed to get runners to second and third with two out in the top of the fourth but Colt Martin came on to end the game with a strikeout.
Bryant 11, Sylvan Hills 9
After Sylvan Hills rallied for four runs in the bottom of the fourth to erase Bryant's 3-1 lead, a two-run fifth by the Stars tied it and a six-run top of the sixth clinched a victory as Chalmers threw two innings of scoreless relief.
Taylor and Daves led the team with two hits apiece. Colt Martin and Andrews each drove in a pair.
Bryant took the lead initially with a three-run first. Duncan reached on an error to start the uprising. He took second on a passed ball and went to third on a single by Taylor. After Taylor stole second Colt Martin came up with a sacrifice fly to center for the first run.
Taylor was able to tag and take third on the play. He scored on a single by Chalmers to make it 2-0.
Daves kept the inning going when he reached base on an error. A throwing error on a ball hit by Andrews allowed Chalmers to score the third run.
Sylvan Hills scored once in the bottom of the first and it stayed 3-1 until the fourth when the four-run uprising produced the 5-3 Sylvan Hills lead.
Bryant tied it in the top of the fifth. Thompson got aboard thanks to a Sylvan Hills miscue. He took second on a passed ball and tagged up and went to third on Duncan's fly to right. Taylor walked but was forced at second on a grounder off Colt Martin's bat. But Thompson scored on the play to cut the lead to 5-4.
Martin advanced to second on a wild pitch and to third on a passed ball. After a pitching change, Chalmers finished up a walk and Daves delivered the game-tying run with a double.
Sylvan Hills made a bid for a rally in the bottom of the fifth when the first two batters walked but Clambers relieved and retired the next three to keep it deadlocked.
Bryant's game-breaking sixth started with Royal's looping single to center. Ray walked. Royal was tagged out as he rounded third on Dawson Martin's sacrifice but Thompson's grounder to short was botched and Ray was able to score from second.
Dawson Martin scored when Duncan's bouncer to short was mishandled and Thompson came in when Taylor's grounder was kicked.
Up 8-5, Bryant kept adding on. With the bases loaded, Daves hit one to short that was once again misplayed as Duncan scored. Andrews finished it off with a two-run single to center.
Chalmers hit a batter to start the home sixth but Daves, the Bryant catcher, threw the runner out trying to steal. An error allowed another runner but consecutive line drives caught by Duncan at short and Royal at first brought the contest to an end.
Benton 10, Bryant 9
Trailing 9-4, Bryant rallied to tie it with a five-run fifth only to have Benton eke out the win with a walk-off run in the bottom of the inning.
Taylor had two hits for Bryant and Chalmers drove in three runs.
The first inning began with Duncan getting hit by the second pitch of the game. Taylor singled to left and Duncan sprinted to third drawing a late throw that allowed Taylor to go to second.
With one out, Chalmers got a run home with a grounder to first. Daves walked and, while Benton held Taylor at third, he took second.
Taylor scored on a passed ball and Daves made it to second and drew a wild throw that allowed him to go to third. Backing up the play, Benton's center fielder misplayed the ball so Daves could score. Andrews followed with a single to center and Royal was hit by a pitch but the inning ended before Bryant could get more.
Benton trimmed a run off the lead in the bottom of the first then another one in the home second.
Bryant made it 4-2 in the top of the third on a double by Taylor and a two-out error on a grounder hit by Chalmers. Daves singled but two were stranded.
Benton's six-run home third left Bryant trailing 8-4. Benton added a run in the bottom of the fourth before Bryant's game-tying outburst in the top of the fifth.
Walks to Duncan and Taylor got the inning going. Both alertly tagged an advanced when Colt Martin's pop down the first base line was caught. Chalmers then doubled them home to cut the margin to 9-6.
Errors allowed Daves and Andrews to reach safely as Chalmers scored. And when Ray's pop was dropped, Daves scrambled home to cut the lead to 9-8.
With Andrews at third, Ray stole second. With Dawson Martin at the plate a wild pitch allowed Andrews to cross the plate with the tying run.
In the bottom of the frame, however, an error allowed the lead-off batter to reach. He took second on a passed ball and scored on a walk-off double.