In recognition of National Animal Shelter Appreciation Week, Nov. 1–7, The Humane Society of the United States (HSUS) is asking the citizens of Bryant to take a closer look at the role their animal shelter plays in enhancing the quality of life in their community.
"Bryant Animal Control and Adoption Center is proud to serve Bryant by providing our many services and programs," said Tricia Power, Director of the Bryant facility. "But we can't do it without the support of our community's residents."[more]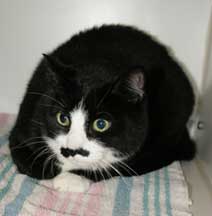 Animal shelters offer many services to assist animals and people alike: controlling dogs running at large, rescuing injured animals, returning lost pets to their owners, and adopting animals into new, loving homes. They also offer the personal guidance of their staffs to assist the public with animal-related issues and concerns, from dealing with wildlife to helping with pet-behavior questions.
How can you help Bryant Animal Control and Adoption Center and other local animal shelters? There are many ways:
• Offer a donation of needed supplies
• Help spread the word about the importance of responsible pet ownership, including spaying and neutering
• Volunteer your time at the shelter or at one of the shelter's special events
• Report animal cruelty and neglect
Choose your next pet from among the many animals being cared for at Bryant Animal Control & Adoption Center or the Saline County Humane Society. They have plenty of animals just waiting for a home like yours.
"The entire week, Bryant Animal Shelter will be hosting a variety of activities in celebration of Animal Shelter Appreciation Week," said Power. "Activities include a photography contest, a coloring contest, and adoption specials. We invite everyone to join us on Saturday, Nov. 7, from 10 a.m. until 4:30 p.m., for National Animal Shelter Open House Day. Take this opportunity to stop by Bryant Animal Control & Adoption Center, visit the animals, and find out what you can do to help animals in need. Your involvement will go a long way toward helping the animals."
The Bryant Animal Shelter is located at 25700 Interstate 30 North at exit 126 and the Humane Society of Saline County is located at 7600 Bauxite Hwy. Both shelters will be open for adoptions on Saturday, Nov. 7. You can learn more about the Bryant Animal Shelter by visiting the City's website at www.cityofbryant.org.