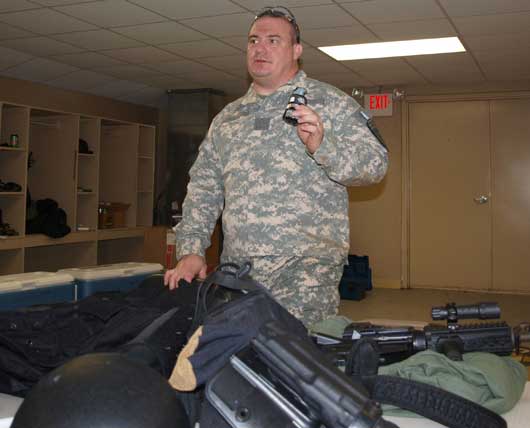 By LANA CLIFTON
Bryant Police Department Emergency Response Team (ERT) members assisted Citizen's Police Academy students in a SWAT house simulation during the class's "SWAT Night" on Tuesday, Oct. 29. The group loaded into two vehicles and traveled to North Little Rock. They arrived at the Direct Action Resource Center (DARCy), a facility with various training and firearms ranges where many law enforcement agencies in Central Arkansas, including the Bryant Police Department ERT, receive weapons and tactical training.
Before the students strapped on their gear and began their simulation, Lt. J.W. Plouch, ERT commander, gave them some information about the ERT.[more]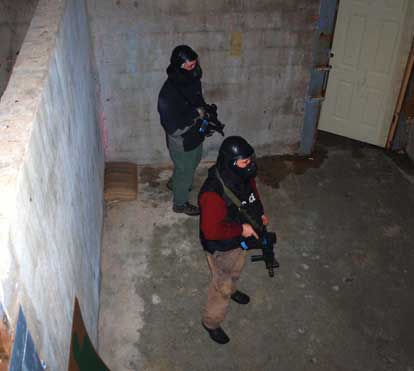 Until five years ago, the Bryant Police Department didn't have an ERT. That changed after a hostage situation in 2004. The department had to call in another agency's help. After the six-hour ordeal, the officers had a briefing with a former chief of police. During the briefing, they discussed the need for an ERT. The next year the team was formed.
Although sometimes referred to as a SWAT (Specialized Weapons and Tactics) team, they are officially called an ERT because of the wide range of duties they are prepared to perform. First, each member of the 10-man team has a separate, primary role on the force. Serving as detectives, patrol and warrant officers is their main responsibility. On top of their regular duties, when needed, they may be called to assist with high risk search warrants, hazardous situations outside the scope of normal police business, barricaded situations, hostage situations, man hunts, incidents involving active shooters, crime saturation, sniper situations, natural disasters and special assignments. They receive no pay incentives for this extra responsibility.
Plouch said that before becoming a member of the team, potential members are observed and tested. The job is not for everyone.
"It takes a certain type of person to do this type of work," he said.
According to Plouch, candidates must be physically fit and able to make quick decisions in stressful situations. Supervisor recommendations and background are also considered by existing team members before they decide whether or not to choose an officer to join them. All ERT members are expected to complete specialized training and to take part in 12-hour training sessions as scheduled, usually once a month.
Sgt. Jenceson Payte described the group as a team within a team.
"It's a close-knit group of guys," he said.
After becoming a member of the ERT, an officer is issued some specialized gear for the job. The basic issue includes: a gear belt with a thigh holster, gas mask, a protective hood made of Nomex (a fire retardant material), two different specialized uniforms, M4 rifles, goggles, special ballistic vests that cover more area and hold more supplies than standard issue, knee pads, Nomex gloves, and light-weight helmets. According to one ERT member, all the gear weighs over 60 lbs.
After the CPA students learned about the ERT, they put on protective gear and took turns running through a simulation in the same facility used by officers training for the ERT. The building resembled a duplex with a long hallway on each side and several rooms off of each hallway. A catwalk above the hallways allowed observers to see what was going on in the rooms below. Each pair of CPA students was accompanied by an ERT member who guided them through the building in search of a "villain." The students and the villain were armed with M4's loaded with special plastic ammunition and used them when they encountered one another.
After all students had finished their simulations, they were allowed to watch from the catwalk as the ERT team came through the house using tactical maneuvers.
As Payte described what the students were about to see, he told them to watch for the smoothness with which the team would operate. He noted how their training and close teamwork allowed them to go through the routine with little verbal communication.
The point of the exercise was to give students a glimpse into the world of the ERT in which they may not know what is around the next corner and where they must think and react quickly and effectively. They were able to experience a taste of this first hand, and then were allowed to see how the training, team bond and individual abilities of the ERT members worked together to form a specialized group of officers willing and able to go the extra mile for citizens of Bryant.