By Kirk Stewart
The Arkansas Special Olympics summer games started Thursday, May 21 at Harding University in Searcy.The annual ceremony commences with the athletes entering the stadium while fans, friends and family cheer showing their support and inspiration.
The ceremony also includes over 300 motorcyclists who rev their engines in a deafening roar — a sound that has become a standard practice in the start of the games. The athletes respond with loud cheers and smiles that light up all of White County. There is a wide variety of events from different areas including athletics, aquatics, bocce, power lifting, softball, and golf.[more]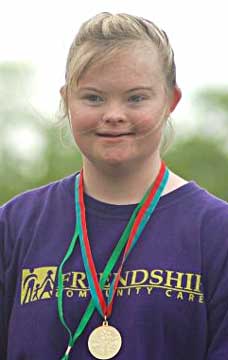 Bryant was represented by 24 athletes and around 80 from Bryant's area – Area 10. Lyndsey Smith from Friendship Community Care received Athlete of the Year for the state of Arkansas. And René Prewett won the 2009 Spirit Award in Memory of Sherry Gilliaum.
Joshua Garland headlined the power lifting day winning three gold medals in the 132 pound weight class of power lifting highlighted by bench pressing 150 pounds and dead lifting 200 pounds. The silver medal was won by Lloyd Rushing from Benton.
Participants in other events included Blair Singleton who won a gold medal in her age group for the female softball throw.
Bryant participants included in power lifting – Alan Brown, Jimmy Barnett, Wesley McAllester, Lyndsey Smith, Michael Braun, Cody Calhoun, Brooklyn Ables, Keith Lertpenmatea and Brandon Baker; in bocce — Michael Johnson, Tony Lovell, LaSonya Ackers, Michael Hall, C.J. Nichols, Steven Nelson and Angela Sanders; and in athletics — Jacob Baggett, Spencer Banks, Cale Hart, Blair Singleton, Stephanie Skinner, Amanda Smith, Zane Schafer and Ronnie Roberts.
There are over 14,000 athletes that compete statewide, but only 2,000 qualify for the state games each year.
A spokesman for the local team said, "Thanks to the Buskins, Roberson Insurance and the McInturffs and everyone who came and helped with our program to make it the best ever this year for our athletes."
BryantDaily.com would like to offer our congratulations to the athletes and all of the volunteers that make Special Olympics such a vibrant program.