By Rob Patrick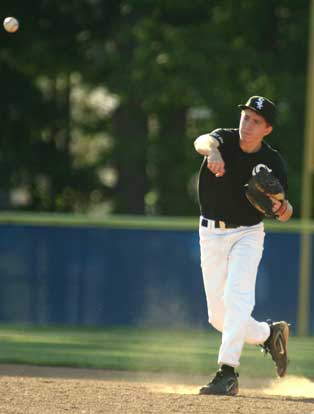 BAUXITE — The sweet spot is an elusive thing on a wooden bat, especially when you're used to hitting with a more forgiving metal one.
Couple the adjustments needed in the transition with some effective pitching and you've got a low scoring, edge-of-your-seat ball game like the one the Bryant Black Sox Junior American Legion team played against the Hot Springs Trojans AA squad at Bauxite High School on Saturday afternoon.
It was the first game of pool play for both teams in a wood bat tournament, hosted by the Benton Legion team, at Miners Field. Bryant was scheduled to play again Saturday evening against Little Rock Continental Express then wrap up pool play on Sunday against Sheridan.
Through five innings, Bryant's Matt Neal and Hot Springs' Andrew Love both had no-hitters going. Both had their share of easy groundouts off those old-fashioned bats but they'd fired plenty of pitches past those bats as well. Neal fanned seven, Love six.
Both had given way to teammates, however, when the game was decided. In the bottom of the eight, Love himself blooped a two-out single down the right-field line to drive in Jonathan Hall to give Hot Springs a 2-1 victory.[more]
"It's a different game when you've got wood in your hands," acknowledged Sox manager Brad Chism. "We've got a bunch of guys that hit real hard and we're going up there trying to pull the baseball. You can't do that with wood. You've got to play the whole field and try to go the other way with it. We didn't have that approach at the plate until the fifth or sixth inning. You can't wait until the last half of the game to play."
Hall had actually been a strikeout victim of Bryant reliever Austin Johnson but a passed ball on the third strike allowed him to reach base. He then swiped second and reached third on another passed ball as Clay Fowler flew out to left and Kyle Green popped out to Johnson.
"We threw the ball well," Chism said. "There's no reason, giving up just two runs, that we should lose that game. Neal threw a heck of a game and Austin threw fine. He threw well enough to win.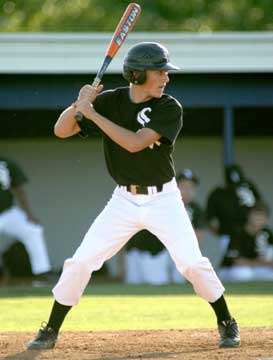 "Like I've said before, you don't win a State title in May," he added. "You've got to learn from here. You've got to come back and, after an emotional game, you've got to respond."
Bryant's Lucas Castleberry got the first hit of the game, a long double to right-center in the top of the sixth that sent Blake Davidson, who had reached on an error, to third. Brodie Nixon followed with a pop behind first base that Hot Springs second baseman Kyle Rosberg misplayed. Davidson scored from third but, trying to advance to third after tagging up, Castleberry was thrown out.
Moments later, wiith Nixon running, Evan Jobe hit a grounder to third. He was thrown out and when Nixon thought third might be uncovered, he tried to pick up the extra base. But Tyler Hampton, who made the play at third, got back in time to take a return throw and tag him out.
Hot Springs made a bid to answer in the bottom of the inning when a lead-off single by Rosberg broke up Neal's no-hit bid. Hall followed with a long drive to left that Jobe went back and made a good play on after he had turned the wrong way initially. Rosberg stole second and Fowler singled to left but Jobe charged the ball and Rosberg was forced to hold at third.
Neal got Kyle Green to pop out to Tyler Brown at second then gave way to Johnson as Love, the Hot Springs clean-up hitter, came up. On an 0-2 pitch, Love hit a soft liner to Brown to end the threat.
The Sox had a chance to add an insurance run in the top of the seventh when Dylan Pritchett slapped a double down the right-field line. An out later, Brown singled sharply to left. As Pritchett pulled up at third, the Hot Springs left fielder, Devon Watson, misplayed the ball. Pritchett and third base coach Dustin Tinkler didn't realize it in time for a sprint toward the plate but, with the play in front of him, Brown made it to second.
Love, however, got out of the jam by getting Tyler Gattin to bounced out to first and Landon Pickett to pop to first.
Still, the Sox had the lead going into the bottom of the seventh. Tyler Ellis led off with a soft liner to the right of Brown at second. Brown got in front of the ball and tried to get it on the short hop, but couldn't pick it cleanly and Ellis reached. Watson sacrificed him to second then Johnson got within a strike of retiring Hampton before he slapped a single to right to plate the tying run.
Johnson retired the next two to send it to extra innings.
And when Blake Davidson singled up the middle to start the eighth, it looked like Bryant might re-gain the advantage. Castleberry followed, however, with a two-hot shot to the right of Love at third. Somehow, he back-handed the ball and fired to second of a force. Rosberg relayed to first and, on a bang-bang play, Hot Springs got the benefit of the call, completing the doubleplay. Nixon grounded out to second, setting up the decisive home eighth.
Bryant had played the Hot Springs A Legion team to open the season, winning 12-0, on a night when Bryant's Senior team drubbed the Hot Springs AA, 13-3. Senior Legion is teams with players 19-and-under pulling from large school districts (or a combination of districts); AA is teams with 19-and-under players from smaller school districts; junior teams include players 17-and-under; A teams include players that are 16-and-under. Each of the four levels will have its own State tournament this year. It's the first year that AA and Junior teams will compete for separate State championships.
HOT SPRINGS AA 2, BRYANT JUNIOR 1
Black Sox Trojans
ab r h bi ab r h bi
Castleberry, 3b 4 0 1 0 Hall, ss 3 1 0 0
Nixon, c 4 0 0 0 Fowler, cf-p 3 0 1 0
Jobe, lf 3 0 0 0 Green, c 4 0 0 0
Pritchett, cf 3 0 1 0 Love, p-3b 3 0 1 1
O'Rourke, rf 1 0 0 0 Ellis, 1b 3 1 0 0
Joiner, rf 2 0 0 0 Watkins, lf 2 0 0 0
Brown, 2b 2 0 1 0 Hampton, 3b-cf 3 0 1 1
Gattin, ss 3 0 0 0 Wilson, rf 3 0 0 0
Lecamu, 1b 1 0 0 0 Rosberg, 2b 3 0 1 0
Pickett, 1b 2 0 0 0
Davidson, dh 2 1 1 0
Neal, p 0 0 0 0
Johnson, p 0 0 0 0
Totals 27 1 4 0 Totals 27 2 3 2
BRYANT 000 001 00 — 1
Hot Springs 000 000 11 — 2
Two out when winning run scored.
E—Hampton, Rosberg, Brown. DP—Bryant 1, Hot Springs 2. LOB—Bryant 4, Hot Springs 5. 2B—Castleberry, Pritchett. SB—Hall 2, Rosberg, Fowler, Hampton. S—Watkins.
Pitching ip r er h bb so
Bryant
Neal 5.2 0 0 1 4 7
Johnson (L, 0-1) 2 2 0 2 0 2
Hot Springs
Love 7 1 0 3 1 6
Fowler (W) 1 0 0 1 0 0
HBP—Brown (by Love). PB—Nixon 2.