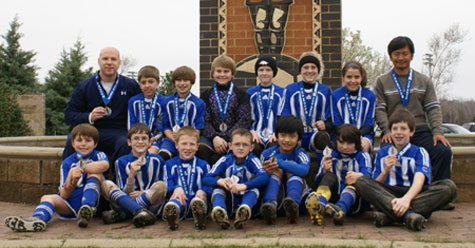 By Kirk Stewart
A trip to Memphis resulted in a high intensity soccer thrill ride for members of the Bryant Soccer Association. The coed U12 team, the Bryant Bad Dogs, made their way into the finals of the 8v8 Gold Division in Blues City Blowout 2009 in Memphis, March 13-15. The final game pitted the Bad Dogs against Bartlett SC 97 from Tennessee. The game ended in regulation with a 2-2 tie. At the end of the first 5-minute overtime, the game was still tied which forced another overtime.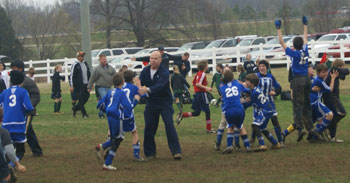 The score remained locked at the end of the second overtime period as well. The tournament rules state that at the end of the second overtime period, a kicks-from-mark penalty-type shootout. A champion still could not be crowned as the game remained knotted.
Finally, the game went into a sudden death shootout. Bryant goal keeper Alex Denker made several dramatic bid saves in sudden death and, at last, Jack Buck made the goal that sealed the victory and the tournament championship for the Bad Dogs.[more]

The team, coached by Ishwor Gurung and Jeffery Southard, was the lone representative from Arkansas. Three teams competed from Mississippi and two teams from Tennessee participated.
The Bryant Bad Dogs team members are Jebry Alhajjaj, Michael Betyo, Jack Buck, Grant Cason, Alex Denker, Tana Duling, Chris Godwin, Josh Gray, Krishna Gurung, Alex Huber, Allison Hughes, Logan Moore, Ethan Southard, and Dylan Wolf.
In other age divisions, the U11 girls were represented by the Bryant Blue Thunder and the U14 Coed division included the Bryant Raiders. Both teams reached the semi-finals.
Members of the Blue Thunder and Raiders are encouraged to submit team photos and player names to kirk@bryantdaily.com