Leave a Comment
CABOT — For about three-quarters of the contest, the Bryant Lady Hornets appeared to have taken the measure of the Fort Smith Southside Lady Rebels in the first round of the Class 7A State soccer tournament on Friday.
Bryant had taken more shots, gotten one by Haley Montgomery into the net and were on track to record their 10th shutout of the season.
But Southside tied the game with about 20 minutes left on a goal by Ashley Cochran, took the lead in the 72nd minute on a goal by Emilee Cole and held on for the win that ended the season for the Lady Hornets. The Lady Rebels (10-9-2) advanced to play Central champion Conway on Saturday. Bryant's season ends with a 12-9 overall mark.[more]
"We played pretty well," stated Lady Hornets head coach Doug Maxwell. "We just couldn't seem to find a good rhythm. The first half, we had opportunities. We had a little more speed than their defense and we were able to capitalize on that but they had one forward that had more speed than our defenders as well. So, it really kind of equaled out.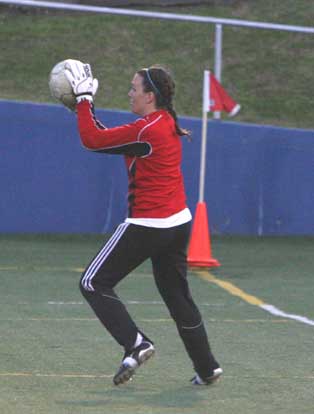 "We started to run out of gas, got a little tired late in the second half and they were able to go ahead and we just weren't able to answer," he added.
"It was a really good season for us," Maxwell observed. "I was really pleased with the way we played, coming back from a lot of injuries and everything else. Even against Southside, we weren't at full strength and that hurt us a little bit."
The coach noted that starting forward Amber Moskow had been out with a sore knee for two weeks, sophomore defender Serenity Gomez was slowed by an ankle injury and Maggie Hart by a pulled muscle in her back.
"Amber's injury really hurt us up top and with her senior leadership," the coach mentioned. "She was scoring a lot for us and setting up a lot of plays. Serenity started as a freshman but we had her sitting over on the bench (Friday). Maggie has been battling with her back all week. She tried to go and was probably only 50 or 60 percent. She played about a half for us. That hurt us as well.
"It would've been nice to see, if we had all our weapons, what we could've done," he continued. "But I was really pleased with the way the girls played hard and fought. We had some opportunities to win it. Unfortunately, the ball just didn't find the back of the net for us enough times."
Maxwell said things started out well. It was a scoreless battle until Montgomery's goal with about three minutes left in the half.
"She got a breakaway opportunity," he recounted. "She split two defenders, beat the keeper and put the ball in the back of the net. We had several other opportunities in the first half, we just couldn't capitalize. We had a couple more breakaways, got past the defenders and just had bad angles, couldn't find a good shot.
"Early on, they challenged us," Maxwell added. "They got a penalty kick opportunity in the first 10 minutes and (keeper) Megan Childress just reach it perfectly and just smothered the ball. That really got us upbeat."
The momentum was heightened with Montgomery's goal and on into the halftime break.
"The second half started off much like the first half ended," the coach recalled. "Both teams had opportunities. We actually had more than they did."
For the game, Bryant attempted 15 shots to Southside's 10.
Of the tying goal, Maxwell said, "They got just a lofted shot from about 40 yards out, just up and over. My goalkeeper and my defense both got caught off guard, playing up a little too high. The ball got over the top of us and went in.
"That was really a momentum shift," he observed.
The game marked the end of the careers of seniors Moskow, Childress and Sarah Manning as well as Maxwell's nine-year tenure as head coach of both the soccer team and the Bryant volleyball team.
"It's been a fun run," Maxwell said. "In nine years, I've had some great groups. I can't imagine a better way to go out, with a better group, than this group here. They worked hard together, really jelled together and stepped it up through adversity and everything else this season. I hate for us to go out in the first round like this. I hate it for them and for the seniors and for Charlie Manning who came in and has been helping this year. I was really optimistic about us going a little farther.
"I came in here enjoying it and excited and fired up about it," he added. "And I can't think of a better way to go out."