File photo by Kevin Nagle
Editor's note: Tonight's game will be streamed live on the internet at here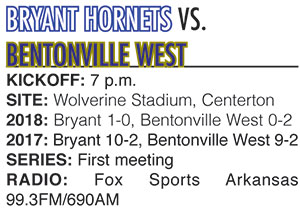 Very little about the Salt Bowl is a normal week for the football teams involved and their coaches. And even less is normal after the debacle that was the 2018 Salt Bowl.
The mass panic caused by perceived danger ended the game less than three minutes into the second half.
Tonight, finally, the Bryant Hornets will begin the routine of a season, normalcy. A full game, after a full week of preparation. They'll bus up to Bentonville and take on the Wolverines of West High School, a squad that will be playing its third game of the season, all normal.
For the Hornets, it's like a season-opener with all that goes into that.
"We were really worried about how much we were going to be in a hurry leading into the Salt Bowl," said Bryant head coach Buck James. "Now, we feel like we need to play a game. We've had three or four weeks where it feels like we haven't done very much. It's an opportunity for us to get out there and hit somebody else and play football against another team."
With a veteran team, James and his staff went back to basics, worked on the little things the first week after the Salt Bowl. They did more scrimmaging over the last week.
Meanwhile, Bentonville West, which has made the playoffs in each of its two seasons of existence, started the third year as the pre-season favorite to win the tradition-rich 7A-West Conference. But the Wolverines dropped their first two games and lost their three-year starter at quarterback Will Jarrett to an ankle injury. They were outscored 56-40 by Owasso, Okla., then, in the inaugural game at their new home stadium, 44-31, by Fort Smith Southside. The Wolverines have had particular trouble stopping the running game of those opponents. No doubt they've worked hard to get ready for the Hornets and thousand-yard rusher LaTavion Scott, especially with rain in the forecast.
It's questionable that Jarrett will be back for tonight, especially with a conference opener against unbeaten Fayetteville looming on Sept. 21.
The Wolverines have gone with sophomore Dalton McDonald working in tandem with star wide receiver Jadon Jackson, who works out of the "Wildcat" formation. Jackson is the primary playmaker for West. The Wolverines try to get him as many touches as possible. He's being recruited by a number of Southeastern Conference colleges including Arkansas.
Jackson was injured in the third quarter against Southside. Apparently, his availability will be a game-time decision.
"They're a very athletic football team, for sure," James said. "Offensively, they're a very good football team. Defensively, they've got two linebackers that can play with anybody. They've got guys that are big and strong.
"They're a very tough opponent, especially this early in the year," he asserted.
The Hornets are healthy, as might be expected from so little on-field action so far.
"We've got to compete against ourselves to a degree," James said. "And make ourselves play football like we're capable of playing."