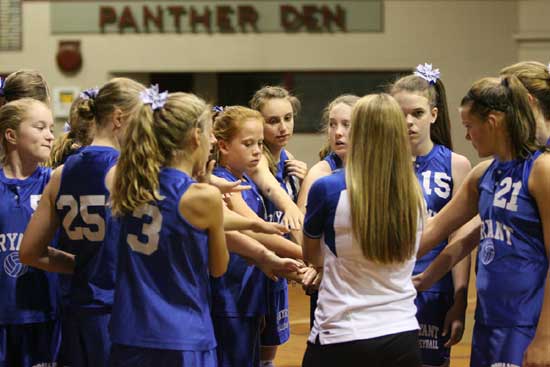 Photos by Rick Nation
BENTON — The Bryant Blue Lady Hornets eighth grade volleyball team of Bethel Middle School absorbed a[more] first-game loss to the rival Benton Junior Lady Panthers, 22-25, on Thursday, Sept. 15. But they came back with a 25-10 win in the second game and won the match with a 15-7 decision in the tiebreaker.
"Benton is a tough team," noted Lady Hornets coach Melissa Bragg. "I am proud of my girls for fighting back from the first game and coming out with the win."
The third game was highlighted by the serving of Kara Moser who closed out the win by serving points 8 through 15.
In the second game, Britney Sahlmann served well early and late. She was in the service rotation for points 1 through 4 and 20 through 23. In between, Whitney Brown had a service run of points 14 through 18.
The longest service run in the first game for Bryant Blue was 9 through 12 by Kendall Selig. Moser served points 14 through 16 along the way.
The Bethel team is set to return to action tonight against North Little Rock at the Bryant Middle School gym prior to a freshman match.