Photos by Rick Nation
The Bryant Lady Hornets freshman volleyball team not only lost their Central Arkansas Junior High Conference match against[more] the league-leading Benton Lady Panthers last Thursday night, they suffered injuries to a pair of key players.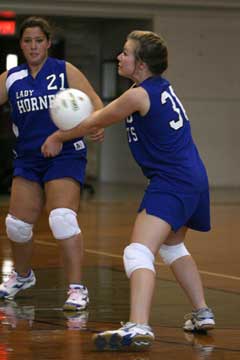 "Not a good night for us," stated Lady Hornets coach Monica Parish. "We lost in two games, but that was not the worst part. We also lost two starters to ankle injuries. Same left ankle, same spot on the floor but not at the same time. They were playing a ball that was near the net and came down on their ankle wrong.
"We are not for sure on the exact diagnosis of the first injuries because of the severe swelling," said the coach. "Rylee Phillips (setter and middle blocker) has at least a high ankle sprain, at worst a growth plate fracture. She is in a boot and has crutches for two weeks, then another x-ray will be taken. Her return is questionable. Haley Dellis (outside hitter and back row player) has a high ankle sprain and will be out for at least a week to 10 days.
"And, on Wednesday, Jayla Anderson, who is my back up middle blocker, got a deep bruise in her back and she is out for a week," Parish added.
The Lady Hornets got a short-handed practice in on Friday then went to Conway for a tournament on Saturday. They wound up second in their pool then reached the semifinals of the Gold bracket of tournament play, making them one of the top four teams in a 20-team tournament.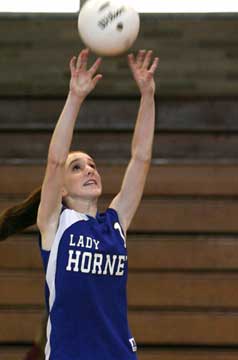 "Honestly, I was expecting to go to the Silver bracket," Parish mentioned, "just for the main fact that we had just lost three players and had a short Friday practice to revamp the entire lineup."
The Silver bracket included teams that finished third and fourth in their respective pools. Last year, the Junior Lady Hornets won the Silver bracket.
"I am very pround of these girls and their ability to step up in such a short time," Parish said. "I made some of the girls 'step out of their comfort zone' and play different positions, serve when they didn't want to and, generally, improve on the spot."
Each pool consisted of five teams, playing each of the teams in their pool two games. They were then placed by overall win-loss records into the tournament brackets.
Bryant beat Greenbrier both games, split with conference rival North Little Rock and Little Rock Episcopal then lost to Conway Carl Stuart.
"Our pool was an even pool," Parish said. "We had four wins and four losses and still got second."
In tournament play, Bryant got past Beebe in two games before Conway beat them two out of three to end their impressive run.
Tonight, the Lady Hornets host North Little Rock in a conference match.