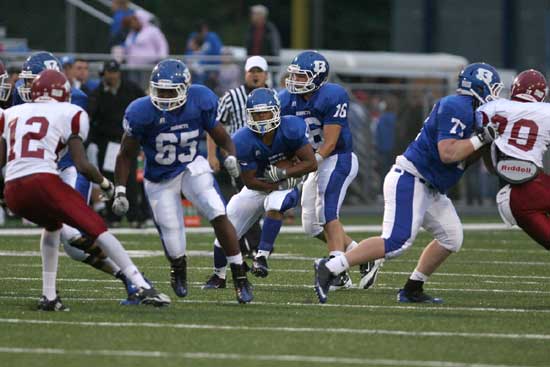 By Rob Patrick
Photos by Rick Nation
More aggressiveness on defense and some stellar play from skill players on offense — those are the[more] facets of the Bryant Hornets' 42-0 win over the Texarkana Razorbacks last Friday night that the coaches made note of after assessing the video from the game.
The Hornets, 2-1, are preparing for their first 7A/6A-Central Conference contest this Friday night against a 2-1 Little Rock Catholic team that's also 2-1 including a 62-31 win over the Fort Smith Northside team that beat Bryant 45-40.
"If you compare scores, we're down four touchdowns already," said Hornets head coach Paul Calley. "Of course, you can't do that but I'm going to make it a point this week that our guys realize how potent their offense is and how well their defense has played."
Regarding the win over Texarkana, Calley said, "Our skill players played well, made some big plays, did what they had to do to help us win.
"Defensively, we're still not as physical as we need to be," he added. "We don't recognize things quick enough."
As is the case with all teams particularly those with as much inexperience as Bryant, at this point in a season, the Hornets are a work in progress.
Defensive coordinator Steve Griffith saw some improvement behind that fact that his defense went from giving up 45 points to none in a week.
"We played much more aggressively than we had the week before," he stated. "Obviously, it's a different style of offense from what we saw with Northside but we were pleased that we had guys that were playing more aggressively. That was one thing that we challenged them to do last week."
Part of the continuing development, Griffith related, will include more adjustments on defense, mostly with personnel. Last week, the coaches simplified some things on defense, returned to more use of a four-man front including moving middle linebacker Marshall Everett to defensive end and moving starting d-end Michael Smith inside to tackle. And more guys played at linebacker including younger guys like Collin Battaglia, Justin Hollingshead and Davis Nossaman along with seniors Walter Dunn, Kaden Mills and Parker Dunn and junior starter Tyree Reese.
"We're still going to move some guys around, plug guys in, to try to get the best combination of people on the field at one time," Griffith said. "We'll make a couple of moves this week to see if we can secure up some spots that we still feel like we need some help at."
As for the focus of work this week, Griffith said, "We're just going to continue to challenge the guys this week to step up and play a little bit better technique; in certain situations take a little bit better angles; finish off the tackles at little bit better than what we had last week. And we're going to continue to challenge our guys to play more aggressively each week, play better technique each week and continue, hopefully, to improve."
As for the work on offense, Calley said, "We're going to talk about blocking. That's the main thing. The offensive line has got to continue to improve between now and Friday night. If it doesn't, we don't stand a chance.
"There were a lot of obvious things that we didn't do especially in the third quarter," he explained. "A few times, we hardley touched their defensive tackles. (Quarterback) Hayden (Lessenberry) was having to step up and move around in the pocket. He still did a great job delivering the ball even though he was under duress.
"Again, it was usually just one guy, a different guy here and there," the coach concluded. "We've got to get everybody executing together much more often."