For more pictures by Kevin Nagle, go here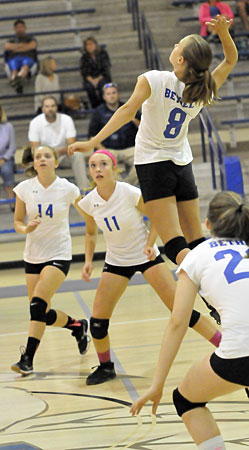 With the Bryant Blue Lady Hornets eighth grade team of Bethel Middle School trailing in the second, 9-13, in the set of their match against the Conway Blue Lady Cats eighth grade, Ashton Inman rotated into service. She promptly served for 11 points in a row as the Lady Hornets rallied for a 2-0 win, 25-22, 25-19 on Monday night at the Bryant Middle School gym.
"I'm proud of how the girls played," said Lady Hornets coach Melissa Bragg. "They kept to our game plan. They played smart and aggressive. They never gave up."
The win improved Bryant Blue to 13-2-1 this season going into a trip to Russellville on Monday, Oct. 10. They wrap up the season on Monday, Oct. 17, at Conway White.
The team's defense was crucial. Alyssa Hernandez finished the match with 28 digs and Ashton Inman had 16. Jillian Colclasure added 10, Maddie Thomas nine, Olivia German eight. Skylar Risk, Ella Reynolds and Abbey Inman had three digs each. Addison Funk and Shaylee Carver finished with one apiece.
Reynolds led the team with three kills and a block. Funk added two kills. Carver, Abbey Inman and Erin Key contributed one apiece. Reynolds, Ashton Inman and Carver had a block each.
Service aces were recorded by Ashton Inman and Abbey Inman. Abbey Inman also led the team with four assists.