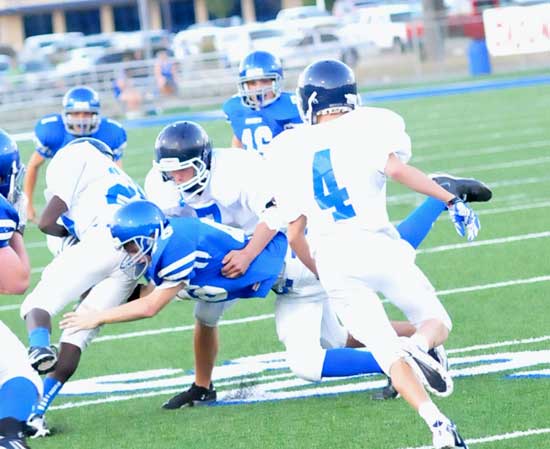 By Rob Patrick
Photos by Kevin Nagle
The defense of the Bryant Blue Hornets of Bethel Middle School forced two turnovers that[more] led to touchdowns to key a 21-6 win over the Conway Carl Stuart Middle School Wampus Kittens in an eighth grade game at Bryant Stadium Thursday.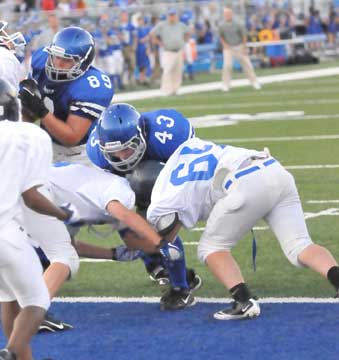 The injury-plagued Hornets improved to 2-1 on the season. They'll play the rival Bryant White team in their next outing on Thursday, Oct. 13.
They were nursing a 7-0 lead in the third quarter with the Kittens driving. From the Bryant 49, however, a fourth-down pass from Conway quarterback Collin Cahill was picked off by Bryant Blue's Nick Hardin and returned to the Kittens 44.
Behind the running of quarterback Evan Lee, tailback Pierce Finney and fullback Peyton Robertson, the Hornets drove to the 9. But a blocking penalty pushed them back to the 19 and the drive was in danger of stalling. But Lee completed a 14-yard pass to Liam Miller and, after Robertson powered to the 1, Lee snuck it in for the touchdown to extend the Hornets' lead.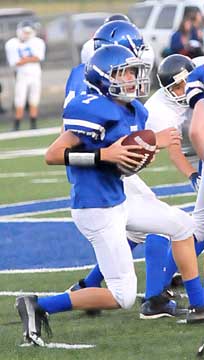 Lee completed 6 of 10 passes in the game, all to Miller, whom head coach Donavan Sims moved around from slot to wide receiver, to tailback and even fullback on one key play.
After Ethan Southard kicked the extra point to make it 14-0, Conway was on the move again, reaching the Bryant Blue 41. But, on first down there, defensive end Justin Karp got penatration and lowered the boom on Cahill who coughed up the football. Jake Hall scooped up the loose ball and dashed toward the other end. He was dragged down at the Conway 28.
Four plays later, Robertson muscled in from the 1 and the Hornets, with 2:55 left, had a secure lead of 21-0 following Southard's PAT.
The Kittens scored with 1:15 left in the game on a 64-yard run by Travis Dixon.
Robertson and Finney, who stepped into starting roles in the absence of ailing starters Jason Gentry and Devin Howard, combined for 74 yards rushing.
Both teams moved the ball early. Bryant's opening drive reached the Carl Stuart 22 but, on a fourth-down play, a keeper by Lee was stopped short and the Kittens took over on the 18.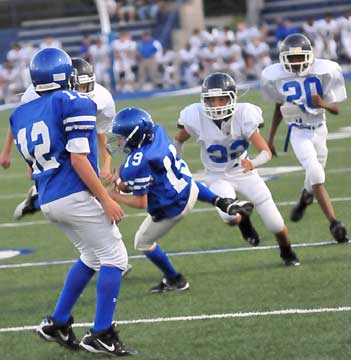 They moved the ball into Bryant territory but, on a second-and-7 at the 49, Hall and Hardin combined to drop running back Cole Tollett for a 6-yard loss and the Kittens were unable to recover. A fourth-down pass was knocked down by the Hornets' Gunner Burks and they took over on downs.
And the offense took advantage by driving for the only score of the first half. There were a couple of key plays along the way. On a fourth-and-9 at the Kittens' 44, Lee used a hard count to get Conway to jump into the neutral zone. That made the fourth down a little easier to pick up but it still took a nice throw and catch by Lee and Miller, respectively.Finney crashed for 8 yards but, a play later, the Hornets faced a third-and-1.
Finney got the call again and surged for 2 yards and a new set of downs.
The drive looked doomed when Lee was dropped for a 15-yard loss and an intentional grounding penalty was tacked on. But, a play later on Lee's long pass to Hardin, an interference penalty produced an automatic first down to give the Hornets a reprieve.
On a reverse, Miller wove his way for 18 yards. On second-and-goal from the 6, Miller lined up at fullback and snuck into the left flat where Lee hit him with a pass that went for the TD. Southard's PAT made it 7-0 with just :23.6 left in the half.

BRYANT BLUE 21, CONWAY CARL STUART 6

Score by quarter

Carl Stuart 0 0 0 6 — 6
BRYANT BLUE 0 7 0 14 — 21
Scoring summary

Second quarter

BRYANT BLUE — Miller 6 pass from Lee (Southard kick), 0:23.6
Fourth quarter

BRYANT BLUE — Lee 1 run (Southard kick), 6:58
BRYANT BLUE — Robertson 1 run (Southard kick), 2:55
CONWAY CARL STUART — Dixon 64 run (kick failed), 1:15
TEAM STATS

Conway Bryant

First downs 6 11
Rushes-yds 19-118 29-90
Pass yards 5 57
Passing 1-6-1 6-10-0
Punts-avg. 0-00.0 0-00.0
Fumbles-lost 3-1 0-0
Penalties-yds 8-52 4-40
INDIVIDUAL STATS

Rushing: BRYANT BLUE, Finney 13-44, Robertson 6-31, Miller 3-17, Lee 7-(-2); CONWAY CARL STUART, Dixon 3-75, Maltbia 4-23, Tollett 5-14, Cahill 3-8, Smith 1-0, Boley 1-0, Culbreath 2-(-2).
Passing (C-A-I-Y): BRYANT BLUE, Lee 6-10-0-57; CONWAY CARL STUART, Cahill 1-5-1-5, Pinkett 0-1-0-0.
Receiving: BRYANT BLUE, Miller 6-57; CONWAY CARL STUART, Browers 1-5.