Photos by Kevin Nagle
The Bryant Lady Hornets junior varsity team came back after losing the first game to beat the[more] Russellville Lady Cyclones 2-1 in a JV match at the Hornets Nest on Thursday night.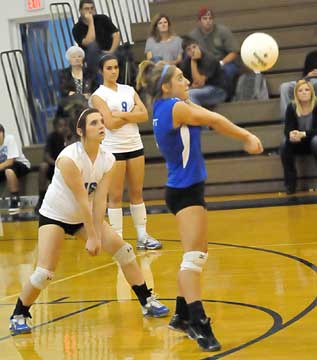 Russellville claimed the sophomore match, 15-11, 15-11.
The JV team won its ninth match of the season going into a visit to Conway on Tuesday.
Five different players contributed kills led by Aubree Allen with nine. Courtney Davidson added four, Carly Choate and Erica Smith three each and Kaylon Wilson two.
Carley Choate was good on 12 of 13 serves with three aces while younger sister Caylin was good on 12 of 13 as well. Brittan Hays was good on 11 of 12 serves while Davidson went 9 of 10 with two aces.
A trio of players reached double figures in digs, led by Caylin Choate with 12. Carley Choate and Davidson each had 10. Carley Choate also contributed 10 assists.
Alex Boone had eight good passes on nine tries and Davidson was 13 of 15 on serve-receive.
In the sophomore match, Kaley Coppock led the Lady Hornets with three kills. Allen added two. Ashlee Caton, Caylin Choate and Smith each served without error. Becka Shaddon contributed five digs.