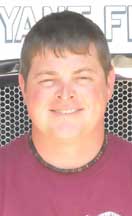 By Martin Couch
Travis Edwards was raised in DeWitt, Ark., and got interested in firefighting when his father, Rex, became involved in the community's volunteer fire service.
As Edwards grew into a young man, he too became a volunteer firefighter in DeWitt and eventually got a permanent position in Stuttgart. For seven years, working in north Arkansas County, Edwards learned what it took to be a top-notch firefighter. In June of 2007, he was hired by the Bryant Fire Department.
"I had two years of volunteer service in DeWitt and decided to do it as a career," Edwards said. "I worked for Stuttgart seven years. I was looking for somewhere to get on and that possibly had more opportunities than where I was and I found Bryant. They offered me a job and I took it."[more]
In his three years of service to Bryant, he has seen the community grow and the fire department along with it.
"It's a nice little bedroom town and I like it," Edwards said. "As far as the fire department and its service, there are a lot of nice things and it's great to be a part of this organization."
Edwards lives in Little Rock and credits his father for inspiring him to be a firefighter.
"Just being around him anddoing things with him around the fire station struck my interest and it snowballed from there," he said. "I like coming to work every day and know what I'm doing, some one needs. It's gratifying to help someone out."
Edwards is currently assigned to Bryant Fire Truck 32 as a driver.