SHERIDAN — Though there were 13 teams there, the girls competition at the Junior Stinger Relays at Sheridan High School on Tuesday, quickly became a two-team battle. Of the 16 events, Bryant and Sheridan combined to win 15 with the Lady Hornets freshmen taking 10 of those on the way to the team championship.
Bryant amassed 213 points to Sheridan's 166. White Hall was a distant third with 59 points.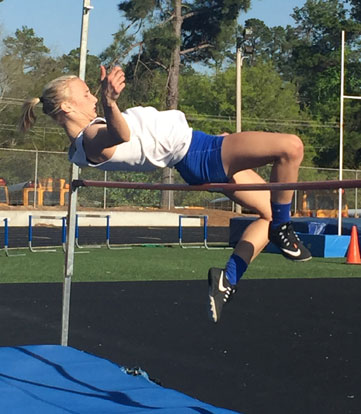 Deborah Shaw continued to shine for the Lady Hornets, winning three individual events, finishing second in another and sixth in one more. She also contributed a leg to the winning effort in the 4×400 relay. Her 43.5 points garnered individual honors.
Megan Lee was also a big contributor finishing first in the triple, finishing seventh in the 400-meter dash and providing a leg to first-place efforts in the 4×400 and 4×800 relays.
In addition, the Lady Hornets picked up big points in the throwing events with Jasmine Martinez winning the discus and Carrington Koper taking the shot.
Bailey Brazil won the 1600 and Zhania Hall won the 400. Both contributed to the winning effort in the 4×800. Hall joined in on the 4×800 performance.
Shaw won the high jump at 4'10", getting it done in fewer attempts than second-place Lauren Godwin of Sheridan who also cleared that height.
Both hurdles races were won by Shaw. She finished in 16.17 in the 100-meters with Cassie Ray second in 16.99 for Bryant and teammate Malori Pendergrass sixth in 18.0.
In the 300, Bryant swept the top three finishes. Shaw won in 52.70 with Pendergrass second (54.38) and Ray third (54.43).
In the triple jump, Lee won covering 32'10". Shaw's second-place distance was 32'4". Yonni Allen was sixth at 29'5".
In the long jump, Shaw coverted 14'8" to finish sixth.
The 4×400 relay team of Lee, Shaw, Hall and Maggie Laws won in 4:29.78. Pine Bluff Robey was second in 4:34.98. It was lee, Hall, Laws and Brazil in the 4×800, winning in a time of 10:59.09 with Sheridan second at 11:51.26.
Martinez' winning throw in the discus carried 75'0" with Andrea Thomas second at 73'6" and Hannah Eason fourth for the Lady Hornets at 70'8".
Koper won the shot with a throw of 30'1". Again Thomas was second with a put of 29'3.75" and Eason was fifth at 27'7.75".
Hall's time of 1:01.62 in the 400 edged Sheridan's Carly Strong (1:02.91). Lee was seventh in 1:09.17.
In the 1600, Brazil's winning time was 6:08.16. Sheridan runners took the next three places led by Emery Talbert who was second in 6:15. But Bryant picked up points from Maribeth Mead who was sixth in 6:47.35 and Natashia Hobby who was seventh in 6:47.54.
Bryant's 4×100 relay team finished second to Sheridan (53.85). The quartet of Kristen Garner, Charlotte Guevara, Ray and Allen turned in a 54.03.
Laws and Garner went 2-3 in the pole vault. Sheridan's Mackenzie Moring cleared 7'0" to win. Laws went over at 6'6" and Garner at 6'0".
Allen added points in the 100 and 200. She was fourth with a time of 13.70 in the first then seventh in the second in 29.17.
Sarah Rogers took third in the 800 (2:53.81) for the Lady Hornets with Kaleigh Thomas eighth (3:02.08).
The Bryant freshman team will compete in one more regular-season meet. Thursday, April 14, they'll be at Conway. The Central Arkansas Junior High Conference meet is set for April 21 at Lake Hamilton.