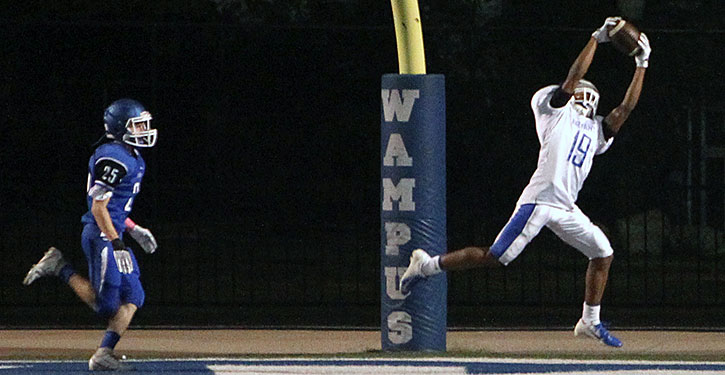 For more photos of this event by Rick Nation, go here
CONWAY — Just 3:37 into their game against the Conway Blue Wampus Cats on Thursday night, the undefeated — and barely scored upon — Bryant Hornets freshman team found itself in an unusual situation.
They trailed.
It was the first time this season, in their fifth game. It was only the second touchdown they'd allowed.
How did they respond?
The Hornets proceeded to score 36 unanswered points to remain unbeaten with the 36-6 win on Centennial Bank Field at John McConnel Stadium. Conway Blue came into the game as the only other undefeated team in the Central Arkansas Junior High Conference. Now Bryant stands alone.
And, for good measure, the Hornets handed Coach Kenny Horn his 100th win as the freshman head coach at Bryant. In his 11th season, the Hornets have a record of 100-15. No Bryant freshman team has lost more than three games during Horn's tenure and three teams, besides the current one, have gone unbeaten. He's won six league championship and finished second twice.
Horn, as expected, played it down.
"I don't want to talk about it," he said.
It was no small thing for his family, however, who greeted him outside the locker room with a poster that noted the 100th win for "Coach Dad."
Of course, the first thing Horn will tell you is that he and his staff of Guy Brown, John Orr and Blake Ratliff are primarily charged with getting their kids ready to play for Coach Buck James and the high school team.
But then, learning how to win and expecting to do so is no small part of that.
"More importantly though, boy we executed," Horn redirected. "We had a little bit of adversity, but we went down and scored. We responded well to the adversity, got a big play that got us going. We came out (second half) with a touchdown, a turnover and another touchdown.
"Once we get rolling, man, it's kind of hard to stop us," he asserted. "It snowballed a little bit and they feed off each other. Once they start feeling it, they're tough."
Quarterback Cory Nichols threw for three touchdowns, Jalen Brown ran back an interception for a score and Martaveon Earle ran for a TD. Stephen Fuller was good on all four extra point attempts and Earle ran in a two-point conversion.
And defensively, the Hornets never let Conway Blue cross midfield after their opening drive. Beyond that 65-yard scoring drive, the Cats managed a net of just 32 yards of total offense.
"Conway Blue was good," said Horn. "They're big and they're fast. And they were physical. But, you know, our kids met the challenge. We executed, didn't really bust anything. We played well."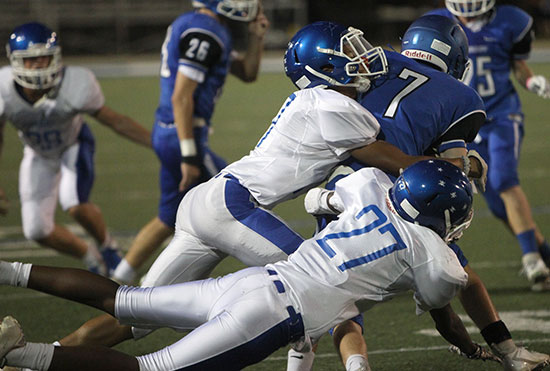 The scoring drive for the Wampus Cats started with an 18-yard pass from quarterback Brady Akridge to wingback Garrett Sanders. Running back Kindin Millwood broke a 36-yard run to the 4 then it began to look like the Hornets might make a goal line stand. Traylon Russ and Malachi Graham dropped Millwood for a loss, but a face mask penalty moved it back to the 3.
R'Orrion Fields managed to get to the 2 before John Ede dropped Millwood for a loss back to the 5.
After a timeout, Sanders scored on third down, though he was nearly stopped at the 1.
An extra-point attempt was wide left.
A shovel pass from Nichols to Jaylon Brown then a short throw on a curl to Braylon Montgomery produced a first down for the Hornets on their first possession. A play later, Nichols threw a screen pass to Braylon Brown that he turned into a 53-yard touchdown. Fuller's kick put the Hornets ahead to stay.
With Cody Kretsch and Ede making good stops, the Hornets forced a three-and-out for the Wampus Cats. Jack Schriver's punt, however, drove Bryant back to its 8.
A 46-yard gallop by Earle helped turn the field over. He was tackled at the 25 of Conway Blue. Two plays later, however, Nichols' pass went through the hands of his receiver and into the arms of the Wampus Cats' Terrell Garlington at the 16.
A pair of completions from Akridge to Fields, the second on a throw that Fields tipped to himself, pushed the ball out to the 43. After a timeout with 1:16 left in the half, Akridge looked to pass again only to have Jaylon Brown step in front of it and return it 53 yards for a touchdown.
Earle ran in the conversion and, for all intents, the Hornets had a two-score lead at 15-6 going into halftime.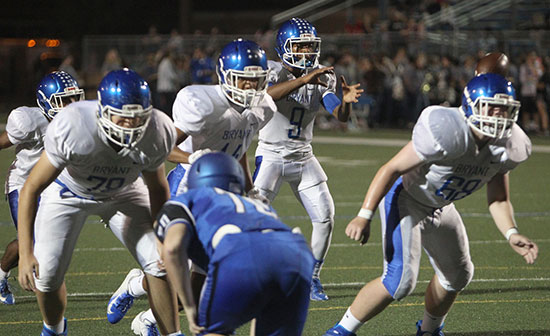 Bryant got the ball to start the second half. Nichols wove his way through the Conway Blue defense on a scramble and picked up 34 yards. With a face mask penalty added on, the Hornets were in the red zone. Nichols fired to Montgomery for the touchdown from 19 yards out and Fuller made it 22-6.
The Hornets followed that up with a squib kick that Gabe Allen recovered at the Conway Blue 35-yard line. So, the Hornets' offense was back in business again and it only took one play to add to their lead. A screen pass to Graham broke for 35 yards and, with Fuller's PAT, it was 29-6.
Aiden Baker and Ivory Gillmore made a pair of stops for losses on Conway Blue's next series. On a drive that started at the Blue 41, the Cats punted from their own 28.
The final Bryant touchdown drive mostly came on the ground with linemen Cannon Starks, Gunnar Givens, Kyle Glymp, Peyton Sipes and Lawson Hutchins leading the way, they went 40 yards in seven plays. Earle had runs of 16 and 12 yards before scoring form the 2. Nichols added a 14-yard keeper, and, on a shovel pass, Chris Gannaway picked up 7.
The teams exchanged punts for the entire fourth quarter as Horn worked in reserves. The Hornets had the ball near midfield when time expired.
Bryant returns to action on Wednesday at 6:30 p.m., at Little Rock Catholic.