Bryant freshmen pile up first-half lead and ease to opening victory
EDITOR'S NOTE: Because the look back at each day in Bryant athletic history has been so favorably received during the time when there was no sports during the COVID-19 shutdown, BryantDaily.com will continueposting past stories of Bryant athletics either posted on BryantDaily.com (from 2009 to the present) or published in the Bryant Times (from 1998 to 2008).
By Rob Patrick
Photos by Rick Nation and Kevin Nagle
Between 2005 and 2009, the Lake Hamilton Wolves freshman football team defeated the Bryant Hornets freshmen[more] four out of five times. In fact, in 2005 and 2008, those losses were the only ones suffered all season by the Hornets.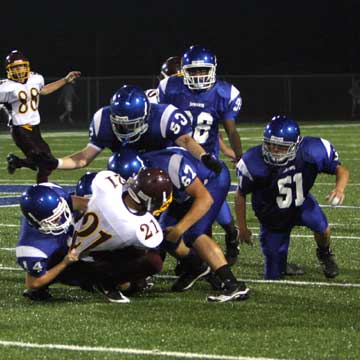 Last year's Hornets broke through with a convincing 37-6 win at Lake Hamilton. But was it just an interruption in the Wolves' advantage over Bryant?
Apparently not.
On Thursday night, the 2011 Bryant freshman team picked up where the 2006 version left off against the Junior Wolves, rolling up a 26-0 lead in the first half while holding Lake Hamilton to a net of just 5 yards of total offense.
Bryant cruised on to a 33-0 win, the first time a Hornets team had shut out a Wolves team since 2002.
It was an emotional game that, at one point, moved the officials to call the coaches together to tell them to urge their players to shut down the yapping and the pushing and shoving that wound up producing a portion of the 17 penalties between the two teams.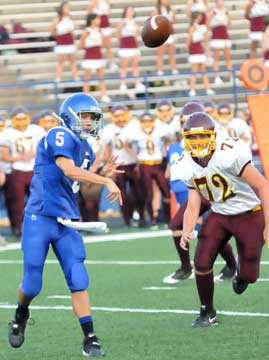 "I'll be honest with you," said Bryant coach Kenny Horn, "Our kids know that's a big rivalry game. They were jacked up. And (Lake Hamilton) does like to besy us. I'm sure their coach pumped it up to them, same as I did to our kids. We just talked about raising it to a whole 'nother level tonight and I think we did."
The Wolves seemed to be on their heels a bit much of the first half.
"I think they were," Horn acknowledged, "with our physicality right off the bat."
Quarterback Brandon Warner threw for two touchdowns and ran for another. One of the scoring tosses went to K.J. Hill who also returned a punt 43 yards for a score. Jacob Gorham hauled in the other TD strike and Alex Denker booted a 23-yard field goal.
"Maybe I didn't realize how good our guys are," Horn mentioned after wondering how strong the Lake Hamilton team might be. "We threw the ball well and caught the ball well. We still had some balls we should've caught, some balls we should've thrown but I think overall we threw and caught it well.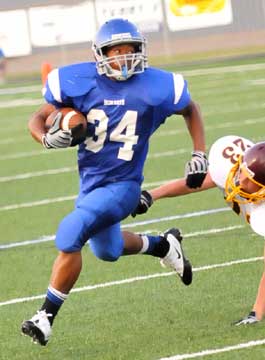 "We played well on defense," he added. "We tackled the ball, stripped the ball."
And forced two turnovers.
The Hornets had a touchdown on the second play of the game, a 54-yard pass from Warner to Brushawn Hunter but the play was negated by a holding penalty. And a play later, Warner went deep to Jason Hastings who nearly held on despite pass interference.
With the ball at the Lake Hamilton 45, Hunter broke a 20-yard run that was extended by an unsportsmanlike conduct flag.
From the 12, Warner found Hill for 6 yards then tried to go to him for the touchdown to no avail. So Denker came on and drilled the field goal.
A short kickoff return and two penalties had the Wolves pushed back to their own 3. And they could get nothing going after a 6-yard run by tailback Donell West. On the next play, West was stuffed by Kyle Lovelace and, after an incomplete pass, the Wolves punted.
Warner had one pass dropped and another that just over-shot Gorham who was open deep. The Hornets wound up punting for the only time in the game but, on Lake Hamilton's first play, Josh Nazario was dropped for a 9-yard loss by Hill. The ball came loose and Matt Shiew recovered for Bryant at the Wolves' 31.
Five plays later, the Hornets had a touchdown. Warner and Gorham hooked up for 9 yards and Hunter nearly scored on a 14-yard jaunt. With first and goal at the 2, Warner sneaked in and Denker kicked it to 10-0 going into the second quarter.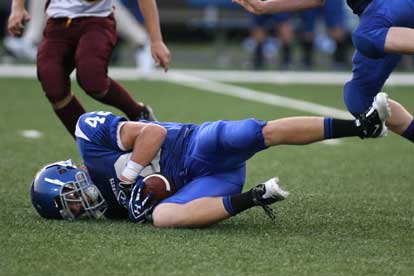 Lake Hamilton's offense continued to be stymied. A punt from near their own goal line hit and started to roll past the 40 when Hill scooped it up and raced to the left sideline, breaking the return for a 43-yard touchdown.
Ty Harris ran in a two-point conversion off the "swinging door" formation, it was 18-0.Hunter and Mar'Kevius Nelson smacked down Nazario on the kickoff return at the 13 and, on the first play from there, Devin Kelly, Rashaan Jones and Ryan Hall got penetration and buried Nazario for a 5-yard loss.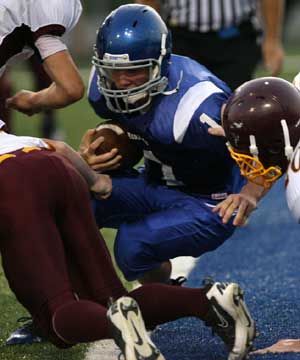 Three straight procedure penalties followed. On third down from the 5, quarterback Michael Caudill just avoided being tackled in the end zone for a safety. On fourth-and-22 from the 1, the Wolves punted and Bryant put the pressure on. Somehow the punter got the kick away as the Hornets descended and when they ran over him, they were flagged for roughing the kicker.
But, even with a new set of downs, the Wolves couldn't manage a first down and punted again.
With :56 left in the half, Bryant gained possession at the Wolves 44. Warner hit Hill for 19 yards and, a play later, the duo teamed up again with Hill breaking the play for a touchdown with :31 left.
Out of the swinging gate, the Hornets worked a pitch, option, pass with Hill throwing to Shiew for the conversion that made it 26-0.
The Wolves came out energized to start the third quarter and promptly picked up a pair of first downs (one by penalty), driving to the Bryant 23. Their frustrations returned at that point. On first down, West was stopped for no gain by Ben Bruick. On second down Harris nearly intercepted a pass. On third down, Caudill completed a pass to Nazario but the Hornets buried him before he could get going for a one-yard loss.
The frustration boiled over and the Wolves were hit with two unsportsmanlike conduct penalties on the play. Backed to the own 46, the Wolves went for it but Caudill, flushed out of the pocket, was knocked out of bounds after only picking up two yards.
After the Hornets turned the ball over on downs, Lake Hamilton drove to the 43 of Bryant, mostly on a 14-yard pass from Jess Ledbetter to Smith. On first down at the 43, however, Lovelace and Jones broke through to drop West for a six-yard loss. A face mask penalty gave the Wolves a reprieve but, moments later, Jones jarred the ball loose fomr West and Bruick recovered at the Bryant 42.
The Hornets went for the bundle on the next play and Warner found Gorham alone behind the defense and hit him with a perfectly thrown pass for a 58-yard touchdown to cap off the victory. Denker kicked it to 33-0 going into the fourth quarter.
Despite the big deficit, the Wolves kept it on the ground, moving from their own 17 to the 45 before turning the ball over on downs with 3:32 left.
Hornets reserves put together a nice drive to eat up the rest of the clock. Hunter Lawhon broke a 13-yard run to move the chains. Quarterback Madison Schrader kept for 5 and Travon Lee slashed for 7 and all that was left to do was for Schrader to take a knee.
Next Thursday, Bryant will host Hot Springs.
JUNIOR HORNETS 33, JUNIOR WOLVES 0
Score by quarters
Lake Hamilton 0 0 0 0 — 0
BRYANT 10 16 7 0 — 33
Scoring summary
First quarter
BRYANT — Denker 23 field goal, 5:01
BRYANT — Warner 2 run (Denker kick), 0:42
Second quarter
BRYANT — Hill 43 punt return (Harris run), 6:08
BRYANT — Hill 27 pass from Warner (Shiew pass from Hill), 0:31
Third quarter
BRYANT — Gorham 58 pass from Warner (Denker kick), 0:36.4
Team stats
LH Bryant
First downs 6 10
Rushes-yds 30-67 12-81
Passing-yds 13 142
Passing 2-5-0 10-17-0
Punts-avg. 2-26.0 1-17.0
Fumbles-lost 2-2 0-0
Penaties-yds 9-77 8-83
INDIVIDUAL STATS
Rushing: BRYANT, Hunter 3-40, Lawhon 1-13, Nelson 2-6, Lee 2-6, Hill 1-6, Warner 2-5, Schrader 1-5; LAKE HAMILTON, Smith 4-15, Ledbetter 3-14, West 13-12, Nazerio 3-11, Baldwin 3-7, Benitez 1-6, Caudill 3-2.
Passing (C-A-I-Y): BRYANT, Warner 10-17-0-142; LAKE HAMILTON, Ledbetter 1-2-0-14, Caudill 1-3-0-(-1).
Receiving: BRYANT, Hill 4-56, Gorham 2-67, Reeves 2-3, Hunter 1-13, Nelson 1-3; LAKE HAMILTON, Smith 1-14, Nazario 1-(-1).