For more photos of this event by Rick Nation, go here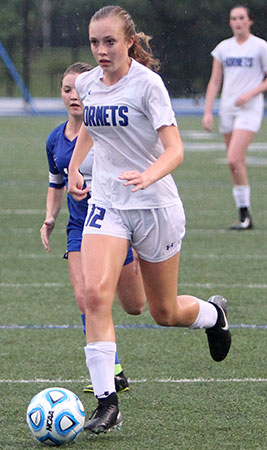 With a 3-1 win over the Conway Lady Wampus Cats on Friday night, the Bryant Lady Hornets secured second place in the 7A-Central Conference, a No. 2 seed for the Class 7A State Tournament in Rogers next week as well as a first-round bye.
Ashton Inman had a hat trick, scoring all three goals.
Bryant will play its first game at State on Friday, May 11, at 2 p.m., against the survivor of a game on Thursday between West 4 (Fayetteville) and Central 5 (Cabot).
The Lady Hornets celebrated their seniors on the night and, according to head coach Nicole Inman, "All our seniors had a chance to make an impact and enjoy their final time on the pitch as a Hornet.
"The girls came out hard and muscled their way in," she said of the team effort. "I was proud of their effort and heart. We wanted to focus on our intensity and pressure in the first minutes."
Bryant scored initially 28 minutes into the game.
"After a corner was headed by M.C. Selig on the far post and went in front of the goal," said Coach Inman, "Ashton Inman finished it off her foot."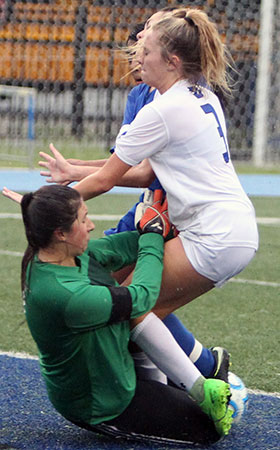 That goal held as the only one of the first half.
"We had two throws in the second half that we finished," Inman related. "Ashton finished one with a header in the upper corner and the second, she finished when it came in and she hit it and it went in."
Alyssa Fason threw the ball in on both goals, earning assists.
"Both were in the 18-yard box," Inman noted.
Conway was shut out until with about 15 minutes left in the contest.
Bryant heads to State with a 15-5 overall record, 10-4 in conference play. They've won four in a row and eight of the last nine with the lone loss on a suspended match that carried over from Friday, April 20, to Monday, April 23, at Little Rock Central.