Photos courtesy of Julie Shelby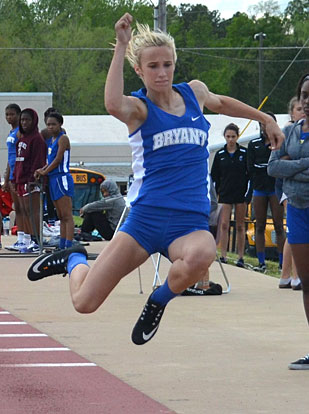 PEARCY — In her last regular-season meet for the Bryant Lady Hornets, Haley Hood, who has signed to compete for Ole Miss next year, accumulated 33 points to win individual high-point honors at the Lake Hamilton Invitational on Friday.
The Lady Hornets once again finished second only to Conway in the team standings with 109 points. The deep Conway team won with 127.5 points. Lake Hamilton was third with 89.5 in a large field of team that included 17 that scored.
The Lady Hornets' next competition with be at the 7A-East/Central Confernence championship meet on Thursday, April 28, in Cabot.
Hood won both hurdles races, finished second in the high jump and lent a leg to a pair of first-place relays.
"I thought Haley Hood had an outstanding meet," said Bryant head coach Danny Westbrook, who also coached in his final regular-season meet with retirement looming. "To score 33 points in this caliber of competition is pretty awesome."
Hood's winning time in the 100 hurdles was 16.43. Freshman Deborah Shaw, in her second varsity meet, was second at 16.52.
In the 300 hurdles, Hood's 45.90 was by far the best time. Vilonia's Ally Swaim was second at 49.59 with Shaw fourth in a time of 51.18 and Bryant's Kayla Scott seventh in 52.59.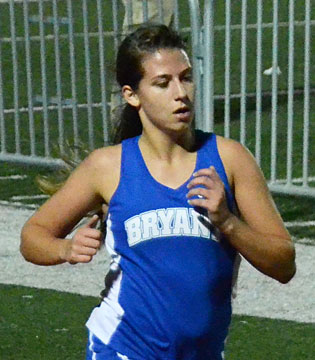 Hood cleared 4'11" in the high jump, second only to Aly Brinkley of Conway at 5'0".
The winning relays came in the 4×100 and the 4×400. In the former, Hood, joined Ti Foote, Daelyn Young and Jadyn Lewis in a State qualifying time of 49.78 clocking, which bested Conway at 50.18. In the latter, Amanda Burt and Zeia Robinson joined Hood and Lewis in a 4:10.22 clocking that was far better than second place Lake Hamilton's 4:28.75.
Shaw actually accumulated 21 points for the Lady Hornets and Lewis 19.
In addition to her work in the hurdles, Shaw took second in the triple jump, covering 32'10.75. Emily Brock of Lake Hamilton won at 34'4.75". Bree Hood was eighth with a distance of 31'5.75".
Lewis was second in the 100-meter dash, running a 13.04, which was just short of the winning time of 13.02 turned in by Maumelle's Najada Rochell.
In the long jump, Lewis was third at 15'6" and Foote was fifth at 15'3".
"Deborah Shaw and Jadyn Lewis came through with some very outstanding performances," Westbrook noted. "Hannah Shelby ran a personal best time in the 3200-meter run. She is only eight seconds away from our school record."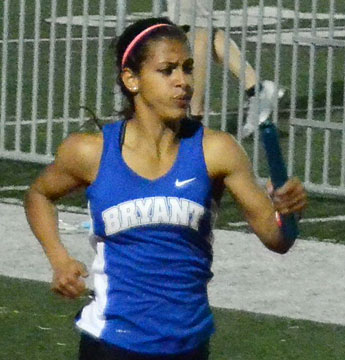 Shelby's time was 11:50.64, which garnered third place to a pair of Little Rock Christian runners Erin Woodward (11:35.29) and Allison Risius (11:49.12).
Shelby also joined Tziyah Fisher, Lauren Hart and Flora Noble in a time of 10:49.55, which took fourth in the 4×800 relay.
Robinson was fifth and Burk sixth in the 400-meter dash. Robinson finished in 1:03.30 and Burk ran a 1:03.81. Bree Hood contributed an eighth-place finish in the very competitive field in the pole vault. She cleared 9'0".