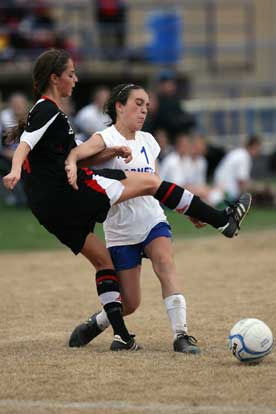 By Aaron Shuttleworth
The Bryant Lady Hornets soccer team looked as good tonight as they have all year. The team was firing on all cylinders. Defenders kept up with their assignments, and Kaitlyn Miller was outstanding in goal.
But with less then five minutes left to play, a Russellville Lady Cyclone player was awarded a free kick from 30 yards out. The arching shot was just too high to be stopped by the wall of defenders and the keeper.
It's hard to sit up in the stands and see the girls play with everything they have for 80 minutes and not come out the victor. But just as everything in life there is a silver lining.
Even though one ball made it past Miller, she only had three saves. The reason for that is the girls that are in front of her. Both London Abernathy and Lexie Balisterri had numerous saves. Lauren Reed made two important stops as well when the keeper was pressured inside the box.[more]
But the best defensive save of the night had to go to Erica Selig. With 3:30 left in the half, she made a miraculous header save inside the keeper box.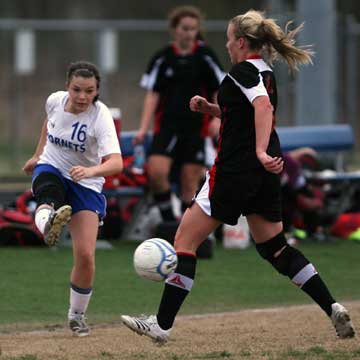 But it was not just a defensive game.
The Lady Hornets forwards and middles were keeping up the pressure throughout the game. Sarenity Gomez was able to get into shooting range a couple of times. There is no other way to say it, but Tarra Hendricks is just a beast on the soccer field.
A total of 12 shots were taken against the Lady Cyclones.
"The only thing we have to work on is finishing," said Lady Hornets coach Julie Long. "We have to put the ball in the back of the net. That's what we have to practice on for the Conway game Thursday night."
One thing is for sure: Every girl out there is playing with a lot of heart. And above all else you must have heart.
Now 5-4 overall and 2-2 in 7A-Central Conference action, the Lady Hornets travel to play the always-tough Lady Wampus Cats on Thursday.