Bryant grid stars earn post-season honors
EDITOR'S NOTE: Because the look back at each day in Bryant athletic history has been so favorably received during the time when there was no sports during the COVID-19 shutdown, BryantDaily.com will continueposting past stories of Bryant athletics either posted on BryantDaily.com (from 2009 to the present) or published in the Bryant Times (from 1998 to 2008).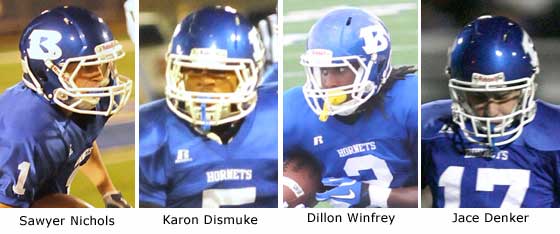 By Rob Patrick
File photos by Rick Nation and Kevin Nagle
Senior leadership — it's not always rah-rah. In fact, it's often very quiet and yet very[more] powerful. Any coach will assert its value. It's crucial if you're going to be successful. And it doesn't have to be coupled with performance on the field but it sure does help.
For the 2011 Bryant Hornets football, there were just a quartet of players that opened their senior seasons with extensive experience through the wars in the 7A-Central Conference. With little elsewhere, that fact had fans and pundits among those that weren't sure that the Hornets could accomplish what previous teams had.
Of course, the team proved the doubters wrong. For the first time, Bryant repeated as conference champs (sharing the title with Conway and North Little Rock), posting an 8-3 record.
Head coach Paul Calley and his staff were fittingly cited for their work. Calley was voted by his fellow coaches in the Central as the league's Coach of the Year. And those four returning senior starters — Dillon Winfrey, Sawyer Nichols, Karon Dismuke and Jace Denker — were recognized with all-State honors.
In addition, a trio of juniors, Ian Shuttleworth, Tim Kelly and Tyree Reese, earned all-conference selections with three more juniors, twins Aaron and Jalen Bell along with Hayden Lessenberry were named honorable mention all-conference.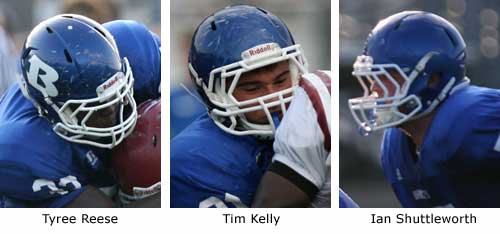 "Without Dillon, Sawyer and Karon on offense, we might have a different complexion as an offensive football team," stated Calley. "They were our big play guys. They were the guys we counted on to get the ball in the end zone, to make key third downs and just, basically, give us production on offense. They did everything they asked them to do and more.
"Everybody I talked to, talked about those three," he added. "As playmakers, there weren't any better."
Winfrey and Nichols were wide receivers who also played in the secondary on defense. Winfrey caught 43 passes for 640 yards and eight touchdowns. He also returned one of his three interceptions for a TD. He was in on 63 tackles, including eight for losses (tops on the team), and broke up 10 passes. He returned kickoffs at an average of 26.6 yards per try. And he was always a threat to block a field goal or an extra point including one of three the Hornets got along the way.
For his career, Winfrey caught 68 passes for 1,039 yards and 10 touchdowns. Along with the interception for a score, he had a kickoff return for a TD as a junior.
For the second year in a row, Nichols was the team's leading receiver. He had 45 catches on which he picked up 605 yards and scored six times. He returned punts at an average of 11 yards per attempt. As relief for Winfrey at corner, he got in on six tackles, intercepted a pass and broke up another one.
In three seasons, Nichols grabbed 81 throws for 1,234 yards and nine touchdowns.
"Toward the end of the year, we had a hard time getting Dillon and Sawyer the ball," Calley acknowledged. "We needed to get it to them more but people knew about them by then and they were going to take them away as much as possible."
Dismuke was Bryant's leading rusher with 1,116 yards on 168 carries, an average of 6.6 yards per carry. He led the team in scoring with 12 rushing touchdowns. He also caught 11 passes for 158 yards.
The senior became the only Hornets running back to eclipse 1,000 yards other than Chris Rycraw since 2001. In two years, Dismuke rushed for 1,756 yards and 17 scores.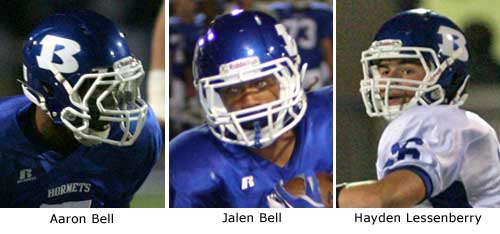 "Of course, Karon's hard running — toward the end of the year, I thought he came on and carried the load for us," Calley said. "I know Northside said that Karon was the best back they'd seen all year."
Denker, who handled placements for the Hornets all three years, scored 69 points as a senior. He kicked 42 extra points (a school record for a season) in 43 tries and kicked eight field goals including a 47-yarder and game-winners in the final seconds against Conway and Cabot.
He was a force on kickoffs as well, not only by sending a high percentage into the end zone for touchbacks but also on squib kicks and onside kicks.
"Jace was voted the specialist for the all-State team," Calley mentioned. "(The coaches) had been seeing him for three years and every time he kicked it off, it goes in the end zone. He had a couple of game-winners for us. That's big time."
For his career, Denker scored 172 points with 22 field goals and a school record 114 extra points.
Shuttleworth's story is actually quite remarkable. In April, just before spring football, the 6-3, 280-pound left tackle was diagnosed with Hodgkin's Lymphoma. Fortunately, it was discovered in the early stages but he still had to withstand chemotherapy during the summer. He was cleared just in time for fall practice and remains cancer free, though on constant watch just in case.
He not only became the team's rock on the offensive line, he took over punting chores early in the season and averaged 36.5 yards a kick on 20 attempts.
"After everything Ian went through, for him to be able to play at the level he played at was remarkable," said Calley. "I really think without him being able to play, we have a different football team. He really provided stability at that left tackle spot. All the other spots, we had injuries, we had to move people around every week. He got better every game. He was a dominant run blocker. I thought he was one of the best run blockers in the conference."
White Shuttleworth anchored the offensive line, Kelly was the stalwart on the defensive line. He led the team with seven sacks to go with seven tackles for losses among his 63 stops, which tied Winfrey for fifth most on the team.
"Tim provided the pass rush that we needed," Calley noted. "He's very athletic, very strong. He gave us a playmaker on the defensive side of the ball."
Reese, a move-in from Little Rock Central, wound up being Bryant's top tackler, getting in on 98 including a team-high 51 solo and four sacks.
"Tyree got better as the year went along," Calley said. "It was his first year to play linebacker and led us in tackles. Toward the end of the year, he was playing really well. I think he kind of solidified it in the Central game when he had 15 or 16 tackles."
Cornerback Aaron Bell matched Winfrey's three interceptions, got in on nine break-ups and recovered a fumble. He made 54 tackles including 30 solos. He also returned nine kickoffs for an average of 27.7 yards with a touchdown return of 95 yards against Little Rock Catholic.
Running back Jalen Bell was Bryant's second leading rusher with 511 yards on 87 carries (5.9 yards a carry) and six touchdowns. He also caught 11 passes for 84 yards.
In a lot of other years, Lessenberry might've been an all-State quarterback with the numbers he put up. But the competition was pretty tough with North Little Rock's Kaylon Cooper, Conway's Tyler Langley and Catholic's Zach Conque.
Lessenberry, despite absorbing a lot of hits, passed for 2,007 yards and 16 touchdowns, completing 159 passes in 244 attempts (64 percent) with 11 interceptions. He also rushed for five touchdowns.
As a sophomore pressed into duty in 2010, he completed 102 of 153 passes for 1,287 yards and six touchdowns with just four interceptions.