By Rob Patrick
Kirk Bock has a system.
"It's not THE system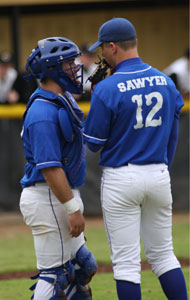 ," he notes, "its A system."
It's HIS system and that's the important thing to the Hornets baseball team, which begins its first season under Bock's tutelage with a scrimmage against the Pine Bluff Zebras on Thursday, Feb. 19.
The game was planned before Bock got to Bryant but it's ironic it pits his Hornets against the Z's, the program that, for so many years, bore the stamp of his father, the late Arkansas high school baseball coaching pioneer and legend, Billy Bock. And, until this season, the Pine Bluff head coach was Mark Jelks who served the elder Bock for many years as an assistant. Mark Jelks Jr. is now one of Kirk Bock's assistants at Bryant.
The Hornets begin the regular season at 7 p.m. on Monday, Feb. 23, in the opening round of the Benton Invitational Tournament.
It's a little odd to say the Bock is the "new" baseball coach at Bryant because he and his son, Garrett, a junior on this year's team, have been in Bryant since the beginning of last summer. They've been living in a camper while his wife and daughter carried on in Harrison, trying to sell their home. Garrett played for the Bryant Black Sox American Legion team while his dad checked out the talent in the program from the Legion players to the youth in the Bryant Athletic Association. He even conducted a practice or two with various teams.
He introduced his system, which he had fully installed at Harrison. And, last spring, the Goblins capture the Class 5A State championship.
"It's just the fundamentals of playing baseball," he explained. "It's not just an offensive system or a defensive system. It's everything. The fundamentals that we use aren't exactly the fundamentals that (the players) have had. Not that what they were doing was bad, it's just different for them. Just an example is throwing, catching ground balls as far as circling, being aggressive and reading hops, stuff like that.
"The outfield part, it's pretty much the same everywhere," he continued. "The infield part, the positioning of infielders and just your approach on a ground ball, not only physically but mentally. We've had to do a lot of re-teaching on that."
It's more than the fundamentals, though. It's a way of comporting themselves, a way of handling situations. Major League fans could think in terms of "the Dodger Way."[more]
"I've researched it for years and once you learn it, it's the most efficient way to get things done," Bock said. "It's worked. And it changes. The system that we have this year, there are going to be parts of it that change next year. It's going to change during the year. Whenever I find something new that I think is better, then we're going to do it.
"This is something that kind of evolved over six years and we're trying to squeeze it in to one," he continued. "They're not going to get it all. For example, our picks (pick-off plays) and stuff like that. We've got half of them in and that's probably all we're going to get in. The younger kids who stay in the program for multiple years, they'll get the whole thing. Our seniors and our juniors won't get it. We don't have the time to put it in. It's just complicated. I always tell them that it's not rocket science but it's complicated. You have to think. Just defensively, thinking about the situation you're in, how many outs there are, where do I need to go depending on where the ball's hit, not only hit at me but hit somewhere else. It can get overwhelming at times.
"Then you throw in our team defense and team offense and what we're looking for, because it's all new to them. Positioning, the way we run our bunt coverages, the way we run our picks. The way we handle relays is different from what they've done in the past.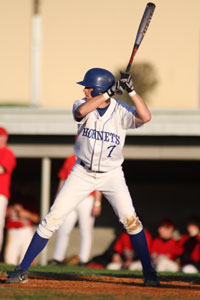 "It's situational hitting, knowing what to do with a guy on second and nobody out, no count. Pitch selection, how do we use our pitch selection to drive the pitcher's pitch count up without saying, 'Okay, we're taking.' We're looking for certain pitches in certain situations. Then you hope their fundamentals of hitting are sound enough to get them through it. Some guys are there right now and some guys aren't. That's part of the process.
"Eventually — and it's not going to happen this year — our offense is going to be like the spread offense in football. We're going to start runners, we're going to move the ball. Playing in a yard like this, we're not going to sit back and wait for a three-run shot. If we played in a small yard, we've got a couple of guys that have got some juice but they're not going to set up and knock it out of this yard. So those guys have got to learn the short game and they have to be able to run and do some things which is new for them. It's like putting the spread offense in when they're used to running the option."
The team returns only two starters, both have already signed to continue their careers in college. Tyler Sawyer, who played first and thi
rd last year, and pitched, along with Kaleb Jobe, who handled the lion's share of the catching duties, and pitched as well. Saywer hit a hard .237 last spring, driving in 14 runs, second most on the team. Jobe hit .333, led the team in doubles (12) and walks (17). On the mound, Sawyer was second on the team with five wins, striking out 47 in 42 innings and posting a 3.17 earned run average. Jobe was 3-2 with a 2.42 ERA.
Two other players, catcher Brady Butler, a junior, and outfielder Justin Blankenship, a senior, played part-time roles in 2008 when the Hornets posted a 16-7 overall record, reaching the Class 7A playoffs after tying for third in the 7A-Central Conference.
"We've got some athletic kids, smart kids," Bock related. "We tend to slow them down a little bit because they're learning the new system and they haven't adapted to that yet. But they will. They're getting there. Coach Jelks and Coach (Frank) Fisher and I met here for two-and-a-half hours for two weeks learning the system. It takes a lot more than that (for the players). We don't have to do it. We have to teach it to them, but they're the ones that have to do it.
With the addition of freshmen this season, the program sports a whopping 60 players.
"We've got 74 games scheduled this spring," Bock related. "We've got the maximum varsity games then we have around 24, 25 junior varsity games then 18 B team games."
So, it's been a challenge to keep everybody active in practice. "But you can do it as long as you're organized," Bock said. "It's especially a challenge when the weather's bad."
"At this time, we haven't really come together as a team," the coach said. "We've got to find not only the nine best athletes but also the nine best attitudes, with the nine best work ethics. Right now, we've got nine good athletes, we've got nine good attitudes and we've got nine good work ethics but they're not all the same nine right now. So that's what we're filtering through. Obviously, we want to put the best athlete out there but if you can't play together as a team, it doesn't matter. So, we may be lacking in some athletic ability in spots but, hopefully, we'll make up for it with character and hard work.
"We may not be set halfway through (the season)," Bock stated. "You know, some days some guys take the bull by the horns and get it done and other days they don't. And, until those guys are willing to do it every day, you can't rely on them. And it's not that they're not trying, they just don't understand yet exactly what it takes. It's a hurdle we've got to get over. And we're going to get over it.
"We're going to be okay," he concluded. "We certainly aren't going to peak too soon but I think we'll eventually get there."
Bock pointed to 10 players that will see a lot of work on the mound. He mentioned Sawyer, Jobe, Blankenship, senior Austin Queck, junior Ben
Wells, sophomores Landon Pickett, Calem Milam and Blake Davidson as well as freshmen Dylan Cross and Jordan Taylor.
"I'm very pleased with Jordan Taylor, a ninth grader doing a great job," Bock said. "Dylan Cross is doing a good job. Those guys will have to throw. It may not be at the varsity level, it may be at the junior varsity level but they're going to get some mid-week games. I know they're going to have to throw for us in the varsity, tournament games, stuff like that."
Of the catchers, Jobe, Cross, Butler and junior B.J. Ellis, the coach related, "We've got four guys that bring something different to the plate. I tell you right now, it's a dad-gum toss-up. Brady's a little behind because his arm is ailing a little bit but once he gets that thing straightened out, he's got a chance. Cross has a chance. He's just young. And, of course, Kaleb caught a lot last year."
Around the infield, Wells, Pickett, and Milam are in the picture at first base. "They'll be throwing too so we're going to use those three guys at different times," Bock said.
At second, the coach likes Taylor, the freshman. "Right now, he's at the top of the pack. Austin Benning's doing a great job in some things he brings to the plate. He's not complete yet. And, you know, Jordan's not complete yet but Jordan's young and he's going to get there."
He also mentioned senior Jeremy Beadle that has been working at second as well as at short behind Sawyer.
"Tyler's a good work-ethic guy, a great work-ethic guy," Bock said. "He's a good player. He understands the game.
"When he goes to the mound, it's kind of a dogfight between Taylor who we might bump over to short which would open up second for someone else, Beadle and (sophomore) Lucas Castleberry," he added. "At third, we've got (junior) Hunter Alford and (senior) Jonathan Wade. Wade was a shortstop we moved over. And Castleberry, when he gets some time in, I think he's going to be able to fight his way in somewhere, either at third, short or second."
In the outfield, Queck and junior Brennan Bullock are in the picture in left. "They're doing a good job," Bock commented. "Bullock does a great job getting jumps on balls, runs extremely well, can catch it if it's out there. He's a little behind on the throwing aspect but he's getting a lot better."
In center, Garrett Bock and sophomore Caleb Garrett are working. "They both do a good job but G (Bock) has a little more experience out there," said the coach. "In right field, there's Blankenship and (sophomore) Evan Jobe. Overall, Evan Jobe may be our very best defensive guy. He throws it better than anybody we have out there, for sure. There's really no comparison. He works hard. He's going to get a lot of time in. There's fixing to be a dogfight between tho
se two. We'd like to see JB kind of take over right there because he's a senior and has a little more experience."
And experience at the high school varsity level is short on the team. "Sawyer and (Kaleb) Jobe are the only guys off last year's club that played last year. So, it's wide open. The guys I mentioned are all really in the hunt. (Junior) Jacob Clark does a good job in the outfield and he's going to see some time somewhere. Davidson's a little bit behind because he was hurt coming out of football. He's having to catch up in a hurry."
The coach also mentioned that a few players may be joining the team after basketball as well.
"I'm telling you, all 60 kids are working hard," Bock emphasized. "It's just that some of them are at different levels, talent-wise. Some of them catch on a little quicker than the other guys do because they've been around the game a little bit more. But as far as work ethic, I'm very, very pleased.
"As far as trying to cram six years worth of stuff into one year, I mean it's tough. And I knew it was going to be tough. But I'm not going to slow down. We're trying to get them to catch up to our pace, catching up as far as the pace of the game. We're trying to do everything extremely fast, especially in practice because then it slows down in the game. I tell the guys all the time that 'we're going to go faster and I'm going to be nipping on you, I'm right on your tail every second in practice because we want to make it so hard on you in practice that the games are like clockwork.'
"It's been enjoyable," concluded the coach. "It hasn't always been enjoyable for them because I'm on them, and I'm pushing them hard. If it's worth doing, it's worth doing right and it's worth doing it quick. That's what we're trying to get them caught up to."
BRYANT HORNETS
2009 baseball schedule
Feb. 19 — #Pine Bluff
Feb. 23-28 — at Benton Tournament
Feb. 27 — Lake Hamilton
Mar. 3 — LR Central*
Mar. 5 — at LR Catholic*
Mar. 10 — Van Buren*
Mar. 12 — at Russellville*
Mar. 13 — at White Hall
Mar. 14 — at Pine Bluff
Mar. 17 — Conway*
Mar. 19 — at Cabot*
Mar. 19-21 — at Billy Bock Classic, Pine Bluff
Mar. 23 — at Lake Hamilton
Mar. 26 — Texarkana
Mar. 27 — at Benton
Mar. 28 — LR J.A. Fair
Apr. 2 — at LR Central*
Apr. 7 — LR Catholic*
Apr. 9 — at Van Buren*
Apr. 13 — Benton
Apr. 14 — Russellville*
Apr. 16 — at Conway*
Apr. 18 — at Sheridan
Apr. 20 — Watson Chapel
Apr. 21 — Cabot*
Apr. 23 — at North Little Rock*
Apr. 27 — at LR J.A. Fair
May 1-4 — Class 7A State Tournament
*7A-Central Conference games