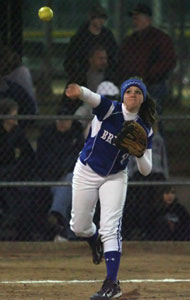 GREENBRIER — Jonathan Parks hit a tip-in at the buzzer and the Bryant Hornets freshman basketball team advanced to the semifinals of the Central Arkansas Junior High Conference Tournament with a 39-37 edge-of-your-seat victory over the rival Sheridan Stingers on Monday, Feb. 16.
Unfortunately, things didn't go as well for the Lady Hornets who fell victim to a late charge by the hosting Greenbrier Junior Lady Panthers. The 47-37 loss ended Bryant's 18-7 season. For details, see below.
The boys, meanwhile, advance to play Conway Blue on Wednesday, Feb. 18, at 7:45 p.m., with a bid to the tournament championship on the line. The two teams, both from the South Division of the league, split their regular-season games, each winning on the other's court. Blue won at Bryant back on Dec. 1, 2008, 53-44. Bryant won at Conway on Jan. 15, 38-35.
The game against Sheridan, another South Division team, came down to the last seconds just as their Jan. 22 meeting at Bryant had, when the Hornets survived 23-21.[more]
"We didn't play that well," stated Hornets coach Steve Wilson. "But Sheridan did a great job of keeping us from running our offense."
Sheridan, the lowest seed from the South Division, had come into the game after stunning North Division champion Searcy, 42-28, in the opening round on Saturday. Bryant had advanced past Conway White, 49-37.
The Hornets trailed through much of the game. Sheridan held a 9-8 edge after a quarter and expande
d that to 19-13 by halftime. Bryant rallied to within 30-29 by the end of the third quarter.
With the ball and a 2-point lead, the Hornets were working the clock with less than a minute left in regulation when Sheridan came up with a steal and a basket to tie the game with :25 on the clock.
Wilson called a timeout to set up a play only to have Sheridan break it down defensively.
L.J. McLaughlin still got a good shot away with about :06 to go. It rimmed out, however, only to have Cody McPherson collect the carom. In traffic, McPherson launched a follow that rolled out. But there was Parks with the game-winning tip.
McPherson led the Hornets with 13 points.
"Cody kept us in the game," Wilson asserted.
Parks finished with 11 and McLaughlin 6 as the Hornets improved to 16-9 on the season.
JUNIOR LADY PANTHERS 47, JUNIOR LADY HORNETS 37
The Lady Hornets led 11-8 after a quarter and by as much as 8 in the second quarter before Greenbrier rallied within 20-19 at the half. The teams traded baskets in a furious third quarter with the Lady Panthers nudging ahead 32-28 by the end of the quarter. Bryant was within 3 with 2:30 left to go but a half-court trap helped Greenbrier force a couple of turnovers that led to layups at the other end. The Lady Panthers hit their free throws at the end to close it out.
"We came out in the first half and I thought played really well," commented Bryant coach Eric Andrews. "We put up 20 points in the first half. Now, I wish our defense had been a little bit better. I felt like we were going a good job against their best player and if we could continue to hold her points down that we might be able to extend the lead. But then they had some girls that don't normally score for them, step up big and make some shots.
"We just couldn't get stops in the third and fourth quarter," he added. "We were matching baskets with them until late when they went to that trap and my girls just kind of panicked a little bit and we threw the ball away. Those layups were definitely the difference in the game."
London Abernathy led Bryant with 14 points. Raegan Barker and Casey Lee added 6 each, Kayla Sory 5, Jessie Taylor and Callie Hogancamp 3 apiece and Breanna Blundell 2.
"We held their best player to 8 points," noted Andrews. "She didn't score a basket in the second half. We kept losing one girl and she kept making those shots. One that doesn't normally do it. You wouldn't figure she would beat you."
Looking back on the season, the coach said if someone had told him at the beginning of the season, the team would finish with an 18-7 record he would've taken it.
"I thought these girls worked pretty hard and I think they had a pretty good season," he stated. "I think we got so much better throughout the year. We had some players that started playing with some confidence, started making some shots that they were not making early in the season. If you look back to the second week of the season, we're shooting 17 or 18 percent. Once we started gaining confidence, that never happened to us again. I think that's a tribute to them and how they worked at it."
2009 CENTRAL ARKANSAS
JUNIOR HIGH CONFERENCE
Championship tournament
Saturday, Feb. 14
At Panther Pavilion
Game 1 — Bryant (South 4) 49, Conway White (North 5) 39, (boys)
Game 2 — Mount St. Mary's (South 4) 36, Cabot North (North 5) 35 (girls)
Game 3 — Benton (South 6) 57, Russellville West (North 3) 27 (boys)
Game 4 — Vilonia (North 3) 43, Benton (South 6) 17 (girls)
Game 5 — Conway Blue (South 2) 53, Morrilton 40 (North 7), (boys)
Game 6 — Cabot South (South 2) 38, Searcy (North 7) 29 (girls)
Game 7 — Sheridan (South 8) 52, Searcy (North 1) 28 (boys)
Game 8 — Russellville East (North 1) 42, Conway Blue (South 8) 16, (girls)
At Old Greenbrier High School gym
Game 9 — Vilonia (North 4) 42, Lake Hamilton (South 5) 23 (boys)
Game 10 — Russellville West (North 4) 34, Lake Hamilton (South 5) 24 (girls)
Game 11 — Little Rock Catholic (South 3) 42, Cabot North (North 6) 16 (boys)
Game 12 — Bryant (South 3) 33, Conway White (North 6) 24, (girls)
Game 13 — Greenbrier (North 2) 52, Cabot South (South 7) 34 (boys)
Game 14 — Greenbrier (North 2) 41, Sheridan (South 7) 28, (girls)
Game 15 — North Little Rock (South 1) 47, Russellville East (North 8) 14 (boys)
Game 16 — North Little Rock (South 1) 44, Morrilton (North 8) 12 (girls)
Monday, Feb. 16
At Panther Pavilion
Game 17 — Greenbrier 47, Bryant 37 (girls)
Game 18 — Greenbrier 41, LR Catholic 35 (boys)
Game 19 — North Little Rock 50, Russellville West 28 (girls)
Game 20 — Vilonia 41, North Little Rock 35 (boys)
At Old Greenbrier High School gym
Game 21 — Vilonia 38, Cabot South 27 (girls)
Game 22 — Conway Blue 50, Benton 46 (boys)
Game 23 — Russellville East 38, Mount St. Mary's 24 (girls)
Game 24 — Bryant 39, Sheridan 37 (boys)
Wednesday, Feb. 18
At Panther Pavilion
Game 25 — North Little Rock vs. Greenbrier, 4 p.m. (girls)
Game 26 — Greenbrier vs. Vilonia, 5:15 p.m. (boys)
Game 27 — Vilonia vs. Russellville East, 6:30 p.m. (girls)
Game 28 — Conway Blue vs. Bryant, 7:45 p.m. (boys)
Thursday, Feb. 19
Championship games
At Panther Pavilion
Game 29 — Game 27 winner vs. game 25 winner, 6 p.m. (girls)
Game 30 — Game 28 winner vs. game 26 winner, 7:30 p.m. (boys)