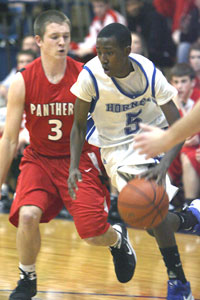 By Rob Patrick
There are several ancient buildings on the sprawling Bryant High School campus. Though not the oldest, the Bryant High gym was erected in 1968. And like those other antique structures, it's past due for replacement.
Portions of the gym were renovated a few years ago. New home locker rooms were added, new coaching offices and those were pretty nice. But, also added, was an odd set of bleachers, designed for students, at the North end of the court. Perhaps to fit in with the other seating, the first row and the steps that led up the center aisle were built too close to the court; concrete steps, plastic seats.
Reid Prescott got a scary, first-hand look at how close those steps were on Tuesday night, Feb. 17.
In his first varsity start, the junior guard was playing pretty well. He'd hit a 3 and was helping K-Ron Lairy and Brandon Parish handle the press that the Cabot Panthers were applying. The Hornets were only trailing the 7A-Central Conference co-leaders 11-7 before Adam Sterrenberg, Cabot's scoring machine, hit a 3 at the buzzer ending the first quarter to make it a 7-point game.
And the Panthers had added a pair of baskets to start the second quarter when Prescott got behind the pressure and was headed for a layup on the North end. Cabot's 6-5 forward Gary Clark sprinted back and hammered the Bryant guard as he jumped toward the basket. Prescott went sailing, hit the floor and banged his head on that first concrete step.
There was blood and, eventually, Prescott was helped off the court and taken to the hospital for treatment.
Like their junior guard hard
to that point, the Hornets continued to scrap. They just didn't have an answer for Sterrenberg who finished with 22 points — an average night for him — as the Panthers escaped with a 60-45 win.[more]
Unlike the game between the teams at Cabot, Bryant, despite the absence of senior Tim Floyd for the game and senior Dijon Benton for the first half, didn't let the Panthers run away with it. Something that head coach Mark Smith and assistant Chad Withers expressed pride about, lauding their players for their effort. Notably, that effort was given in the wake of the Hornets officially being eliminated from State Tournament contention the previous Friday.
Tyler Gattin came in to shoot Prescott's free throws. He knocked down one and, after Kendall Butzlaff blocked a shot by Clark at the other end, Lairy drained a 3-pointer. Clark missed again and Lairy drove to the rack and hit a short jumper despite being knocked down. Suddenly, the Hornets were back within 18-13.
Sterrenberg interrupted with a stickback but Gattin trumped it with a 3 to get the Hornets within 4 with 4:17 left in the first half. Bryant had a chance to get closer after Cabot's 6-6 Aaron Johnson misfired but Lairy's shot was blocked.
Bryant didn't have anyone over 6-2 to play, let alone start. Cabot didn't have anyone below 6-2 in its starting five. As might be expected, the Panthers, needing to turn things around, decided to go inside to 6-7 Miles Monroe for consecutive baskets. And when Sterrenberg hit a baseline jumper with 1:58 left in the half, the lead was back up to 10.
Gattin added a layup off a nice feed from Butzlaff leaving Cabot with a 26-18 lead at the half.
Cabot opened the third quarter with an 8-3 run to extend the margin to 34-21. Bryant rallied, however. Gattin fed Parish for a bucket on a nice back-door cut and, moments later, Parish nailed a 3 which had the Hornets within 34-26. And when Benton scored after Clark hit a free throw, the lead was whittled down to 7.
But that's as close as they'd be the rest of the game. Cabot led 42-31 going into the fourth quarter. Benton made a steal and layup to trim the margin to 9 but Monroe hit the offensive glass, on of 16 offensive rebounds for the Panthers. Benton converted a pair of free throws after he was fouled on a 3-point try but Johnson answered with 6:17 left to play and the lead was never less than 10 the rest of the game.
Still, Cabot wasn't able to push the lead out to 15 until the final minute of the game.
Johnson finished with 19 points and 10 rebounds for Cabot which improved to 19-5 overall and 9-2 versus the league. Benton, playing only in the second half, led the Hornets with 11 points. Lairy added 10 and Gattin 9. The Hornets fell to 7-17 and 1-11 going into their final road game of the season at North Little Rock on Friday, Feb. 20. Bryant closes out the season at home against Little Rock Central on Tuesday, Feb. 24.
CABOT 60, BRYANT 45
Score by quarters
Cabot 14 12 16 18 — 60
BRYANT 7 11 13 14 — 45
CABOT (19-5, 9-2) 60
Player fg-fga ft-fta reb fls pts
o-d-t
Sterrenberg 10-10 0-0 1-1 2 1 22
Bridges 0-2 0-0 0-1 1 3 0
Johnson 8-17 2-3 3-7 10 0 19
Monroe 4-5 0-0 3-2 5 4 8
Clark 1-5 1-2 4-3 7 3 3
Bloomberg 0-1 0-0 1-1 2 1 0
Baker 1-2 2-2 0-1 1 1 4
Armstrong 1-1 0-1 1-0 1 0 2
Jones 0-0 2-2 0-0 0 0 2
Team rebs. 3-0 3
Totals 25-53 7-10 16-16 32 13 60
BRYANT (7-17, 1-11) 45
Player fg-fga ft-fta reb fls pts
o-d-t
Lairy 4-9 0-1 1-2 3 2 10
Prescott 1-4 0-0 1-1 2 0 3
Parish 2-6 0-0 1-4 5 1 5
Butzlaff 2-5 1-3 4-2 6 3 5
Renuard 1-5 0-2 1-2 3 1 2
Stitch 0-2 0-0 0-2 2 0 0
Gattin 3-4 1-2 0-0 0 0 9
Benton 4-6 2-3 0-2 2 4 11
Team rebs. 2-0 2
Totals 17-41 4-11 10-15 25 11 45
Three-point field goals: Cabot 3-13 (Sterrenberg 2-7, Johnson 1-4, Bridges 0-2), Bryant 7-17 (Lairy 2-4, Gattin 2-3, Prescott 1-2, Parish 1-2, Benton 1-2, Renuard 0-2, Stitch 0-2). Turnovers: Cabot 4, Bryant 12.