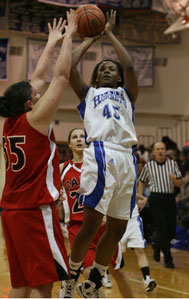 By Rob Patrick
The first time through the 7A-Central Conference, the Bryant Lady Hornets were the proverbial hunters. The opposition in the league had to be convinced that the Lady Hornets were real this time — last year, after a 10-2 start, the Lady Hornets didn't win a conference game; this year, they started 8-2 but ended up 7-1 in the first half of the home-and-home league schedule.
They proved their point, the Lady Hornets were plenty good enough to not only make it to State but contend for a league title.
Head coach Blake Condley knew the second half of the schedule would be tougher. The Lady Hornets wouldn't be sneaking up on anybody. The opponents were convinced. But they also knew a little more about how to contend with Bryant.
No doubt that has played into things lately.
Another factor might've been that the Lady Hornets officially punched their ticket to the State tourney in Fort Smith with victories over Van Buren (51-50) and Russellville (53-36).
Now, it's obvious that the Lady Hornets have continued to play hard but that may have taken a bit of the edge off. The intensity level hasn't quite been as consistent in the last two games and, as the hunted now, facing teams that either need victories to stay incontention for State (Conway) or one set on inflicting a little payback (Cabot).
The Lady Panthers of Cabot, veterans of recent State tourneys, were intent when they visited the Hornets Nest on Tuesday, Feb. 17. Not only did they want to return the favor to Bryant, which beat them on their home court, 69-66, on Jan. 23, but they saw a chance to pull even with Bryant in the league standings and, possibly, gain the league's second-place bye through the first round of the State Tournament. They needed a win by more than the margin that Bryant had won by to gain the inside track for that spot.
And they did.
Scorching the nets in the first half and early in the second, the Lady Panthers built a 23-point lead on the Lady Hornets. They had to withstand a furious Bryant comeback that whittled the lead all the way to just 3 but held on in the end, 69-61.[more]
Both teams came out of the game with three losses but, besides the tiebreaking advantage that Cabot enjoys, Bryant has to play at North Little Rock, the unbeaten league leaders, on Friday, Feb. 20, before finishing out the regular-season at home against Little Rock Central. Cabot has to play Van Buren, a contender for a State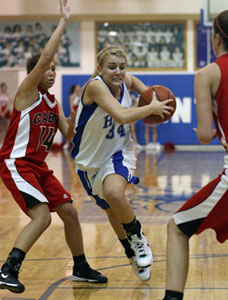 spot, twice (once in a make-up game) along with league cellar-dweller, Russellville.
Cabot used its superior size to greater benefit this time not only on the offensive end where the team's trio of 6-foot-plus players on the front line combined for 41 points, but defensively with a zone that featured double-teams and traps anytime the Lady Hornets tried to attack the basket, something they've done with great success this season.
The Lady Hornets committed 17 turnovers while trying to contend with that defense in just the first half while connecting on just 4 of 26 shots from the field.
Though Cabot had its trouble with Bryant's aggressive full-court defense (14 turnovers in the first half), the Lady Panthers were burning the nylon at a 67 percent clip in the first two quarters.
Still, the Lady Hornets were within 12-10 with 2:34 left in the first quarter. Taylor Hughes had hit a layup off a nice feed from Abbi Stearns to get Bryant that close. The Lady Hornets only managed a free throw the rest of the quarter, however, and Cabot, sparked by Amber Rock who scored 8 of her 14 points in the opening period, put together a 10-0 run.
It was 22-11 going into the second quarter.
Trailing 24-12, the Lady Hornets made a bit of a comeback. Haley Montgomery drove for a layup and, after Shelby Ashcraftt answered for Cabot, Montgomery knocked down a pair of free throws. After a Cabot turnover, Stearns crabbed an offensive rebound and was fouled. She converted twice and the lead was down to 8.
But Cabot finished the half strong, converting 5 of 6 free throws in the final three minutes of the half and finishing with a 9-0 streak to build the lead up to 37-20 at the half.
It was the largest deficit the Lady Hornets have faced this season and it got worse before it got better. On consecutive baskets by Sarah Moore, Jenna Bailey and Stephanie Glover to start the third quarter, the lead ballooned to 43-20.
Whether they relaxed, intensified or just started hitting shots, the Lady Hornets came to life at that point. Alana Morris scored inside and, after a Cabot turnover, Anna Simpson drove for a layup. Bailey answered in kind but Simpson drained a 3, Hannah Goshien drove for a layup and, Stearns hit the offensive glass, got fouled and converted both free throws to trim the margin to 45-31.
Bailey interrupted with a jumper in the lane but Montgomery topped that with a triple. Simpson hit a jumper and, after Glover posted up for a bucket, Simpson drilled her second trey. Morris followed with a steal and layup and, with :44.2 left in the quarter, the Lady Hornets had clawed back within 10, 49-41.
Glover and Bryant's Kenzee Calley traded hoops in the final seconds of the period and Cabot took a 51-43 lead into the fourth quarter.
A stickback from Morris, a free throw and a 15-footer by Calley continued the impressive rally. After a Cabot turnover, the Lady Panthers' head coach Carla Crowder, a former Bryant head coach, called time out.
When play resumed the two teams traded turnovers before Morris found Simpson behind the defense for a layup that cut the lead to 53-50 with 5:41 left to play.
The Lady Hornets had climbed the mountain but they couldn't get over the top. Bailey was fouled with 4:42 left and made her first shot from the line. She missed the second but 6-3 Moore out-reached everyone for the carom, got the ball back to Glover who scored for a reverse three-point play. That started Cabot's decisive answer to Bryant's remarkable comeback, a 9-1 run that had the Lady Panthers up by 11 by the 1:49 mark.
Down the stretch, Cabot missed enough free throws to give Bryant a chance. The Lady Hornets cut it to 7 on free throws by Morris and Montgomery and had a cance to get closer. But Simpson, who led all scorers in the game with 18 points, 15 in the second half, couldn't get her jumper to go and Cabot pushed it out to 11 again in the final minute.
Glover led the Lady Panthers with 16 points. Rock had 14, Bailey 12 and Ashcraft 10. Though the Lady Panthers had 25 turnovers, they finished shooting 67 percent from the field (28-42) and only 42 percent from the free-throw line (13 of 31). Montgomery finished with 11, Morris 10 and Calley 8 for the Lady Hornets who shot 31 percent from the field (18-of-59). The Lady Hornets had so many more shot attempts because they cut down their turnovers in the second half (six) and, for the game, out-rebounded the much taller Lady Panthers 40-29 including a whopping 22 boards on the offensive end.
LADY PANTHERS 69, LADY HORNETS 61
Score by quarters
Cabot 22 15 14 18 — 69
BRYANT 11 9 23 18 — 61
LADY PANTHERS (18-6, 8-3) 69
Player fg-fta ft-fta reb fls pts.
o-d-t
Bailey 5-7 2-6 0-2 2 4 12
Rock 7-7 0-4 0-0 0 3 14
Ashcraft 5-10 0-0 2-3 5 5 10
Moore 2-3 1-5 2-5 7 4 5
Glover 6-8 4-8 0-3 3 2 16
Benjamin 1-3 0-0 2-3 5 1 2
Taylor 0-2 3-4 0-2 2 2 3
Hoggatt 1-1 1-2 0-2 2 1 3
Rosel 0-0 0-0 0-0 0 0 0
Abshier 1-1 2-2 1-0 1 0 4
Team rebs 1-1 2
Totals: 28-42 13-31 8-21 29 22 69
LADY HORNETS (18-5, 9-3) 61
Player fg-fga ft-fta reb fls pts
o-d-t
Hughes 1-4 0-0 1-0 1 4 2
Goshien 2-11 0-0 2-2 4 3 5
Calley 2-5 4-6 2-1 3 4 8
Morris 3-14 4-9 5-9 14 2 10
Simpson 7-15 2-5 4-1 5 4 18
Montgomery 2-5 6-6 0-1 1 4 11
Stearns 0-0 4-4 4-4 8 1 4
Johnson 1-5 0-0 0-0 0 4 3
Team rebs. 4-0 4
Totals: 18-59 20-30 22-18 40 26 61
Three-point field goals: Cabot 0-3 (Bailey 0-2, Taylor 0-1), Bryant 5-19 (Simpson 2-2, Goshien 1-8, Montgomery 1-3, Johnson 1-3, Hughes 0-2, Morris 0-1). Turnovers: Cabot 25, Bryant 23.