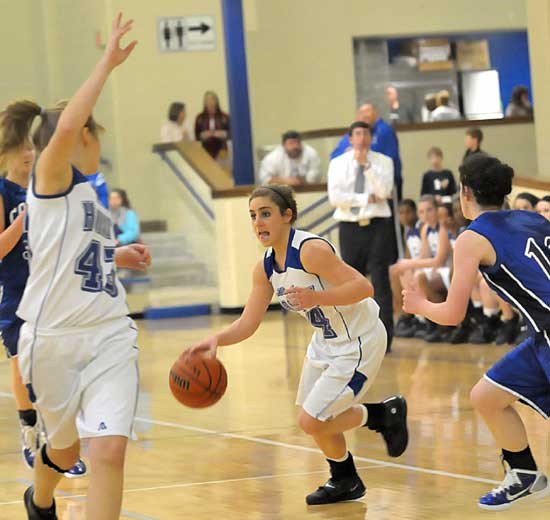 By Rob Patrick
Photos by Kevin Nagle
The Bryant Lady Hornets freshman team and the Conway Blue Lady Kittens scored just 1 point apiece in the final three minutes of their game on Monday night at the Bryant Middle School gym. But that didn't mean those three minutes were anything less that exciting.
In fact, it came right down to less than a second[more] before it was decided. Conway's Sidney Mitchum, who led all scorers with 10 points in the game, got an open look at the elbow off an inbounds pass from the side with :00.8 left in the game. As the buzzer sounded, her shot appeared to be true but it rimmed out as the Lady Hornets held on for a 34-32 win.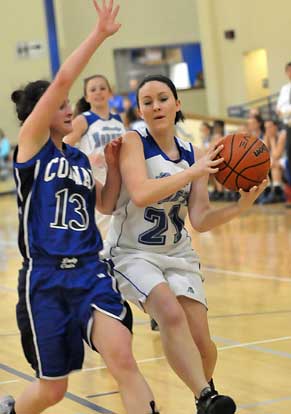 The Lady Hornets include Aubree Allen, Jessica Alliston, Andrea Buford, Ashlee Caton, Caylin Choate, Dezarea Duckworth, Kaitlyn Greer, Keedy Harrison, Taylor Matthews, Dee-Dee Mosby, Melinda Murdock, Amber Newman, Destiny Nichols, Brittany Privett, Erica Smith, Rori Whittaker and Alex Wright.
The win improved the Lady Hornets to 9-6 on the season going into Thursday's home match with Pulaski Academy. Conference season officially beings on Monday, Jan. 10, when Cabot North visits. Cabot North is the lone conference team that the Lady Hornets have not yet played. As their coach, Nathan Castaldi pointed out, if the other games against league foes had counted toward the conference standings, Bryant would be 6-1. But, unfortunately for the Lady Hornets, in order to be allowed to have a post-season tournament, the schools in the league had agreed to count only the games in the second half of the round robin schedule as conference games.
In Monday's game, Conway Blue, coached by former Bryant Lady Hornets player Shannon Thomey, never led by more than a point. Though Bryant led much of the way, it was never by more than 4 points. The Lady Hornets led 29-25 going into the fourth quarter. It was 31-27 after Mitchum hit two free throws and Duckworth answered for Bryant with a driving jumper at the 4:53 mark.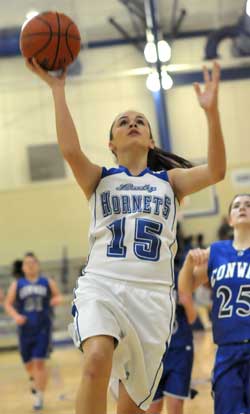 Conway battled back to tie it at 31 on back-to-back buckets by Micaela Norment and Deborah Downs. With 3:21 left, Greer hit a free throw to snap the deadlock. At the other end, Allen set up and took a charge to get the ball back for the Lady Hornets. Moments later, She was at the free-throw line where she converted her second shot to increase the lead to 33-31 with 3:15 to go.
The teams traded turnovers in a wild scramble before Norment grabbed an offensive rebound and was fouled. She converted once but was unable to get the second shot to go, which would've tied it again.
Though Allen misfired, the Lady Hornets got the ball back for another try with Whittaker drew a charge on a drive by Downs. That was the fifth foul on the Conway player who had scored 7 points in the game, second only to Mitchum for the Lady Kittens.
Whittaker and Norment traded missed shots then Conway forced a Bryant turnover. But Mitchum couldn't get a shot to go under heavy pressure. The Lady Hornets collected the rebound and Castaldi called a timeout.
When play resumed, however, the Lady Kittens forced a turnover to get yet another chance to take the lead. Again Norment missed and, in the battle for the rebound, Smith tapped the ball to Duckworth who started up the floor. She got the ball to Whittaker who was fouled with :24.4 showing. She converted her second shot, making it a 2-point Bryant lead.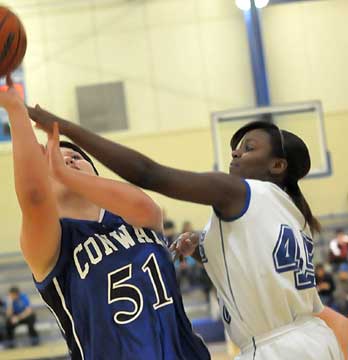 And when Nichols made a steal in the final seconds, it appeared the Lady Hornets had the game in hand. But Conway Blue knocked the ball loose from Duckworth who was working it up the floor against the press. Nichols dove on the loose ball and Castaldi hollered for a timeout with :04.6 left to save the possession.
When play resumed, however, the Lady Hornets were unable to get the ball in and a five-second call returned possession to Conway. But the Lady Kittens turned the ball over on their inbounds play. Bryant got the ball on the side with :01.4 showing. Conway took a timeout and when play resumed, an errant inbounds pass from in front of the Conway bench headed for the sideline on the opposite side of the court. Duckworth tried to save it in. It wasn't immediately clear if she had or not and the buzzer ending the game sounded. The officials got together and determined that :00.8 should be put back up on the clock and Conway was given possession leading to the Mitchum's final futile shot.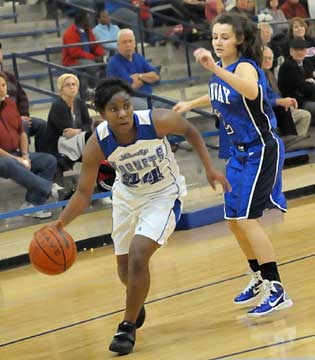 Bryant had eight different players contribute to the scoring. Allen finished with 8 points and eight rebounds while Duckworth, back after missing Friday's game at Lake Hamilton due to injury, hit for 8 points and seven boards.
"Having Dezerea out there calms everybody down," Castaldi said. "I mean, the girls did a great job without her but she is a calming influence on everybody. We got that tonight when she was in there."
Conway tried to press the Lady Hornets early but it didn't slow them down. The game was tied four times in the opening quarter before Duckworth canned a 12-footer in the final seconds to snap a 10-10 tie.
"We handled the press a lot better," Castaldi mentioned. "They tried to press and, I've said all along, against teams that press if you can score early they have to get out of it. That changes what they can do. And we did that. I think the first three possessions we had layups and, after that, they didn't press very much so that kind of got us off on the right foot and took them out of something I think they were really focusing on trying to do against us."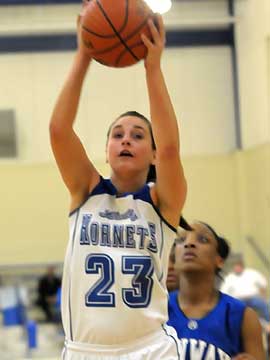 Smith was the beneficiary of the Lady Hornets' press-breaking work. She scored from inside off of assists from Nichols and Duckworth. After Conway tied it 6-6, Whittaker's short jumper gave the Lady Hornets the lead again.
Mitchum hit a free throw but Newman knocked down a baseline jumper to make it 10-7. Downs tied it at 10 with the only 3-pointer of the game.
Buford's basket to start the scoring in the second quarter had Bryant up by 4 but Conway put together a 7-2 run to take a 17-16 lead with 1:24 to play in the half. Greer's basket was the only scoring Bryant did during that stretch. Madison Leach put Conway ahead.
With 1:10 left, Allen answered for Bryant but Alyssa Strickland's basket gave Conway a one-point edge at the half.
Allen got the Lady Hornets back on top with a layup early in the third quarter.
The game went back and forth throughout the quarter. Going into the final minute, it was even at 25. Both teams missed chances to take the lead before Harrison and Duckworth combined on a steal that led to a basket for Duckworth. And in the closing seconds, Choate made a steal and drove for a contested layup to beat the buzzer, making it 29-25.
LADY HORNETS 34, LADY KITTENS 32
Score by quarters
Conway Blue 10 9 6 7 — 32
BRYANT 12 6 11 5 — 34
LADY KITTENS 32
Strickland 3-7 1-2 7, Ison 0-2 0-0 0, Downs 3-6 0-1 7, Jones 1-2 0-0 2, Mitchum 3-8 4-7 10, Roark 0-2 0-0 0, Leach 1-1 0-0 2, Thomas 0-0 0-0 0, Norment 1-7 2-4 4, Middleton 0-3 0-4 0. Totals: 12-38 7-18 32.
LADY HORNETS 34
Nichols 0-1 0-0 0, Duckworth 4-8 0-1 8, Smith 2-2 0-2 4, Whittaker 2-6 1-2 5, Allen 2-6 4-8 8, Choate 1-2 0-0 2, Newman 1-2 0-1 2, Buford 1-3 0-0 2, Greer 1-1 1-2 3, Harrison 0-0 0-1 0, Alliston 0-0 0-0 0. Totals 14-31 6-16 34.
Three-point field goals: Bryant 0-1 (Duckworth 0-1), Conway Blue 1-4 (Downs 1-3, Strickland 0-1). Rebounds: Bryant 26 (Allen 8, Duckworth 7), Conway Blue 28 (Norment, Mitchum 7). Turnovers: Bryant 17, Conway Blue 14. Team fouls: Bryant 13, Conway Blue 13. Fouled out: Conway, Downs. Technical foul: Conway Blue, Coach Thomey.