By Rob Patrick
Photos by Kevin Nagle
After being held to 20 points on Friday at Lake Hamilton, the Bryant Hornets freshman team got back on track offensively on Monday when they[more] took on the Conway Blue Wampus Kittens at the Bryant Middle School gym.
But they struggled to slow down the slashing drives of Conway's A.J. Burton and company. Burton, who scored a game-high 16 points despite hitting just 2 of 7 from the free-throw line, didn't convert every time he got to the rack but he drew enough attention from the Bryant defenders that his teammates hauled down 19 offensive rebounds, keying a 49-43 win.
The Bryant team includes Phillip Barnett, Dakota Besancon, Chase Christie, Brandon Cranford, Cedarrian Crosby, Evan Davis, Trevor Ezell, Greyson Giles, T.J. Hall, Austin Hammonds, Hunter Holder, Matt Jernigan, Spencer Kilgore, Slade Lewis, Madre London, Dylan Masters, Davis Nossaman, Gray Orman, Garrett Phillips, C.J. Rainey, Brian Reed, Mitchell Scoggins, Caleb Strain and Christian Washington.
The Hornets did some slicing and slashing of their own and corralled 14 offensive rebounds but they struggled to finish as consistently as the Kittens did. And it seemed like, once Conway Blue got the lead during a second-quarter rush, every time the Hornets would make a run at them, the Kittens had an answer.
The loss was Bryant's third in a row, making the Hornets 8-7 overall going into a non-conference contest at home against Pulaski Academy on Thursday. They open official league play on Monday, Jan. 10, at home against Cabot North.
(Though Bryant has played all of its conference foes except Cabot North, only the second half of the round robin counts in the standings in order to allow the league to have a post-season tournament.)
Bryant had the edge on Conway early. The Kittens broke to a 6-3 lead and had a chance to increase that margin when London couldn't get a 3 to go. But he came back with a steal and a layup. After another Conway miss, Rainey fed Scoggins to give the Hornets a 7-6 lead. Rainey then took advantage of a Kitten turnover to knock down a short jumper.
It stayed 9-6 until the final moments of the quarter when Conway's Aumonie Armond grabbed an offensive rebound and scored to make it a one-point game.
And when the Kittens' Darvin Thompson hit two free throws to start the scoring in the second quarter, it put his team ahead for good. The lead was 12-9 before Scoggins hit a free throw to get the Hornets back on the board. Armond, who scored 12 points and gathered eight rebounds off the bench, scored inside but Giles countered for Bryant to keep his team within 2.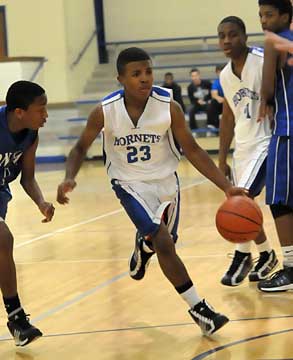 Burton missed the front end of a one-and-one with 2:18 left in the half, giving the Hornets a chance to tie or take the lead. Their first opportunity was spoiled by Burton's steal. But he missed and, at the other end, Scoggins got two shots off only to be denied. Thompson threw up a 3 to no avail as Bryant got another opportunity but Burton swiped the ball again and, this time, drove for a layup to make it 16-12.
It was 18-14 before Josh Tabor tipped in a teammate's miss to give Conway a 6-point halftime advantage. And when the Kittens scored the first two buckets of the second half, the lead had grown to 10.
London, who would score 12 of his team-high 14 points in the second half, hit a layup to get the Hornets back on track after a timeout. After Thompson answered, London added a free throw and Strain drove for a layup off a Conway turnover.
Armond answered with a layup to make it 28-19 but Bryant cut it back to 4 with a flourish. Rainey fed Giles who scored and was fouled. Though he missed the free throw, London crashed the boards for a follow as he was fouled. And when he converted the free throw, the Hornets were within 28-24.
Trent Walder, however, had the answer for Conway with a 3 and, after Brian Reed and Burton traded baskets, the Kittens held a 33-26 lead going into the final six minutes.
The Hornets repeatedly trimmed the lead to 6 down the stretch but could get no closer until the final minute. With 1:32 left, the Hornets trailed 45-37 when Scoggins tapped the carom off a teammate's miss to Giles who scored to once again make it a 6-point game. Giles fouled out at the 1:19 mark, finishing with 10 points and eight boards but Conway's Alex Reed converted just one of his two free throws. So when Scoggins drained a baseline jumper, it pulled the Hornets within 46-41.
Head coach Steve Wilson called a quick timeout with :59.4 showing. With :38.3 to go, Burton snared the rebound off a miss by Alex Reed and the Hornets immediately fouled.
The Conway point guard, to that point, had missed all four of his free throws in the game including a pair of front-ends. But this time, he was pure on both shots, taking it from a two-possession game to a three-possession game, too much for the Hornets to overcome.
Thompson would add a free throw then Scoggins, off a feed from Orman, completed the scoring with :14 left.
CONWAY BLUE 49, BRYANT 43
Score by quarters
Conway Blue 8 12 13 16 — 49
BRYANT 9 5 12 17 — 43
WAMPUS KITTENS 49
Burton 7-19 2-7 16, Johnson 0-1 0-0 0, Thompson 3-10 3-4 9, Walder 2-12 0-0 5, Tabor 3-3 0-1 6, A.Reed 0-4 1-2 1, Armond 5-6 2-2 12. Totals: 20-55 8-16 49.
HORNETS 43
Rainey 2-4 0-0 4, Strain 1-4 0-0 2, London 5-12 4-6 14, Giles 3-11 4-9 10, Scoggins 3-9 1-2 7, Orman 0-1 0-2 0, Nossaman 0-0 0-0 0, B.Reed 3-4 0-1 6, Hall 0-0 0-0 0, Ezell 0-0 0-0 0, Crosby 0-0 0-0 0. Totals: 17-45 9-20 43.
Three-point field goals: Bryant 0-4 (Rainey 0-1, Strain 0-1, London 0-1, Giles 0-1), Conway Blue 1-13 (Walder 1-4, Thompson 0-4, Burton 0-3, Johnson 0-1, A.Reed 0-1). Rebounds: Bryant 36 (Giles 8, Scoggins 6), Conway Blue 42 (A.Reed 10, Armond 8). Turnovers: Bryant 14, Conway Blue 12. Team fouls: Bryant 18, Conway Blue 15. Fouled out: Bryant, Giles.