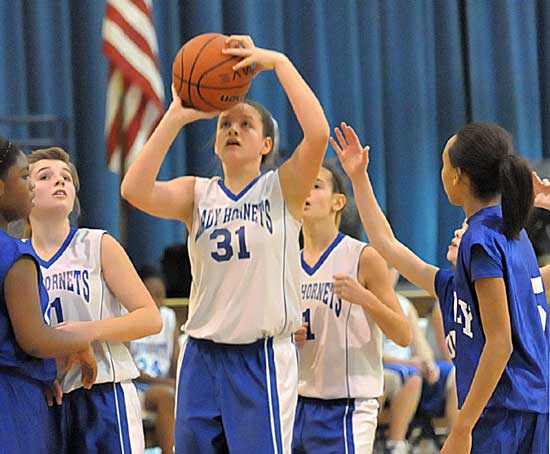 Photos by Kevin Nagle
After trailing by 11 points with under five minutes to play, the Bryant Blue Lady Hornets of Bethel Middle School rallied to twice cut the Conway Blue Lady Wampus Kittens' lead to[more] 3. But they were unable to get over the hump as Conway held on for a 33-30 win.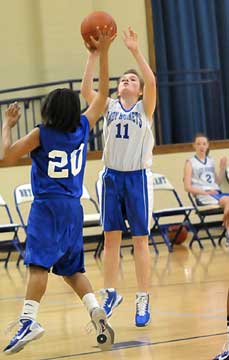 It was the Lady Hornets' first game since Dec. 13. They'll return to action on Monday, Jan. 10, against Cabot North.
The Bryant Blue team includes Annamarie Blair, Isabella Bluemmel, Julie Brazil, Nikki Clay, Haley Dellis, Brittany Kelley, Mercedes Dillard, Yessenia Gasper, Katelyn Giffin, Emily Henson, Allison Hughes, Jamie Jamison, Rylee Phillips, Sadie Powers, and Dominque West.
Bryant had led early, 6-1. Bluemmel, who led the team with 12 points, had a bucket and two free throws and Clay knocked down a shot.
Conway Blue got its first basket with under three minutes in the opening quarter but Clay answered with a 12-foot jay and, after a Conway turnover, Bluemmel made it 10-3.
Conway cut it to 10-6 before Jamison drilled a jumper from the corner to make it 12-6. The Lady Hornets had a couple of chances to add to that before a buzzer-beater by Conway made it a 4-point game going into the second period.
That shot inspired the Lady Kittens to surge to an 18-12 lead before Phillips got the Lady Hornets back on track. Phillips would finish with 8 points, Clay 6. Jamison and Hughes added 2 each for Bryant.
Conway's lead was 22-16 at the half.
It was 26-20 going into the final two minutes of the third quarter when Conway put together a 5-0 run to make it 31-20 early in the final period.
Phillips drained a 12-foot jumper to get Bryant's rally started. Bluemmel connected from the baseline after Phillips had hauled down a rebound off a Conway miss. Henson made a steal that led to a trip to the line of Bluemmel but she was unable to convert.
Moments later, however, Clay trimmed a free throw off the lead then Bluemmel made a steal and a layup to get Bryant within 31-27.
The Lady Hornets had three chances to get closer before Clay was fouled and hit one of her two free throws to make it a 3-point game with :23.3 to go.
Conway answered with a pair of free throws before Hughes scored to cut it back to 3 with :13.6 left.
Bryant coach Rhonda Hall called an immediate timeout and, when play resumed, the Lady Hornets forced a turnover. After a Conway timeout, the Lady Hornets got a pair of shots at tying the game but they refused to fall. Conway rebounded and Bryant fouled but there was just :01.3 remaining.