Bryant Hornets freshmen get back on winning track at Rockets' expense
EDITOR'S NOTE: Because the look back at each day in Bryant athletic history has been so favorably received during the time when there was no sports during the COVID-19 shutdown, BryantDaily.com will continueposting past stories of Bryant athletics either posted on BryantDaily.com (from 2009 to the present) or published in the Bryant Times (from 1998 to 2008).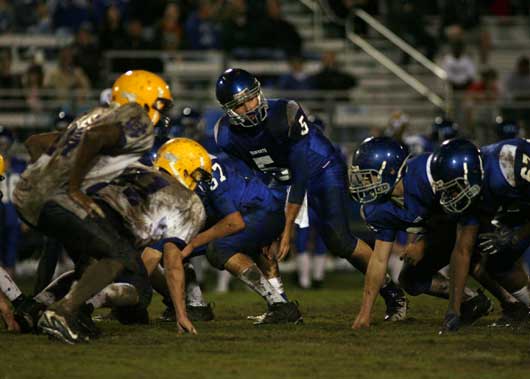 By Rob Patrick
When Little Rock Catholic freshman quarterback Carson Case broke a 50-yard touchdown run on an option keeper to answer the Bryant Hornets opening score on Thursday night, it looked like there might be another high-scoring shootout in the offing.
The two combatants from the South Division of the Central Arkansas Junior High Conference were tied 6-6 at the time but, the Bryant defense stepped up at that point and didn't allow another Rockets first down (let alone a score) until the fourth quarter. They lay claim to three turnovers during that stretch.
In the meantime, the Bryant offense piled up a 33-6 lead. With the reserves finishing up, Catholic trimmed the margin to a final score of 33-18.[more]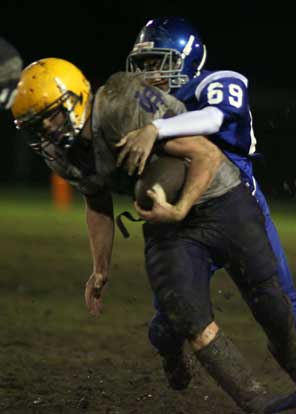 The win improved the Hornets to 5-2 overall, 2-2 in the division, as they bounced back successfully from a tough loss at North Little Rock that all but ended their hopes for a league championship.
Trying to finish strongly, the Hornets host Sheridan on Thursday, Oct. 22, before closing out the season at Cabot South on Oct. 29, and at home against the arch-rival Benton Junior Panthers on Tuesday, Nov. 3.
Jalen Bell rushed for 121 yards on 17 carries, scoring a pair of touchdowns in the win over Catholic. Quarterback Hayden Lessenberry ran for a pair of touchdowns and threw for another.
The Hornets scored on the opening drive of the night, sparked by Bell's opening bolt of 20 yards. Three plays later, the Hornets faced a fourth-and-1 at the Catholic 33. Lessenberry ran the quarterback sneak to get the first down and wound up getting a lot more. He broke free of the pile and sprinted the distance for the score.
A try for two failed and Bryant led 6-0.
The Rockets were aided by a personal foul penalty agains the Hornets on the ensuing kickoff, gaining great field position at their own 48. After Cole Boardman picked up 2 yards, Case broke the option keeper for the tying TD.
Bryant answered with a 54-yard drive that was spurred by Lessenberry's 29-yard completion to Hayden Daniel who did a good job of coming back for the ball after beating his man deep.
Bell galloped for 10 yards then Lessenberry found Daniel Richards for 13 yards to the 2. Moments later, the quarterback snuck it in to make it 12-0.
In turn, the Rockets went three-and-out. The key play came on a third-and-6 with Case keeping again. But this time, he was hauled down for no gain by Hunter Berry, Ian Shuttleworth and Austin Powell to force a punt.
A reverse to Daniel picked up 21 yards on Bryant's next play from scrimmage and, as the second quarter began, the Hornets were in position to add to their lead. They reached the 30 but a fourth-down pass was dropped and they turned the ball over on downs.
But the Rockets didn't have it long themselves. Case kept for 2 yards then Boardman was separated from the ball and Tim Kelly claimed it for the Hornets at the 38.
Three plays later, the Hornets faced a fourth-and-5 from the Catholic 33 when Lessenberry found Marcus Wilson behind the defense for a 33-yard touchdown pass.
Josh Lowery added the extra point this time and the Hornets were up 19-6.
Before the half was out, the two teams traded interceptions with Kelly getting the pick for Bryant after Case's pass was deflected at the line of scrimmage by Austin Wadley.
Bryant drove to the Rockets 23 only to have Lessenberry's pass intercepted at the 4 by Michael Haun.
So the 19-6 lead held until the break.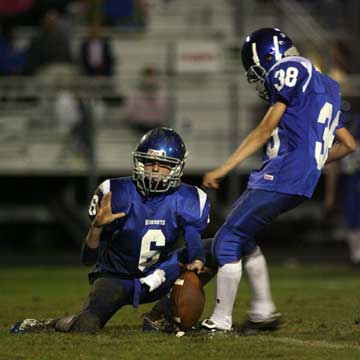 Catholic opened the second half with the ball but couldn't manage a first down. A third-and-two play was sniffed out by Shuttlesworth and Daniels for a loss of 4.
When a fourth-down pass fell incomplete, the Hornets took over on downs.
But that strategy of going for it on fourth down on your own end turned out okay for the moment when Lessenberry's pass on second-and-13 was picked off by Boyce.
The prosperity wasn't long-lasting for the Rockets, however. When Wadley and Jared Koon stopped a third-down run by Boyce off a reverse, it was time for the Rockets to punt.
The Hornets quickly struck again. Jalen Bell slashed 24 yards on first down to make up all the yardage on the punt. From the 17, he dashed for 6 and, a play later, scored from 11 yards out.
Lowery's PAT made it 26-6 with 1:33 left in the third quarter.
And the Rockets didn't have possession for long right after that. On a first down from their own 28, they threw a swing pass that was ruled to be a lateral that Richards pounced on to regain possession for the Hornets at the Rockets' 22.
From there, Jalen Bell hit a seam and streaked to paydirt.
Lowery booted it to 33-6 and the reserves started getting playing time.
It took seven plays but the Rockets not only picked up another first down, they scored. Boardman capped the drive with a 3-yard touchdown run to make it 33-12 with 5:52 left in the game.
Zach Cambron came on at quarterback for the Hornets and completed an 11-yard pass to Richards. The Hornets then kept it on the ground and wound up punting the ball away for the first time on the night.
Pinned inside their own 10 with 3:03 to play, the Rockets pushed out to the 37 yard-line behind the running of Haun. Back-up quarterback Ty Gring hit a swing pass to Ferrara who turned it into a 63-yard touchdown play to set the final score with 1:36 left to play.
JUNIOR HORNETS 33, JUNIOR ROCKETS 18
Score by quarters
LR Catholic 6 0 0 12 — 18
BRYANT 12 7 14 0 — 33
Scoring summary
First quarter
BRYANT — Lessenberry 33 run (run failed), 5:42
LR CATHOLIC — Case 50 run (kick failed), 4:53
BRYANT — Lessenberry 2 run (run failed), 2:24
Second quarter
BRYANT — Wilson 33 pass from Lessenberry (Lowery kick), 3:12
Third quarter
BRYANT — J.Bell 11 run (Lowery kick), 1:33
BRYANT — J.Bell 22 run (Lowery kick), 0:49.6
Fourth quarter
LR CATHOLIC — Boardman 3 run (run failed), 5:52
LR CATHOLIC — Ferrara 63 pass from Gring (run failed), 1:36
Team stats
Catholic Bryant
First downs 7 11
Rushes-yds 25-156 27-177
Passing 1-4-1 4-10-2
Passing-yds 63 86
Punts-avg. 2-28.0 1-45.0
Fumbles-lost 2-2 2-0
Penalties-yds 0-00.0 4-40
INDIVIDUAL STATS
Rushing: BRYANT, J.Bell 17-121, Lessenberry 5-41, Daniel 1-21, Cambron 1-0, Huckaby 2-(-1), Murray 1-(-5); LR CATHOLIC, Case 6-74, Boardman 11-36, Haun 3-28, Boyce 2-9, Cissill 2-7, Ferrara 1-2.
Passing (C-A-I-Y): BRYANT, Lessenberry 3-9-2-75, Cambron 1-1-0-11; LR CATHOLIC, Case 0-2-1-0, Gring 1-2-0-63.
Receiving: BRYANT, Richards 2-24, Daniel 1-29, Wilson 1-33; LR CATHOLIC, Ferrara 1-63.