Bryant Juniors finish pool play unbeaten at East Cobb tourney
EDITOR'S NOTE: In this time of COVID-19, with no sports action, BryantDaily.com will be posting past stories of Bryant athletics either posted on BryantDaily.com (from 2009 to the present) or published in the Bryant Times (from 1998 to 2008).
Photos courtesy of Sandy Orender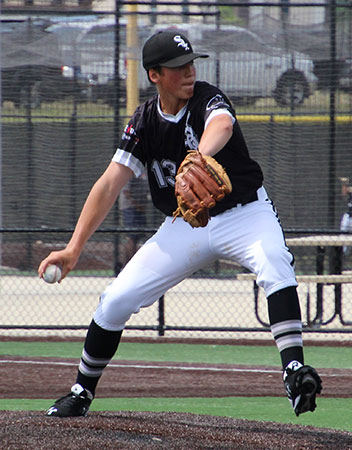 CARTERSVILLE, Ga. — The Bryant Black Sox Junior American Legion team roared to an 11-0 lead through three innings on the way to a 15-7 victory over KCXtreme on Saturday to finish unbeaten in their pool at the East Cobb, Ga., Perfect Game Invitational Tournament.
The Sox are set to take on the Tennessee Xplosion in the championship bracket Sunday morning at 7 a.m.
Konnor Clontz went 3 for 4 with four runs scored and two knocked in to lead the offense for the Sox. Logan Chambers and Coby Greiner each had two hits with Greiner driving in three and Chambers, along with Jake Wright, knocking in a pair apiece.
Peyton Dillon threw three scoreless innings for the Sox. Ryan Lessenberry, Cade Dupree and Logan Catton took over from there with Catton pitching out of a jam in the top of the fifth then tossing a scoreless sixth before the Sox made it a run-rule win in the home half.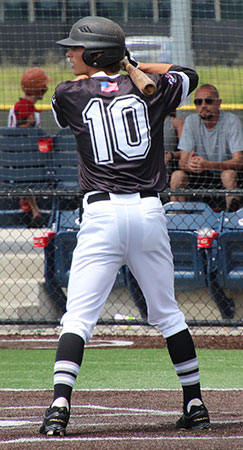 A six-run first put Bryant on the road to victory. It came after Dillon pitched out of a jam in the top of the first, surrendering a pair of one-out singles and following up with a balk that put runners at second and third. But the Sox' hurler picked off the runner at third then ended the threat with a strikeout.
Clontz started the bottom of the inning with a single to center. Chambers walked and Wright cracked a single to right to post the first run. Chambers scored when Greiner lined another single to left.
With runners at the corners, the Sox went for the squeeze but Catton's bunt went for a hit and an RBI. He and Greiner then worked a double steal to make it 4-0.
Dillon walked then a passed ball had runners at second and third.
KC finally recorded the first two outs but Brayden Lester's grounder to short got Catton home.
Dupree walked then Clontz yanked an RBI single to left, his second hit of the inning to make it 6-0.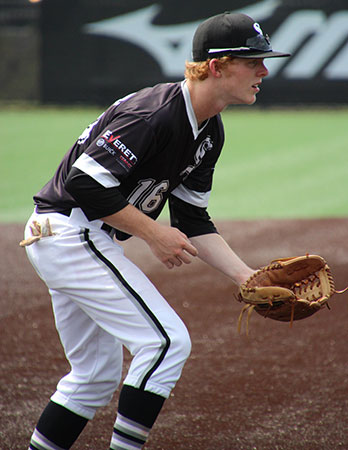 Dillon worked a 1-2-3 second the Sox tacked on a pair. Wright's fly to center was misplayed and he wound up at third. Greiner lined a single to center to chase him home. Greiner stole second and took third on Catton's groundout. With two down, a balk allowed Greiner to cross the plate and it was 8-0.
Again, Dillon eased through the third unscathed, backed by solid defense. In the bottom of the inning, Lester was plunked on the second pitch from a new KC hurler. Another balk had Lester at second. He took third when Dupree's grounder to short was booted. That set the table for Clontz who ripped a double to right for an RBI.
Dupree scored on Chambers' sacrifice fly and Clontz came home on Wright's grounder to second.
Lessenberry's first inning on the mound was marred by a trio of errors along with a double as KCXtreme plated two before the Bryant right-hander ended the inning with a strikeout.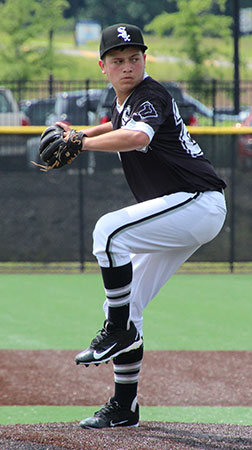 Three more scored in the top of the fifth after two were out. A single, a pair of walks, a two-out double, a single and triple made it 11-7.
So the Sox bats came back to life in the home fifth. Clontz' lead-off pop to center was misplayed then Chambers drilled a double to left to chase him in. Wright drew a four-pitch walk then he and Chambers worked a double steal that drew a wild throw to third. Chambers scored then Wright came in from third on a grounder to short by Greiner to make it 14-7.
Catton retired the side in order in the top of the sixth, fanning two.
The game-ending run came after Clontz drew a two-out walk, Chambers belted another double and Wright's grounder to third was misplayed.