The Bryant Lady Hornets junior varsity team closed out their 2012 season Thursday night with a[more] down-to-the-wire match against the Nettleton Lady Raiders JV. Nettleton escaped with the win by edging the Lady Hornets 15-13 in the third and deciding game of the match. Nettleton won the first game, 25-20, but Bryant came back to win the second 25-18.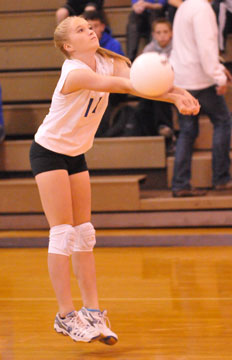 Bryant finishes the season with a 12-6 record.
The Lady Hornets were good on 92 percent of their serves in the contest. Erica Smith was most proficient with nine good serves including the team's lone ace. Whitney Brown and Madison Greeno each had seven good serves.
Mariah Aguilar led the team with nine kills. Smith added five to go with two solo blocks and a blocking assist. Mercedes Dillard also had two solo blocks and an assist.
Rylee Phillips contributed 11 digs, Nikki Clay 10. Setter Abby Staton had 10 assists, Britney Sahlmann eight.