Photos by Kevin Nagle
After beating the rival Benton Lady Panthers in an emotional conference championship showdown[more] on Tuesday, the Bryant Lady Panthers figured to have a bit of a letdown when they took on the Nettleton Lady Raiders in their regular-season finale on Thursday night.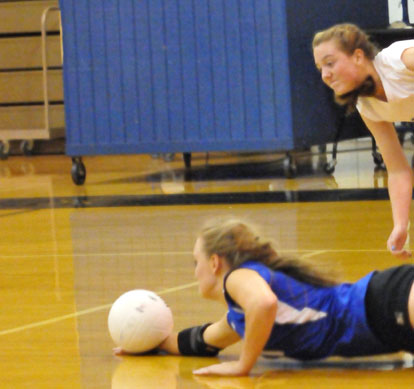 Indeed, Nettleton handed Bryant a setback, 25-20, 19-25, 11-25, 20-25.
The Lady Hornets won't play again until they open the Class 7A State Tournament at Rogers Heritage as a No. 2 seed. With the first-round bye that comes with that, they will open on Halloween afternoon at 2 p.m., against the winner of the Fort Smith Southside-Rogers match, which will be on Tuesday.
The Lady Hornets went 12-0 in the 7A/6A-South Conference. They fell to 27-8-2 overall with Thursday's loss to the Lady Raiders.
Brooke Howell led Bryant with nine kills in the contest. Courtney Davidson added six and Alyssa Anderson four. Freshman Britney Sahlmann played setter much of the game and had 18 assists in her first varsity appearance. Hannah Rice added seven assists.
Anderson was good on all 17 of her serves with an ace. McKenzie Rice was 14 of 14 with an ace while Howell got in nine of her 10 serves with two aces. Abby Staton was 10 for 10 with an ace as the Lady Hornets served at a 94 percent clip.
Hannah Rice came up with 21 digs, McKenzie Rice 12.