Editor's note: This is a regular feature profiling senior athletes at Bryant High School.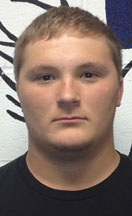 NAME: Jared Koon

PARENT: Carroll and Annette Koon

SIBLINGS: I have a brother and a sister. Kevin Koon and Nikki Carter. My brother is 35 and my sister is 34.

FAVORITE SUBJECT IN SCHOOL: Science

WHAT DO YOU LIKE TO DO IN YOUR SPARE TIME? Hang out with friends, have a good time.

FAVORITE FOOD: Spaghetti.

FAVORITE MUSIC ARTIST OR GROUP: Luke Bryan[more]

FAVORITE MOVIE: The Avengers

FAVORITE TV SHOW: Duck Dynasty

WHAT WAS YOUR FAVORITE TOY AS A KID? I liked Army men, like the little plastic Army men. That was probably my favorite.

WHAT ARE YOUR PLANS AFTER HIGH SCHOOL? Attend college. I'll be done with football after high school but I am going to college, Henderson, maybe Pulaski Tech. I'm not sure. I want to be a Business major.

OTHER THAN YOUR PARENTS, WHO HAS HAD THE BIGGEST INFLUENCE ON YOUR LIFE? Probably one of my best friend's dad, Mr. Rick. I fish with him a lot. He's been a big part of my life, kind of a friend and a dad-figure.

WHAT'S YOUR FAVORITE THING ABOUT FOOTBALL: Just bonding with the players and friends. I get life-long friends out of it.

POSITION: Defensive line

WHAT DO YOU FEEL LIKE IS YOUR PRIMARY RESPONSIBILITY ON THE FIELD? Well, most of the time I get double-teamed. I really don't get the glory but I make the plays for other people to get the glory.

WHAT DO YOU THINK OF THE SEASON SO FAR? I really wish we could've beat Pine Bluff. If they don't lose to El Dorado then we might not be conference champs but I guess that's how it is sometimes. But we're doing fine.
WHEN THE TEAM'S PLAYING WELL, WHAT'S THE KEY TO THAT? It's just when the offense and the defense and our special teams, when we're all there. We just have to stay focused. That's the main thing. I think when we played J.A. Fair and Sheridan, right off the bat we kind of — we were always focused.
WHAT'S BEEN THE HIGHLIGHT TO THE SEASON SO FAR? I got two fumble recoveries in one game so that was kind of fun.
WHAT'S IT GOING TO TAKE FOR THE TEAM TO BE SUCCESSFUL THE REST OF THE SEASON? Definitely stay focused, like I said. We can't go out and play El Dorado and Lake Hamilton and all those big teams and think we're going to beat them like we did to J.A. Fair and Sheridan.

INDIVIDUALLY, WHAT ABOUT YOUR GAME ARE YOU MOST CONFIDENT ABOUT? I usually stay consistent with my reads, how I read the plays and stuff.
WHAT DO YOU WORK HARDEST TO IMPROVE? Just kind of seeing things, like how the play moves around, stuff like that.
AFTER YOU'RE THROUGH PLAYING FOOTBALL AT BHS, WHAT DO YOU THINK YOU'LL REMEMBER MOST FONDLY ABOUT IT? Just the stupid memories I have in the locker room with the guys, the bus rides to places and running out of the tunnel at the Salt Bowl, all that good stuff.